Something is not right in the XLF, the latest darling of the drunken sailors chasing targeted ETFs at any price. JP Morgan (NYSE:JPM), Bank of America (NYSE:BAC), Goldman Sachs (NYSE:GS), and Wells Fargo (NYSE:WFC) make up the top four weightings in XLF. According to etfconnect.com, they make up almost 40% of XLF. If anyone has bothered to look under the hood of XLF here, what they will find is not pretty. Here are the spread charts of each of the top four vs. XLF. How can XLF continue to rocket higher while three of the top four holdings lag? Remember - when the black line is heading up, the particular featured stock is outperforming the index. If it is falling, it is lagging the index. I have also plotted XLF on each chart in red so you can see how XLF has broken out while the individual stocks have lagged on a relative strength basis. Without further delay, here they are, the four horsemen of the financials:

JP Morgan - a 12.46% weighting in XLF: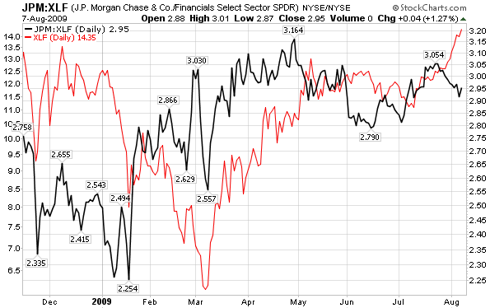 Wells Fargo - a 10.38% weighting in XLF: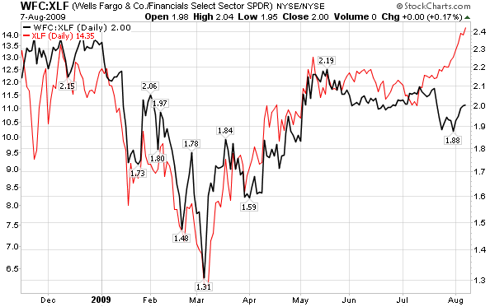 BAC - a 10.22% weighting in XLF. This one that looks halfway decent: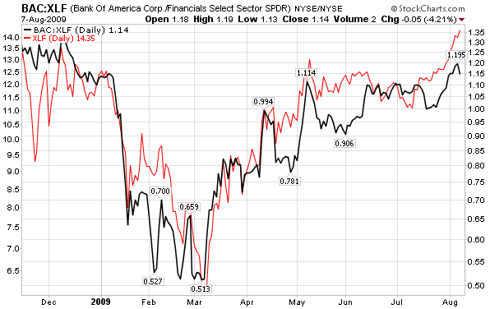 And Finally.....

Goldman Sachs - a 6.88% weighting in XLF: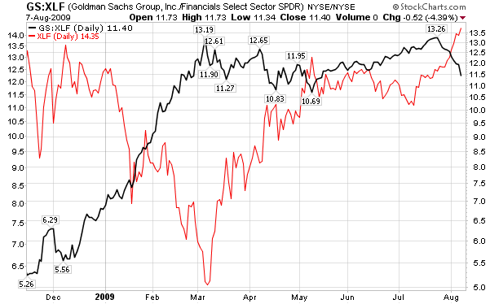 So - you still want to jump into XLF? Be my guest, but now you can't say that you haven't been warned.