Dollar Direction Determined By Bernanke
The U.S. Dollar has seen some increased back-and-forth volatility in the last two weeks, as forex investors assess the validity of conflicting signals. This week's congressional testimony from Federal Reserve Chairman Ben Bernanke will be the next key indicator for direction in the Dollar, its main counter parts in the Euro and Yen, and in the S&P 500 as a whole (which carries with it a strong inverse correlation to the U.S. Dollar). For these reasons, this week's events will be critical for those trading in the PowerShares DB US Dollar Index Bullish (NYSEARCA:UUP), CurrencyShares Euro Trust ETF (NYSEARCA:FXE), and the CurrencyShares Japanese Yen Trust (NYSEARCA:FXY).
But it is also important to watch activity in the SPDR S&P 500 ETF Trust (NYSEARCA:SPY) for early signals in the next direction in the U.S. Dollar. The main takeaway here is that anything in the Bernanke testimony that is positive for the S&P 500 will be negative for the Dollar (and, by extension, positive for the Euro and Yen). Most recently, Bernanke's public comments have suggested that the Fed has the ability to maintain its programs to inject stimulus at this current rate ($85 billion in mortgage-backed securities and Treasuries each month), even if we continue to see improvements in the U.S. labor market. This was something of a surprise to investors positioning themselves for these stimulus programs to start to be reduced in September.
Potential Changes
It is not out of the realm of possibility, however, that we will see some changes in the comments made by voting members of the FOMC. Philadelphia Fed Governor Plosser has already made comments in this direction, saying that stimulus programs have unintended consequences and that the U.S. economy is on a footing that is stable enough for quantitative easing programs to be phased-out. We have seen alternating viewpoints from Bernanke this year, and at this stage it is clear that all we will need to see is an upbeat assessment of the economic situation in order for markets start pricing-in smaller stimulus injections into the end of this year. This week's testimony has the potential to drive the U.S. Dollar lower, but it should be remembered that these moves are likely to be short-term in nature.
When we view things on a relative basis, the long-term case for the Dollar is bullish. Comparatively speaking, the Bank of Japan is still in the early stages of its historic stimulus programs, and the European Central Bank has made it clear that it is ready to continue reducing interest rates if the recessionary conditions in key member states remain a negative influence. The Federal Reserve, however, is at the other end of the spectrum, and this favors long positions in the EUR/USD or the PowerShares DB US Dollar Index Bullish , and bearish positions in the USD/JPY, the CurrencyShares Euro Trust ETF, and the CurrencyShares Japanese Yen Trust.
Chart Perspective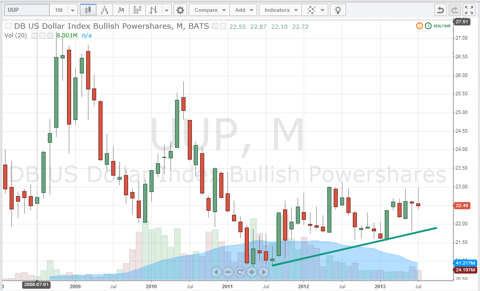 UUP has seen long-term downside pressure since 2009, but there are technical reasons to believe that a bottom is forming and a bull rally is about to take place. Specifically, we are seeing a series of higher lows after reaching highly oversold territory, with prices seeing recent highs at 23. An upside break here will accelerate gains and strengthen the arguments for a long-term bull run.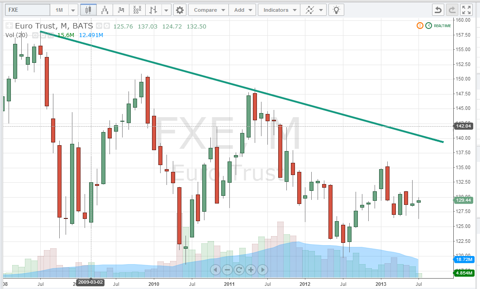 The opposite scenario is unfolding in FXE, which is posting lower highs in a very orderly fashion. Any rallies into the mid-130s should be viewed as a new opportunity to get bearish, with new long-term lows likely to be posted into the beginning of next year. Downside support can now be seen at 122.50.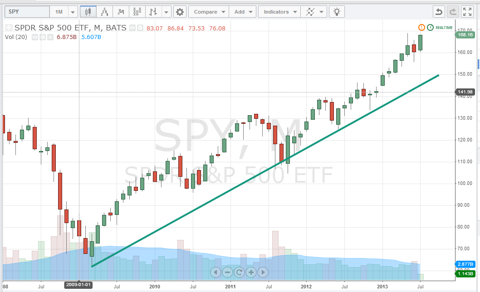 The SPY also needs to be closely watched, as there are significant correlation signals that are sent by pronounced activity in the S&P 500. At the moment, valuations are pressing on to all-time highs, but this means that the ETF is vulnerable to significant downside swings if we start to see support levels breaking. The main pattern to watch is the uptrend line beginning in early 2009, as any break here will reverse the bullish bias for large sections of the market.
Disclosure: I have no positions in any stocks mentioned, and no plans to initiate any positions within the next 72 hours. I wrote this article myself, and it expresses my own opinions. I am not receiving compensation for it (other than from Seeking Alpha). I have no business relationship with any company whose stock is mentioned in this article.