The recently passed Fourth of July weekend once again brought moviegoers several new films to watch. Disney (NYSE:DIS) and Comcast's Universal (NASDAQ:CMCSA) went head-to-head with The Lone Ranger and Despicable Me 2, respectively. The results are in, and the clear winner was Comcast's Despicable Me 2, which earned a record $142 million during its first five days. The Lone Ranger wasn't even close, grossing $48.9 million over its first five days - a number that wouldn't look so bad, except that the film cost Disney an estimated $375 million to create and market.
An Uneven Track Record
Although we like Disney's future prospects - given its robust pipeline of films related to The Avengers and Star Wars - the past weekend highlights one of Disney's recent issues: succeeding with unproven "commodities." Recent films from Marvel characters have been mostly hits with sequel potential. However, these characters are well-known by young and middle-aged moviegoers alike. The same will likely hold true for the Star Wars franchise. Not only were the newest Star Wars movies released within the past decade, but children are familiar with the characters from the successful extension of the Clone Wars TV series.
On the other hand, the dismal performance of John Carter and now The Lone Ranger exemplify the risks of betting on unproven "commodities." The Lone Ranger has a rich heritage, but the name and concept is mostly unfamiliar with today's moviegoer. Disney spent hundreds of millions of dollars backing both films, believing it had new franchises on its hands. Instead, both films will be written-off Disney's books and likely discussed as little as possible in the future.
Recent Disney Films - "Flops" in Yellow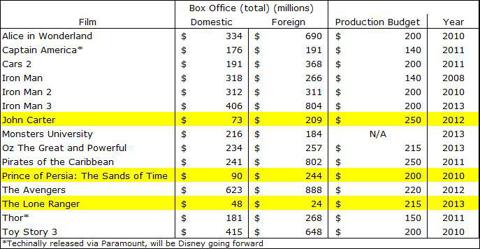 Image Source: Valuentum, Box Office Mojo
The above table shows the box office success and costs of recent Disney films. Keep in mind both measures neglect additional revenue generated via other avenues as well as the marketing costs associated with films. Still, we can see most of Disney's "flops" weren't all that bad. In fact, international box office performance spared several films from complete disaster.
More importantly, we believe blockbuster franchises are able to generate more than enough revenue to compensate for poor performance from the "flops" (in most cases). The Iron Man franchise, for example, has grossed over $2.4 billion in box office revenues over the past five years. We anticipate similar performance from the upcoming Star Wars films and additional revenue streams could be even greater.
Go Big or Go Home?
In our view, investing in big budget films is well worth the risk, especially for Disney which has several other cash cows including ESPN and its theme parks. Disney needs blockbuster franchises to move the needle for merchandising and to add new stories to its theme parks. A smaller film like Frankenweenie, which grossed $67 million with a budget of $40 million, is highly profitable, but it simply doesn't move the needle for a behemoth like Disney.
The same strategy hasn't yet been pursued by Despicable Me 2 owner Universal (Comcast). The studio seems to be firing on all cylinders as of late, investing significantly less in its films for strong returns. Identity Theft had a production budget of just $35 million and has earned $174 million in box office revenues thus far. The Purge cost Universal just $3 million and generated $74 million in box office receipts.
However, its movie-making business is a piece of a much-larger puzzle at Comcast, and we think the firm could pursue a similar "blockbuster" strategy in the future. Comcast posted $62.5 billion in revenue during fiscal year 2012, so even movies like Identity Theft and The Purge would only add a few cents to earnings per share in a given year. However, franchises can add annuity-like revenue streams and ensure straightforward sequels.
George Lucas and Steven Spielberg recently warned about a potential landscape shift in the movie industry to fewer blockbusters with bigger budgets, longer runs and higher-ticket prices. A change in strategy from Universal to bet more heavily on blockbusters would underscore the shift Spielberg and Lucas see coming.
Still, we haven't seen this change come to fruition just yet. Universal's pipeline still possesses many one-off type films, and only a few pricey blockbuster franchises are waiting in the wings. Universal has only been under full control of Comcast for a few months, and we haven't seen Universal go the Disney Route.
Our Take
Ultimately, even if The Lone Ranger doesn't earn another nickel at the box office, it won't hurt Disney, and it was probably worth the risk. The same cohort that brought The Lone Ranger to market was also responsible for the highly successful Pirates of the Caribbean franchise - also a relatively obscure notion at the time of its first release.
We think Disney will continue to pursue the "blockbuster" strategy going forward, but we can't necessarily say the same about Comcast's Universal, even after Despicable Me 2 destroyed the competition at the box office. We'll be keeping a close eye on future movie releases to see how the strategies of the respective studios evolve. Any shift in focus will not only impact studios, but also TV and movie theaters.
Disclosure: I have no positions in any stocks mentioned, and no plans to initiate any positions within the next 72 hours. I wrote this article myself, and it expresses my own opinions. I am not receiving compensation for it (other than from Seeking Alpha). I have no business relationship with any company whose stock is mentioned in this article.