Drummond Co., an Alabama met coal producer, is the most recent producer to cut jobs and production as market prices have plummeted. This follows in the footsteps of cuts by fellow major met producers such as Alpha Natural Resources (ANR), Arch Coal (ACI), and Walter Energy (NYSE:WLT). In a recent report, Macquarie Securities (Australia) Ltd outlined the reasoning behind the difficult year faced by U.S. met coal producers, "As the met coal party fizzled with spot prices close to one-third of the peak level seen in 2011, the Australian hosts are increasingly seeing their U.S. peers as unwanted guests in their Pacific Basin home." In other words, Australian producers plan to keep contract price levels at low levels until 10-15 million tonnes of U.S. production are removed from the market - and it appears to be working.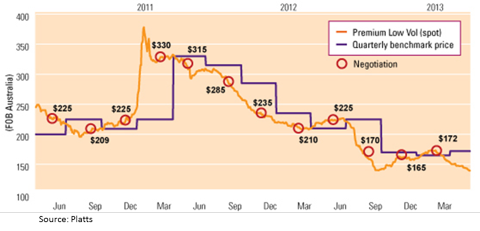 As you can see in the above graph put out by Platts, met coal prices have, for the most part, been heading in one direction for the past two years. The reported Q3 benchmark price hits a new low at $145/tonne. The only good news is that Macquarie predicts that we've hit bottom as its 2014 average benchmark price forecast remained stable at $179/tonne. However, in the meantime, expect a difficult 2013 for the aforementioned U.S. met coal producers.
Disclosure: I am long ACI. I wrote this article myself, and it expresses my own opinions. I am not receiving compensation for it (other than from Seeking Alpha). I have no business relationship with any company whose stock is mentioned in this article.