Bernanke Delivers Knockout Punch To Bonds… Mistakenly
-Stocks also take it on the chin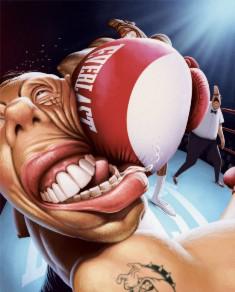 When Ben Bernanke mentioned that the Fed was just starting to think about possibly ending the bond buying purchases, otherwise known as Quantitative Easing, the bond market panicked, dropping over 15%. This was the worst drop in bonds since 1976, more than 37 years ago. The stock market didn't like the announcement much either as it sold off 7%. This made for a very tough quarter for investors as most portfolios also took it on the chin. The good news is that bonds react quickly and then smooth out, and generally do not continuously drop like stocks do in a bear market.
In the wake of these big losses and increased volatility, most Fed governors have backpedaled, rushing to say that the end of the stimulus would only occur if employment showed big increases and inflation remained above their 2% target. That's right, I said "remained" above 2%. I know it's hard for most of us to understand, but negative inflation, or "deflation," is bad for the economy.
Well I'm here to tell you that if that is truly what they are looking for, then continued monetary stimulus will be around for a long, long time. As I discuss in Facing Goliath - How to Triumph in the Dangerous Market Ahead, we are in a deflationary environment. For an economy to grow there must be spenders. From that, you get inflation. The massive baby boom generation, which propelled our economy in the 80s and 90s, is well past its peak spending years and has stopped spending. Not until the next generation of spenders enters its peak spending years, those being the echo-boomers, will inflation be a problem again. That won't happen for another 5-8 years.
The "Bernanke stutter," which I am now terming it, did some good in that it was the catalyst for a much-needed correction. Now that Ben and his financial puppeteers down at the Fed are bending over backwards to make sure we all know that they will not end the stimulative Fed policy anytime soon, stocks are set to go to new highs. One piece of history might help support this. Since 1980, there have been eight times when the long bond has declined by at least 15%. In seven of those eight times, stocks went through a two-month decline with an average drop of 6.3%. Therefore it seems to me that the correction is over.
Although stocks will likely make new highs in the near future, the life remaining in this bull market can likely be counted in weeks or months, and not years. Remember, even trees do not grow to the sky. Bear markets are a normal part of even the best of bull markets during positive economic conditions, and one of these times we are certainly not in. We are well overdue for a standard bear market, so prepare accordingly.
Investor Strategy
With renewed commitments that the Fed will not move quickly to cease the stimulus, growth investors can use any weakness to buy stocks particularly in high-tech areas where innovative business and personal solutions will lead to greater efficiencies for years to come. Investors who can withstand volatility with a big potential reward can buy Apple (NASDAQ:AAPL), which is coming out with new products this summer and is sure to be revolutionary: Google (NASDAQ:GOOG), which has a new "Glass" product that will revolutionize the communications market, and the periphery companies that support these new innovative developments such as Intel Corporation (NASDAQ:INTC), Qualcomm (NASDAQ:QCOM), Microsoft (NASDAQ:MSFT), Cisco Systems (NASDAQ:CSCO) and VMware Inc. (NYSE:VMW). For a more diversified approach, buy the broad market ETFs like the SPDR S&P 500 (NYSEARCA:SPY), PowerShares QQQ Trust Series 1 (NASDAQ:QQQ) and iShares Russell 2000 (NYSEARCA:IWM).
Gold and silver have had a little resurgence, which looks like just a dead cat bounce. I would sell the metals, such as the SPDR Gold Shares (NYSEARCA:GLD), Power Shares or Market Vectors Gold Miners ETF (NYSEARCA:GDX), on any strength.
Disclosure: I have no positions in any stocks mentioned, and no plans to initiate any positions within the next 72 hours. I wrote this article myself, and it expresses my own opinions. I am not receiving compensation for it. I have no business relationship with any company whose stock is mentioned in this article.