The9 (NASDAQ:NCTY) has spent more than $300 million over the past 5 years to develop its next generation of games. Stock price has fallen from $52 in 2007 to $3 today and $1.2 billion of market cap has been wiped out. Now finally, several major games will be launched during the second half of 2013. The9 is expected to return to profitability in 4Q 2013. Yet shareholders are losing faith and are selling shares at low levels. On the other hand, the Chairman / CEO Jun Zhu has been working on a potential privatization deal and has done share buyback aggressively. In addition, he purchased shares personally and aggressively. Shareholders with enough risk appetite should hold on to their tickets while preparing for the possibility of an upturn.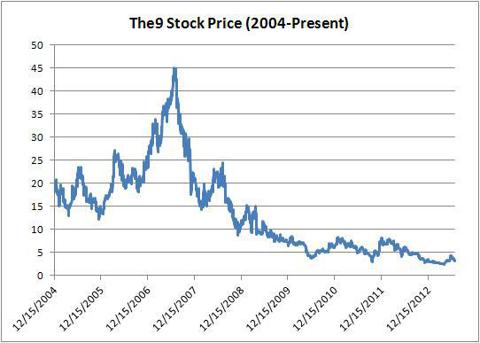 The9 still has $89 million ($3.63 per share) of cash on its balance sheet. In addition, the company purchased its 14,000-square-meter office building in March 2007 in Pudong New Area in Shanghai. The building alone is currently worth more than $50 million ($2 per share) and its value grows at approximately 15%-20% per year. The company has almost no debt. Yet the entire market cap of The9 is now below $70 million, which is almost a rounding error compared to its market cap of $1.2 billion in 2007. The stock is trading below cash. In other words, at the current price, shareholders get the building for free, plus a pipeline of major games costing more than $300 million ($12.25 per share).
The Dell (DELL) situation has some similarities to that of The9. Dell's PC business is declining. And while it spends a lot of money on acquiring enterprise software and services businesses, the acquisition spending lowers net income and the payoff can be several years away.
Carl Icahn knows one thing - that Dell's management (Michael Dell) has spent $13 billion over the past 4 years on acquiring high margin Enterprise Solutions businesses. Whether those investments deliver or not, it's too early to tell. But Dell's management are not idiots (they are paid millions and are considered one of the best in the industry, arguably) and there is a decent chance that the investments can generate handsome returns. There is this nice upside, and shareholders, who have paid for those acquisitions over the years, deserve to enjoy the potential upside.
Below is a list of Dell's acquisitions over the years (from Dell SEC filing).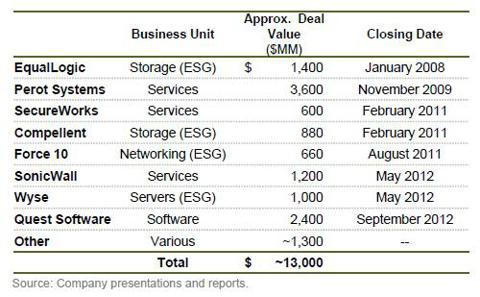 Similarly, The9 has spent more than $300 million over the past 5 years on developing games, and 4 major ones will be launched during the second half of 2013. Whether the games will deliver good results or not, it's too early to tell (Planetside 2 and Firefall early results are both good). The9's management are not idiots either (they have also been considered one of the best in the industry), and there is a decent chance that the investments can return good profits. Like Dell's management, they are in the business for over a decade and they (should) know what they are doing. They wouldn't spend hundreds of millions of dollars unless there is a significant upside potential on the horizon. And shareholders, who have paid for the development of those games for years, deserve to hold on to their shares and see how the investments turn out.
An example of the upside: in February 2004, The9 purchased the exclusive license from Vivendi Universal Games to localize and promote a then-unknown game World of Warcraft. The license fee was $3 million, and The9 agreed to pay advances against royalties and marketing expenses. Industry experts at the time thought the game was not good and too western for Chinese players, plus the 3D game type was too confusing. No one thought the game could be very profitable. The game was launched on June 7, 2005 and over the first few months, its performance was disappointing. But the game continued growing and turned out to be a huge hit. It generated $242 million of revenue for The9 in 2008 alone. Below is a chart showing The9's annual revenues.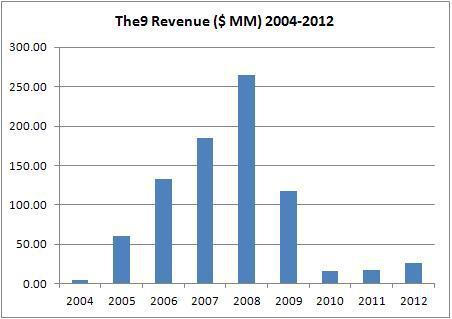 The World of Warcraft license expired on June 7, 2009 and The9 decided not to renew it. From 2005 through 2009, The9 enjoyed the huge success of the game. The game left The9 with $316 million of cash on its balance sheet at the end of 2008 ($11.39 per share).
Over the next 4 years, The9 spent over $300 million on developing the next hits. As the product development cycle moves forward, 5 major games are being launched in 2013, and there is a decent chance that some can be hits.
Below is a chart showing the spending of The9.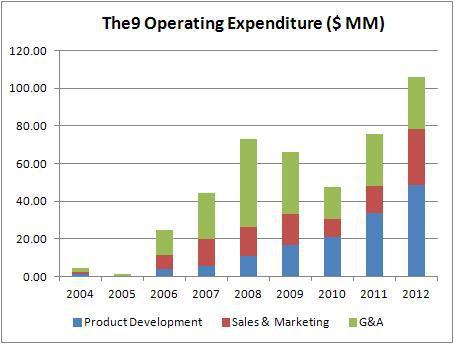 Even though revenue fell dramatically post 2009 after losing the World of Warcraft, product development cost has increased at an annualized rate of 49.7% per year over the last 5 years.
Unfortunately for Dell shareholders, Michael Dell and his team depicted the gloomy future of PC and shareholders were spooked. It's hard to predict whether the majority of them will vote for or against the deal on July 18. The most ironic part of the story is that, when Dell's P/E is compared to that of HP (NYSE:HPQ), Dell is overvalued. But in fact Dell's earnings are low because of the $13 billion spent on acquiring the Enterprise Solutions businesses. Dell shareholders paid for those acquisitions and now they are scared because the net income has been dropping, which is the result of the very investments they paid for. So they are giving away the upside to Michael, at $13.65 per share. Carl Icahn is fighting all he can to derail the deal.
For The9, Jun Zhu has not been successful (yet) in securing a privatization deal. In March, it was reported that Jun Zhu met with investment banks and private equity funds to discuss a potential privatization deal. A privatization deal may be expensive and previously closed deals mostly involve companies that are profitable. There were funding issues too. In June, Jun Zhu flew to New York and it was reported that he met with potential financing partners.
The company is doing share buybacks. In March, The9 had purchased more than 1.3 million shares for a total of $3.8 million, under its $10 million share-buyback program it announced in December 2012. The buyback program represented about 16% of the company's total shares.
In April, Jun Zhu personally purchased 200,000 of the company's shares on the open market, and he intended to purchase as much as $5 million worth of the stock in total. That is about 8.2% of all shares of the company.
In 2009, The9 paid a $29.4 million special cash dividend ($1.11 per share) to reward shareholders. Had Jun Zhu saved the cash and pay them out today, it is equivalent to a 40% yield.
Here are the 5 major games being launched in 2013:
Firefall took 7 years to develop and cost more than $130 million. Its full scale open beta test commenced on July 9 and early results and feedbacks have been positive.
Planetside 2 launched its open beta test on June 25 and early results are positive. Its revenue exceeded $1.7 million within 3 days post launch.
QiJi 2 will have its open beta test on September 28. It's a 3D game built upon a successful game QiJi that was launched 10 years ago.
MU Return is a 3D webgame that was unveiled on July 15. It will become The9's primary and No.1 marketed game during the famous China Digital Entertainment Expo & Conference (ChinaJoy) from July 25 to July 28. Its launch schedule will be finalized in late July.
ReXueWuShuang is a webgame that was launched in April. It is a commercial success and also a social media hit. Its revenue exceeded $1.6 million over the first month.
Summary
The9 shareholders have spent over $300 million and 5 years to buy a ticket to see how The9's games pan out. Now it's show time. Good or bad, they deserve the chance at least to see what that future looks like, and it would be foolish to throw away the ticket now and go home. Carl Icahn knows it better than anyone else.
Disclosure: I am long XIN, NCTY, DELL, YONG. I wrote this article myself, and it expresses my own opinions. I am not receiving compensation for it. I have no business relationship with any company whose stock is mentioned in this article.