After being kicked around a bit lately due to a recent rash of short-seller induced articles on Kandi Technologies (NASDAQ:KNDI), Mr. Pearson's being the latest, I have decided to tell the "true" story of a Chinese micro-cap company about to come into its own. I call it, taking the High Road.
The following is a detailed chronologically based article whose purpose is to provide factual information, not innuendo, "pump", lies, or any other distractions to confuse and or alter "the truth." I will not ask you to fill in the blanks, knowingly, of anything I present. I have done my best in providing links to corroborate as many of the statements made in this article as to where Kandi Technologies, since 2007, came from, where they are today, and what are their prospects going forward. Note: This my third article for SA on Kandi Technologies; Kandi: Don't Look Now, It's Happening and What Percent of 120 million China EV Bike Owners Will Kandi Technologies Convert?
I, as many other Kandi investors, know quite a bit of factual information on this speculative Chinese company. I bring up the company's Chinese origin because there have been many allegations, some true, of deceit and fraud perpetrated by Chinese companies on the American investor. But, as we all know, allegations of fraud or malfeasance on some can become indictments of all. Especially by those authors that are agenda driven. Mr. Pearson is an author who, in my opinion, has created suspicion and fear in the minds of the uninformed to perpetuate the myth as to why Americans should not get within 100 feet of all Chinese companies. Hopefully, this new piece of information regarding a dramatic change -- China Cooperating with US Regarding Accounting Scandals -- in China's previous reluctance to address this problem will help. Li Jianfeng, an analyst at Caida Securities in Shanghai, as told to the Associated Press earlier this week countered this perception, "The One Lie You Must Ignore"…. The latest Pearson article spins the old "smoke and fire" argument to distract, divert, and discredit companies such as Kandi by conflating the sins of some with the legitimacy of others. Innuendo, contextual deviations and or omissions, and factual discrepancies are part and parcel of this antagonist's arsenal...Is Kandi (KNDI) a speculative company? Yes, Kandi Technologies is speculative, but, in actuality, only to its prospects and not its historical performance. Unfortunately, outside of Kandi's core constituency, very few are aware that this company has an extremely profitable legacy business (primarily recreational off-road vehicles) which has provided substantial profits in 28 of its last 30 reporting quarters. It is fact, not speculation, that this legacy business has been instrumental in funding Kandi's development of the pure, low speed (approx. 50 mph), urban EV for China's masses. And, it is an incontrovertible fact that in fiscal 2012 no domestic/foreign auto manufacturer has sold more passenger EV's than Kandi (3915 units) in China…More than Tesla (NASDAQ:TSLA) in 2012…Kandi is China's undisputed #1 leader!
Background:
2007 - 2012
During this period of time Kandi reached many benchmarks and milestones in the evolution of the company:
Joined Nasdaq (2007)
Development and approval of 9 EV models by MIIT (Ministry of Industry and Information Technology)
Transfer by Mr. Hu of 11 patents to Kandi (2012) CEO donates 11 personal patents to KNDI
Agreements with (3) Chinese Provinces to purchase and promote EV's from Kandi (See below)
Joint Venture with largest passenger car manufacturer in China (Geely Automotive)
Kandi attains largest EV Manufacturing Capacity in the World
Vertical integration of the manufacturing process begins
Partners Updates:
"Alliances Mr. Hu Has Made"
Clearly Kandi could not expect to go it alone. China, and more specifically its Provinces, are very protective when it comes to homegrown industries. Some may reasonably call it a "favorite son" business culture. For "outsiders" to be granted access to its markets, each province wants to have its own piece of the pie.. Mr. Hu, CEO of Kandi, has traversed this political reality, very effectively, which is evidenced by the agreements he has crafted with Zhejiang, Shandong and Hainan Provinces. And, for Kandi to be successful it also needs the cooperation of the electric utilities, reliable battery suppliers, etc., to implement its vision. The following are some of the strategic alliances Kandi has made:
State Grid Power Corporation (SGCC)
Jinhua City, Zhejiang province, 3,000 EV subsidy program
Tianneng Power International, Ltd., batteries for Jinhua City project
Wanning City, Hainan Province, parts factory, 100,000 cars
Wei Fang City, Shandong Province, parts factory, 100,000 cars
Hangzhou, Zhejiang Province, 20,000 car lease program
Zhejiang Guoxin Car Rental Co., Ltd., Hangzhou EV leasing program
Hangzhou Green EV Rental Co., Hangzhou EV leasing program
Hangzhou Yulong EV Technology Co., Ltd., Hangzhou EV leasing program
Zhongju (Tianjin) New Energy Investment Co., Ltd., Hangzhou EV leasing program (Division of Hong Kong SE listed Sinopoly Battery)
China Aviation Lithium Battery Co., Ltd. ("CALB"), a subsidiary of Aviation Industry Corporation of China ("AVIC"), Batteries for Hangzhou, 20,000 EV leasing program
Hangzhou 100,000 EV rental project with vertical parking garage
Zhejiang Zotye Holding Group Co., cooperation agreement
Geely Automobile Holdings Ltd., joint venture
TongXu AoXing Vehicle Co., Ltd., marketing agreement in TongXu County, KaiFeng City, HeNan Province
Mr. Hu has been systematically covering all his bases securing partners to do all the things that are outside Kandi's core competence which reflects his business acumen and management skills.
Read more....Kandi Technologies' Art of War by Denny Schlesinger
More Specifics:
The Business Model:
The original business model for Kandi EV's in China was a "sales model"; direct to the consumer in Jinhua. The sales model has evolved to include the EV sales w/o battery: "Vehicle, battery and other related industries intend to build an industry alliance to implement an EV vehicle servicing business." Zhejiang Jinhua Octopus Group Co., Ltd., Zhejiang Kandi Vehicle Industry Co., Ltd., Zhejiang Tianneng Battery Co., Ltd. signed a cooperation agreement to jointly fund the establishment of an electric vehicle battery replacement services company to provide the consumer with a business model by which they can "lease a car, do not buy the battery" in order to solve the problems of affordability, short driving range, long charging times, inadequate charging facilities, and costly battery recycling problems. It should be noted that none of this would have possible without the cooperation of State Grid, China's largest utility, in building the necessary infrastructureto implement this model.
The Jinhua Municipal Government instituted the first Chinese EV Pilot Program (3,000 Kandi EV units), with aggressive subsidies, in the last quarter of 2011; sales goal of 300 by the end of 2011, exceeded, with the balance of 2700 +- units to be sold in 2012. On February 1, 2012, a revised promotion on the remaining 2,700 units was put in place by JMG. No specific reports regarding whether the balance was sold in its entirety in 2012. Probably not, still progressing, but what's important to note is a statement by Mr. Hu in that same press release, Kandi PR 2/13/2012; "We will be launching different EV rental business models, as well as both lead-acid or lithium-ion battery options to our Chinese customers this year. We strive to continue to improve our technology, service system, as well as the consumer experience to meet expectations of those early adopters of our pure EV products. We look forward to another great year of electric vehicle sales and building a strong foundation for the long term growth in the pure EV industry". This statement depicts his insight and clear sense of vision in maintaining Kandi's position as China's undisputed leader in the EV marketplace.
Simply put, it is all about not just one but two Kandi "disruptive" total solution models for mass EV deployment in China. One, a Long Term Leasing model combining a medium speed (<85kmph), small EV with Kandi's multi-patented Quick Battery Exchange (currently implemented in Jinhua and Hangzhou), and the second a Short Term automated self-serve CarSharing rental model. (Similar to a ZipCar on steroids). Both concepts were conceptualized, and developed by Kandi's Chairman and CEO Hu Xiaoming" (Mr. Hu).
*What Percent of 120 million China EV Bike Owners Will Kandi Technologies Convert?
For Now and into the Future: Projections for Earnings Generator Sectors:
Long Lease (1 to 3 years):
In order to comply with new requirements for PRC subsidy support, Kandi introduced the Kandi KD5011 passenger car; Unveiling of next generation Kandi EV for Hangzhou Pilot Project. What's new are two important upgrades. Kandi Increased the speed to <85kph (approx. 50mph) and extended the battery range to 160 km (>90 miles). More than sufficient as a City Car in that the highest posted speed limit in Hangzhou is 50kmph.
Key benefits of program:
Lower pollution in urban areas
Low cost to Consumer: $128 - $157 per month (subsidies passed on to consumer)
Free maintenence, Free insurance, Free battery replacement exchange (12,000 miles per year for max of 3 years), and reserved Free parking EV areas.
After conclusion of of lease "renter" has option to return or purchase
"Smart Grid" V2G - Enables electricity providing utility (ex: State Grid) to manage grid more efficiently with lower costs; V2G article.
Kandi Long lease Revenue Projections 2013:
Based on the structure of the Hangzhou EV leasing program, whereby the battery company purchases the cars (originally CALB by itself) and the utility (SGCC) purchasing the batteries, 20,000 EV units are to be delivered by Kandi by 12/31/ 2013 according to China media sources.
Kandi has only shipped a miniscule part of this order because of a "partner snafu" by (OTCQX:CALB) to take an initial 5,000 EV contracted shipment before 12/31/2012, Kandi: Don't Look Now, It's Happening, and also that the new governmental subsidies have not been published, as of yet, for the period of 2013 - 2015. Media reports, covered earlier, are that the PRC will have them in place on June 30 or soon after. Aggressive shipments should commence immediately: Kandi not only has ample inventory ready to ship but it's two manufacturing plants are currently producing EV's for the Hangzhou project. Note: Annual manufacturing capability with its newest asset acquisition; Asset Purchase Agreement, is a minimum of 130,000 EV units that can be readily expanded to 300,000 per year. Note: Kandi will transfer its newest acquisition to the Kandi/Geely JV as part of its contribution to the JV. Provisions of $38 million + have already been reserved by Kandi as per it's 2012 10-K EOY filing (Balance Sheet) for the purchase.
By the Numbers: Projections

*Initial JV Panda sales will probably be for the CarShare Program, not determined yet, but included here nonetheless. Since the JV is 50-50, neither company will consolidate JV revenues on their respective books (as per agreement), only report JV P&L. Profits, however, when distributed, will be included in both company's Income Statements...when is TBD.
If all historical ratios, re Income Statement, remain consistent for 2013 (23.3% GP, as per the 2012 Consolidated Financials), the Long Lease contribution to the EPS will be:

As reported above, If the above sales materialize, Kandi's 2013 revenues from EV's are projected to be $174,000,000 with Net Income of $.83 (conservative approach). Note: The only limiting factor in the above breakdowns will be the participating Leasing Companies ability to absorb Kandi's production in the second half of this year. The remaining factor in determining the 2013 EPS contribution from this sector is that economies of scale have not been factored in. Could be substantial in Kandi's favor.
Year-end 2013 consolidated projections will be provided later in the article.
Going forward, based on the current signed agreements with Hangzhou (20,000 units per annum), Shandong Province(20,000 units per annum), and Hainan Province (20,000 units per annum) it is reasonable to project, imo, minimum sales of 60,000 EV units per annum for years 2014 - 2015. These projections do not include sales estimates from the newly created JV, Announcement of Kandi/Geely JV Zhejiang Kandi Electric Vehicles Co, Ltd., for 2014-2015. A brief look into the JV future: JV has already showcased the Kandi-Geely Panda JL7001, 4 door, the Kandi redesigned Panda in Shanghai and Hangzhou. This model will be part of Long Lease and CarShare.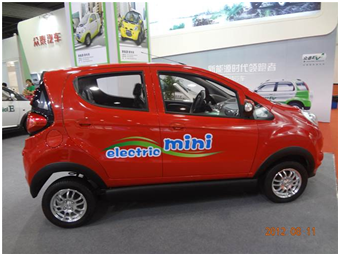 JV Panda JL 7001EV Re-Designed & Built by Kandi
Other Provinces have shown great interest in promoting both programs. Government officials from Jiangsu Province have recently met with the JV principals at Kandi's newest manufacturing facility, expressing serious interest in a contract with Kandi and the JV to supply EV's Jiangsu Province Officials Meeting 5/10/2013 for their province.
CarShare (on demand):
CarShare is a disruptive and innovative leasing system methodology for short-term rentals (Kandi owned patents). Initially created for residents of Hangzhou to fulfill the demand for limited duration rentals but revised to include visitors, tourists,etc.. Cars could be rented by the hour or day. Similar to the "Zip Car" business model but reserved exclusively for EV's. On August 10, 2012 Kandi showcased it's Carshare Model, Showcase of CarShare Parking System, with an actual prototype of the system. The following is an animation of what the finished system will look like and how it will work; Kandi's Patented Carshare Animation (youtube.com).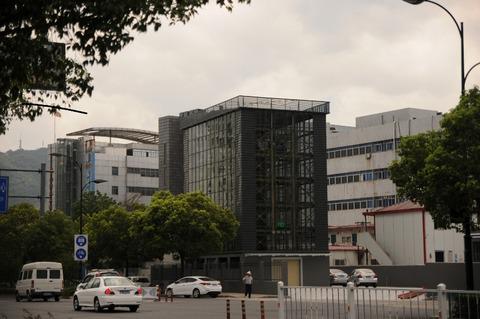 Latest Picture of CarShare Facility, City of Hangzhou 7/15/2013
Almost Complete and Ready for Business!
Courtesy of Tony from Yahoo Kandi Private Group
Kandi currently has an agreement with City of Hangzhou which will be the first Chinese city to offer CarShare. Note: This future income generator will be contributed by Kandi to the KNDI-Geely JV. The Hangzhou agreement is for 100,000 Kandi EVs over a 5-year period (FYI: this isn't part of the Hangzhou Long Term Lease Program). The program facilities will be built in highly trafficked areas such as airports, railroad stations, densely populated office complexes, and highly populated apartment areas etc. See Arthur Porcari's article Kandi Technologies Vs. Tesla: Wall Street EV Match-Up Revisited Part 2 for a more extensive treatment of the CarShare System.
Key Benefits of Program
Reduce pollution
Reduce traffic congestion
Inexpensive: By the hour or the day. All costs inclusive.
Convenient: automated pick-up and drop-off facilities throughout the participating city
Designated Free parking facilities
QBEX/Smart Grid power re-charging/swapping methodology is currently indicated as the preference by SGCC for CarShare. Methodology accomplishes cost efficient power usage and control by utility while extending battery life.
Something to think about....the USA's answer to Kandi's CarShare model is the Zipcar franchise which was recently sold to AvisBudgetGroup (NASDAQ:CAR) , the "We Try Harder" people, for approximately $500,000,000!
Facts: Zipcar started in 2008 and went public in 2011 on the Nasdaq (ZIP). I looked over Zipcar's previous years financials, their 12/31/2012 financial statements specifically, finance.yahoo.com/news/zipcar-reports 12/31/2012, and I'll be damned if I could confirm where any real income came from re operations. I see non-cash earnings of $10.9 million and Zev credits sold for $1.3 million, no depreciation taken, etc. I could only wish to have that CPA firm who created Zips' financials do my company's books. I did confirm, however, that ZipCar had lost about $55million since 2007 and that ZIP had about as much debt as cash on their books when Avis bought them out. "What was Avis thinking when they ponied up the 500 mil?". Avis Purchases Zipcar for $500,000,000 - What a Bargain.. Pretty hefty price for Avis to pay; $500,000,000, for a name, a customer list, and a concept.
The only reason I bring up the ZipCar deal is, "if ZipCar was worth $500,000,000 to Avis what should Kandi be worth to anybody? $2,000,000,000?... More? Certainly not its' $120,000,000 market cap as of 6/3/2013. The deal with Avis was worth $12.25 a share. Kandi is selling at $3.75 a share, actually makes money, has vastly more potential imo, and wasn't bailed out by an "Avislike Angel" The "venture boys" who initially capitalized ZipCar lucked out on this deal...Kiss the floor boys!
So, if someone could explain to me how ZipCar was worth approximately four times that of Kandi, I have a bridge in Brooklyn that I would like to sell you. And please, don't tell me that Kandi is but another Chinese company that lies about everything (Kandi's "truthful" basher Shareslueth).
Currently there is nothing definitive to report about CarSharing income projections for 2013 other than the unexpected news that the first facility in Hangzhou will be completed sometime in July. In the future, 1 year from now, I see CarSharing as becoming an integral part of the income stream for the Kandi/Geely JV. Initial media reports are that the CarSharing model was one of the major reasons Geely JV'd with Kandi; In a very recent article published in Securities Daily," "Geely Changes Strategy for Penetration Into the EV Marketplace", I have excerpted a relevant paragraph, with translation tweaks, re Geely's interest in a JV with Kandi; May 16: Geely launched its initial entry into the EV marketplace with the EC7-RV, plug-in hybrid EC7, EC8, and pure EV's EK-1, EK-2 but they sold poorly." A change in strategy was necessary from Geely's perspective almost immediately. "We sincerely hope that Mr. Liu through his many years of EV technology accumulation will further the new JV's success", Geely executives told reporters. Geely Group PR Director Yang Xueliang told reporters, "Geely plans to open Hangzhou as a starting point to launch a small electric car leasing business." Just brush a credit card and a consumer can pick up and return a car and be billed monthly for usage. The JV will actively promote this EV program. FYI: The former general manager of sales for Geely, Sun Xiaodong, was appointed the JV's new vice president of EV sales and marketing. He is the executive proclaimed to be the star of Geelys meteoric rise to viability.
Conclusion: In all probability there will be no substantial contributions to the bottom line for Kandi in the short term, 2013, but do expect the JV to be extremely aggressive getting this program off the ground this year. The Geely influence, political, money, and industry power will be critical in implementing the CarShare model from this point forward. When the initial CarShare program in Hangzhou takes flight shortly, we will start getting indications as to it's efficacy and consumer acceptance very quickly. From the media reports I have read so far, from Paris to London, talk of pent up user demand for similar short term EV rental programs recently launched. The future appears to be bright for this public transportation program.
The Kandi JV is currently in negotiations with several large cities as reported by Geo Investing, Other Chinese Cities Interested in Kandi CarShare Program. The latest breaking news, however, of Kandi's CarShare Program is from the City of Hangzhou: New Public Garage for EV's to be completed in July 2013. Total cost of the construction has been borne by Hangzhou. Update on CarShare: Construction Starts on New CarShare Garage, 6/10/2013, Overview of CarShare Future for Kandi. Again, it should be noted that all land, soft and hard costs for construction of these facilities, going forward, will not be incurred by the JV and or Kandi. The City of Hangzhou has already announced that it is their intent that additional facilities will be financed by outside sources.
Note: QBEX (quick battery exchange) will be utilized for CarShare program. (See QBEX details below).
Light Trucks:
This is a potentially lucrative sales and earnings generator for Kandi, which hasn't been exploited to any degree. Aside from the sale of 30 of small van types to the Postal Service, initial sale of EVs to the China Postal Service in Hangzhou, no other sales in the "light truck/van" sector have been reported. It should be noted that there have been a few model which have already been approved by the MIIT, including Kandi's latest redesigned van shown at the Shanghai Automotive Show on April, 2013 and Hangzhou Expo, July,12,2013 ; KD5023XXYBEV Pure Electric Van. See more of MIIT approved light truck models available at the Kandi website, Kandi Website.
My prediction is that that more sales emphasis will be put into this sector after the passenger car segment for Hangzhou is up and running; smoothly and efficiently.
Conclusion: No income projections at this time.
QBEX:
QBEX (quick battery exchange) is undoubtedly the "game changer" regarding the adoption of EVs in China. From Kandi's perspective, what's really fantastic about QBEX is twofold; it will provide a major reason for the Chinese masses to accept the EV (fear of not having access to an immediate power source and that Kandi owns the patents for QBEX). Read Marc Chang's excellent article about Kandi's battery swap system: Kandi Technologies: Right Place, Right Time, Right Disruptive Technology, Right Now (Part 2 of 4)
At the present time nobody is really talking about QBEX as a future income source sector for Kandi. By my estimation, however, it may become the biggest income earner of all. I don't know specifically what kind of business model Kandi will put forth in the future but here are a few ideas that Kandi might be thinking about at the present time:
Charge every automobile manufacturer, foreign and domestic, a royalty fee every time they utilize QBEX
Charge every automobile manufacturer, foreign and domestic, a yearly franchise fee to utilize QBEX
Negotiate a partnership agreement with every utility in China for a piece of the action on each and every battery swap/energy usage (State Grid is already on board with this concept in Hangzhou)
I particularly like the third option. It's a win-win situation for both the utility and Kandi. The utility gets to build out it's "Smart Grid V2G" infrastructure while passing on the cost of the electricity by either charging EV owners for each swap or by passing the costs of the electricity to run an EV (mileage restricted to 12,000 mile per annum) on to each customer of the utility (Kind of like a surtax for the good of the city in cleaning up the air pollution).
Conclusion: No income projections as of this time.
Legacy Business:
The "legacy business" continues to be very profitable for Kandi. It has been Kandi's "bedrock"" in sustaining its profitability as a company for the last 5 years. It has directly provided a significant amount of the funds that were necessary for Kandi's emergence into the EV marketplace too. In the 12/31/2012, Consolidated Financial Statement, the legacy business contributed approximately $45,000,000 in sales which was a 20% increase YOY from 2011.
This year, it is anticipated the legacy business will grow at a conservative 20% rate YOY. Initial reports for fiscal year 2013 indicate brisk sales in the UTV and ATV categories in North America/China and increasing 3 wheeled motorcycle sales in China.
By the Numbers: Projections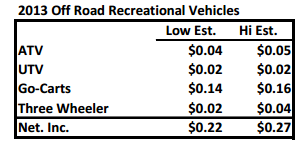 Conclusion: The "Legacy Business" projected contribution to Kandi's EPS between $0.22 to $0.25 in 2013.
Kandi/Geely Joint Venture:
This agreement between Kandi Technology Group and Geely Automotive, Kandi/Geely Joint Venture Agreement, is of great consequence to Kandi's current and future shareholders. Even though the negotiations for this partnership flew underneath the radar for many months, nobody really knew about it, the resulting 50/50 Joint Venture is indicative of Mr. Hu's business acumen and also how much Geely wanted this deal to be made. It must be noted that Geely Automotive, Geely Automobile Holdings Company Ltd, 12/31/2012 Annual Report, is the largest and most powerful domestic car manufacturer in China Forbes: Chinese Billionaire #1 in Car Sales. As discussed previously, Geely's political influence, contacts in China and abroad, and money power, makes this a match made in heaven from Kandi's perspective. What makes this JV all the more exciting, to the uninformed, is that Geely has a market cap of $4,300,000,000 (HKD converted to USD) and Kandi has a market cap of $148,000,000.
Note: The JV 50/50 partnership is definitely not Geely's style. If you research in depth, Li Shufu's bio, you will see that his meteoric rise in the international automotive industry had one specific strategy that was integral to all his dealings. He buys technology, as in "takeovers" of companies, which further his growth goals in China and around the world. What he found out early on in dealing with Mr. Hu was that neither Mr. Hu or Kandi were for sale. Kandi wasn't a distressed property that needed a bailout to survive. like Volvo, but did possess the technology, organization, political savvy, physical plant infrastructure, and financial wherewithal to be a worthy partner for the low end of the EV market in China. Without question, Li Shufu saw a "black hole" in his organization regarding mass market penetration, he calls it mid-level, of the EV marketplace. He had invested over $60,000,000 in EV R&D, but unfortunately most of it was in the top-end of the EV market. Again, there was only one EV company in China that had the knowledge, experience, organization, patents, and *facilities ready to lead the low-end sector of the EV marketplace...Kandi...As a relevant aside, BYD, Warren Buffet's EV investment in China, by all media reports has surrendered any intention of entering the low end, mass market, segment of the Chinese EV marketplace. They will be concentrating on bus sales and the upper end of the EV passenger car market....Based on the aforementioned facts Mr. Li Shufu then made his decision to enter into an equal, 50/50 Joint Venture partnership to fill the void in his EV product mix. Imo, it was either a "join in now or be left behind" scenario.
Geely evidently appreciates and respects what Mr. Hu and Kandi have accomplished in a relatively short amount of time. Li Shufu, CEO of Geely, can easily relate to what Kandi has done, and is doing, because his story in growing Geely into the force it is today, is pretty much the same as Mr. Hu's, w/o of course, Geely's results They are very close in age too; Mr. Hu 53 and Mr. Li Shifu is 50.
What's Updated and New: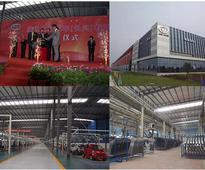 State of the Art Kandi EV Manufacturing Plant, Changxing
100,000 Annual Capacity - Expandale to 300,000
* Kandi/Geely JV: Production has already begun at Changxing manufacturing facility
Kandi Exhibit at Hangzhou Expo
The benefits each company will derive from this JV are as follows:
Kandi:
Faster EV implementation throughout China
Opens up a potentially lucrative export market on a large scale
Easier funding access, enhanced political support
1,000 Geely showrooms for additional Kandi sales
Faster build-out of CarShare rental program (no other partners necessary)
Access to Geelys advanced EV technology
Engineers from both Kandi and Geely to develop new cars together (<90kmph)
Retention of the Kandi name and logo on JV's cars
Geely putting two of it's models into the JV - the remodeled Panda (done by Kandi engineers, Mid-Level EV, IG)
Geely:
JV will receive Free Access to patents held by Kandi; ex: CarShare, QBEX
Mr. Hu's "hands-on" expertise as General Manager of the JV
Not being late or left behind for China's initial marketing of urban EV's to China's masses
Changxing state of the art manufacturing facility, already in operation, as part of Kandi's contribution to JV
Adding Kandi's existing line of EV's to their sales mix
Implementation of CarShare program throughout China
Immense export potential
Conclusion: Breaking News: Overview of CarShare Future for Kandi. As per this article, projected sales of between 5,000 - 10,000 units from the JV will be completed in fiscal 2013. Since no sales prices on this model have been announced I will not enter any bottom line projections to Kandi's P&L. Note, however, it will be something...just can't estimate how much. We also don't know what effect Kandi's EV's being shown at Geely's 1000 showrooms will have on sales projections for 2013. Sales numbers could be substantial but will not be reflected here.
Kandi Stock Price Evaluations
Utilizing EPS is often a tricky imprecise exercise. I will, for the sake of this presentation, only use the "lesser projections" in any of the potential earnings categories which actually show numbers and therefore have a reasonable probability of being met.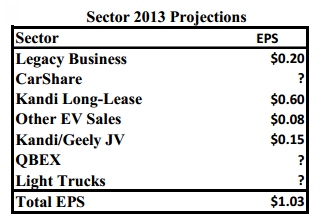 * $1.03 x .91 = $ .94
Stock Valuation for 2013:
Utilizing a reasonable 20X multiple = .94 X 20 = $18.80
* Note: With the most recent dilution of approximately 9%, Institutional Placement of $26.3 Million of Stock and Warrants 7/1/2013
Head to Head Comparison of Tesla vs Kandi for 2013 Thru 2017
Since my last published Kandi article on SA, Kandi: Don't Look Now, It's Happening, published on Feb. 20, 2013, I have received many requests regarding a more detailed analysis of my assertion that Kandi was worth, "In my opinion, what should be at least a $6.00 to $7.00 stock price right now", when the article was written. I must confess that four and a half months later my analysis has changed (with detail)...Read on...
Given: Kandi data based on projections taking into consideration pending sales agreements, coupled with current and announced manufacturing capacities. Tesla data from a forecast given on March 29, from their lead Underwriter and Investment Banker Goldman Sachs Research (no relationship to the author :-)
Kandi Analysis:
FY 2012 earned $0.20 a share, trailing PE of around 19.74 under GAAP. First quarter GAAP came results at $0.0725 (non-gap $0.091). Note: Only 302 EV's sold in the quarter, covered earlier, and Q1 is historically KNDI's weakest quarter. Extrapolating out Q1 by four, $.30 per share or 15 PE from Kandi's legacy business alone is a conservative but realistic projection.
The current quarter is a bit tricky. As mentioned above, the reports out of China, regarding new three year subsidy program appear to be unanimous that it will kick in prior to the end of this quarter; June 30, 2013. If given at least a few days left in the quarter, it is likely KNDI could ship at least a thousand cars this quarter and come in with around $21 million in revenues and $0.11-0.12 a share this quarter, if not, then maybe $0.08 a share for this quarter on $14-15 million. The second half of the year is key, H2 2013 , because if deliveries are absorbed by the Leasing Companies it could add as much as $170 million in revenues and $0.83 a share to full year earnings.
This late in the year, it may be difficult to complete the 20,000 Hangzhou Long Lease program by year end. Not because Kandi cannot build and deliver, it can, but because, as said before, the Leasing Companies may not have the time to place all of the leases. But the order is pending so I have included it in the table earlier in this report. Same could be said for the 3,000 "other EV order" since some of this is in the City of Jinhua subsidized sales program. The KNDI/Geely JV 5,000 does look secure in that Geely, in an analyst call last Friday, revealed this projection to analysts as you can see here as reported by the China Media:
2013-06-04 04:47:00
"….A joint venture company with Condit (Kandi), the future will produce small electric cars, electric cars such as the bear (Panda). Sales are expected in the second half, 5000, in addition to possible future cooperation with foreign manufacturers, selection and Condi cooperation model of electric car production…"
As described above, based on Pending agreements in place for Kandi EV sales of 28,000 units made up of the Hangzhou Long Term Lease Program, other sales, JV sales and Legacy business, 2013 EPS could reach between $1.08 and $1.40 a share.
Projecting out [O1] to 2017: Since the full scope of the Geely-Kandi JV has not yet been reported, other than the 5000 Kandi developed Electric Panda EVs for the last half of 2013, I will use the pre-JV, Kandi announced projected capacities making the assumption that the JV will not be dilutive to what Kandi already had on the table.
The Hangzhou CarShare leasing program for 100,000 Kandi EVs is to be completed by 2017 as you can see from the CarShare announcement mid-2012. Projected revenues, $700 million US with half or $350 million in 2017.
Kandi's agreement with Shandong Province calls for completion of a new components manufacturing facility by 2015 with "annual revenue of the Project is expected to be approximately RMB 3 billion ($500 million USD) when it reaches its full capacity. This agreement also calls for Shandong Province to facilitate the purchase of at least 20,000 Kandi EVs per year once operational.
A similar agreement with Hainan Province: "The Hainan manufacturing facility will be built by Kandi. When fully completed and reaching its ultimate production capacity, the facility is expected to generate up to RMB 3 ($500 million USD) billion of annual revenue" This agreement also calls for Hainan Province to facilitate the purchase of at least 20,000 Kandi EVs per year once operational.
As of this writing, Kandi's two existing facilities have current annual EV capacity totaling 100,000 at Changxing, and 30,000 at Jinhua. Both can be realistically be expanded to 300,000 as covered previously in this article. Considering Kandi's target market of "urban dwellers" population should be over 700 million by 2017. It is not unrealistic to assume that annual sales should increase by 50% of expanded capacity in the two facilities by 2017 and $2.1 billion in revenues.
Add all the aforementioned together and you get gross revenues of $3.45 billion for 2017. Bring 15% to the bottom line and you get $517,500,000 or approximately $13.99 per share on today's capitalization. What stock share price would you put on those projections? Even if you cut all my projections by half what will Kandi be worth by 2017?
Kandi and Tesla: Two Stocks Trading In A Parallel Universe
Before Kandi (KNDI) and Tesla (TSLA), I, like most investors lived and traded in a boring universe of stocks where good news was rewarded and bad news punished. In addition, market, competition, balance sheet, earnings per share (past, present and not too distant future), and market cap were important in establishing a current stock price. But each day I look at the stock prices of these two fine companies, taking the above into consideration, I wonder if I have been transferred momentarily into a parallel universe? Aside from the fact that prior to Q1 2013, TSLA had missed all of its prior quarters guidance in EV unit sales, revenues, and guidance without penalty, excluding non-recurring items, most analysts quarterly projections would call for continuing losses for the balance of this year. And let's not forget that three announcements that I would have thought would cause a stock price declines like the announcement of an impending equity financing, recall of EV's, and assumption of a large potential contingent quasi lease buy-back liability, similar to what almost destroyed the auto markets in 2008, were all rewarded on announcement dates with significant jumps in TSLA stock price. Even Tesla's 1Q 10Q which reported a $.12 in earnings was only positive because of Tesla's sale of Carbon Credits. Their own lead Investment Banker, Goldman Sachs lowered its rating and target price to Hold and $61 a share and has not changed its opinion to date, has done nothing to constrain its stock price. But, let's move on.
Analysts at Goldman Sachs, the Company's lead underwriter in their recent billion dollar combination offering stated the following on May 8th re. 2013 results; "Goldman revised 2013-2015 adjusted EBITDA estimates to $69mn/$267mn/$401mn from $84mn/$344mn/$504mn primarily on the application of lease accounting, which defers revenue recognition. The firm moved FY 2013 EPS estimates from $0.17 to $0.03"
Going out to 2017, on May 29th Goldman stated: "Goldman Sachs still expects to achieve output of Tesla will normalize in 2017, reaching 90,000 on revenue of $ 6.4 billion, profit of about $ 5.33 per share…"
Since my last article, both companies have successfully completed direct stock placement financings, so based on currently reported shares and derivatives outstanding, lets compare fully diluted market caps using all outstanding shares and "in the money" derivatives for the calculation.
At Thursday's closing price of $4.59, Kandi could reasonably be trading at less than 5 times this year's net income with a current fully diluted market cap of $170 million. Or 0.32 times 2017 projected earnings.
Tesla's Thursday close of $125.61 puts TSLA trading at 3161 times Goldman Sachs estimate of $0.03 per share for this year's earnings and a current fully diluted market cap of $14.4 Billion. And 20 times 2017 earnings.
What this means is that Tesla's current market cap is 114 times higher than Kandi's. Now, I am not saying that Tesla's stock can't go higher. What I am saying is that the "disconnect" between these only two relatively pure play EV manufacturers should not be ignored by any discerning investor. And I will not buy for one minute that Kandi's speculative risk from the current levels is even equal to let alone 114 times higher, to make up for the respective market cap differences.
China stocks are about to make a comeback. Don't believe me, believe Wall Street as can be seen by this article that came out Tuesday regarding new China IPO's in the US. If you take out the "Chinaphobia" factor holding back China stocks, reality in pricing must come back. Just the fact that KNDI was able to recently complete a $26.3 million registered stock offering with institutions at $6.03, by far the largest secondary offering in almost three years by a China US traded micro-cap Company, speaks highly to both the end of Chinaphobia and KNDI's legitimacy.
What does this all mean today? Nothing, if Kandi, down the road, doesn't deliver. I think it will but its up to you, the reader, to decide if Kandi could be more than just a reasonable speculation for your portfolio.
Disclosure: I am long KNDI. I wrote this article myself, and it expresses my own opinions. I am not receiving compensation for it (other than from Seeking Alpha). I have no business relationship with any company whose stock is mentioned in this article.