While Jamie Dimon and JPMorgan (NYSE:JPM) understandably get a lot of credit and media attention, for my money I'd take John Stumpf and the management team over at Wells Fargo (NYSE:WFC) any day of the week. Wells Fargo boasts the deepest durable competitive advantages of any of the large U.S. banks due to its sticky and low-cost deposit base, and a more vanilla business mix that doesn't expose the company to as many of the regulatory challenges that are hallmarks of the current environment. Rightfully so, Wells Fargo trades at a premium to the other large U.S. banks, but is has been my belief in the past that the company still trades too cheaply on an absolute basis. Long-term value investors should take advantage of any short-term sell-offs to pick up this growth compounder, which is likely to continue increasing its dividend payout and intrinsic value materially over the next several years and beyond.
Wells Fargo's financial results over the last several years have truly been astounding when put into context with the macroeconomic and regulatory picture that they have occurred in. The bank's earnings potential has considerable upside for when interest rates rise, but more importantly, the bank has proven that is can post attractive returns throughout the economic cycle. While increased capital requirements might make it difficult to achieve the 17%-20% ROEs that might have been possible pre-crisis, Wells Fargo's materially higher capital and liquidity ratios should ultimately be worthy of a higher valuation. The fact that Wells Fargo was able to take its own best practices, and replicate that success with Wachovia's completely different operation and geographic footprint, is a testament to WFC's deep and talented group of executives. That acquisition has created a prolific company that is really the dominant regional/consumer bank in the United States.
On July 12, Wells Fargo posted record earnings of $5.5 billion, up 19% YoY and 7% sequentially. This resulted in $0.98 per share in diluted earnings per common share, which was up 20% YoY and 7% sequentially. EPS has now grown 14 consecutive quarters despite a truly lackluster economic environment. Pre-tax pre-provision profits of $9.1 billion were up 3% YoY and sequentially. Wells Fargo continued to improve its efficiency ratio to 57.3%, which is down 90 bps YoY and 100 bps sequentially. Total revenue was $21.4 billion and up 1%, while net interest income was up 2%, despite the net interest margin having declined by 2bps to 3.46%.
The banking giant continues to be the envy of the industry with a return on assets and return on equity of 1.55% and 14.02%, respectively, in the second quarter. These were up from 1.41% and 12.86%, respectively, on a YoY basis. As profitability has increased, so has the company's ability to generate robust capital, with a 10.73% Tier 1 common ratio under Basel 1, and an estimated Tier 1 common equity ratio under Basel III of 8.54%. Impressively, Wells Fargo has been able to increase capital while still buying back 26.7MM common shares in the quarter and entering into another $500MM forward repurchase transaction for the third quarter of 2013. Wells Fargo also increased its quarterly dividend to $0.30 per share in the second quarter, up 36% from a year ago.
Click to enlarge images.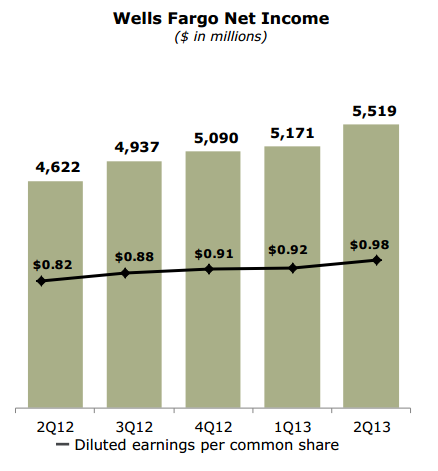 Source: WFC second-quarter 2013 financial supplement.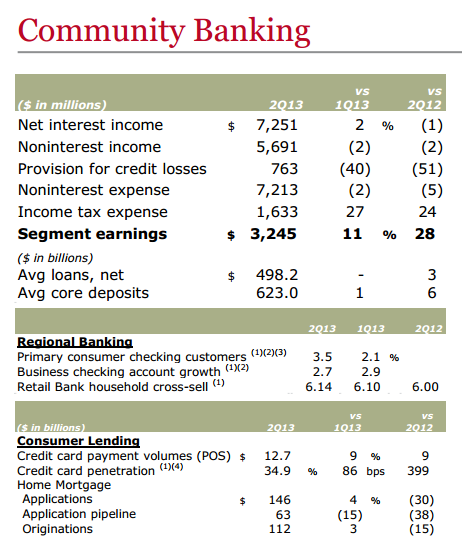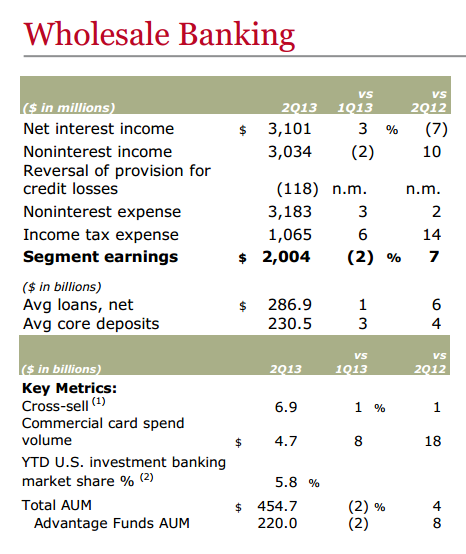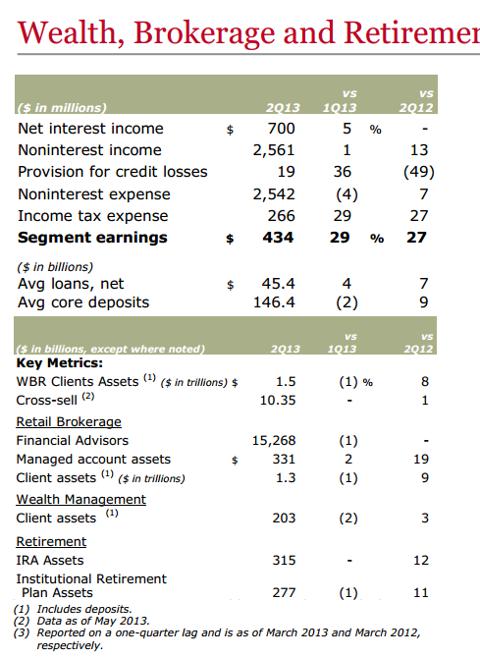 Total loans increased by $2.0 billion, with core loans increasing by $5.2 billion. The core loan portfolio is up by $42.3 billion YoY, or 6%. Auto originations of $7.1 billion were up 4% sequentially and 9% YoY. Deposits increased by $10.9 billion in the quarter, led by growth in wholesale banking. Total deposits are up 10% from a year ago. Like other large banks, Wells Fargo continues to reduce its long-term debt footprint to improve net interest margins, and this quarter the company's long-term debt declined by $2.8 billion. The regional banking cross-sell increased to 6.14 products per household, which was up from six in the second quarter of 2012.
Credit card penetration rose to 34.9%, up from 31% last year. This highlights the fact that each quarter Wells Fargo is building its moat and enhancing its relationship with consumers. Mortgage originations were down 15% YoY, and will likely continue to be weaker than recent trends have been, but I suspect that there are still several years of adequate returns to be achieved in that business line with interest rates remaining relatively low and home prices still affordable. Mortgage servicing can be counter-cyclical, and Wells Fargo has hedged a lot of that to protect against interest rates. You are going to see earnings growth stop sometime soon for a quarter or maybe two, but over the long term Wells Fargo still has the ability to grow and pick up market share.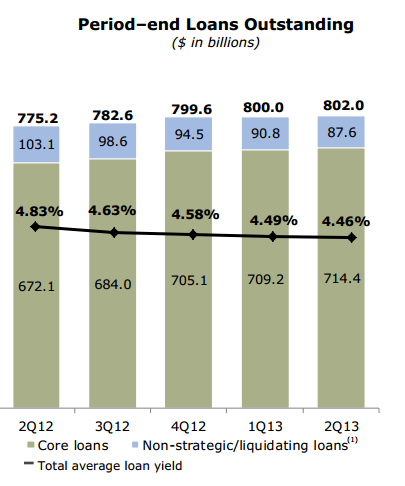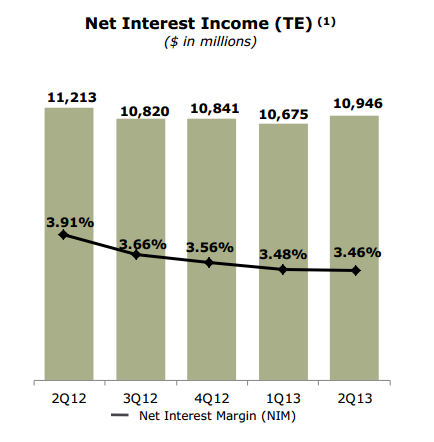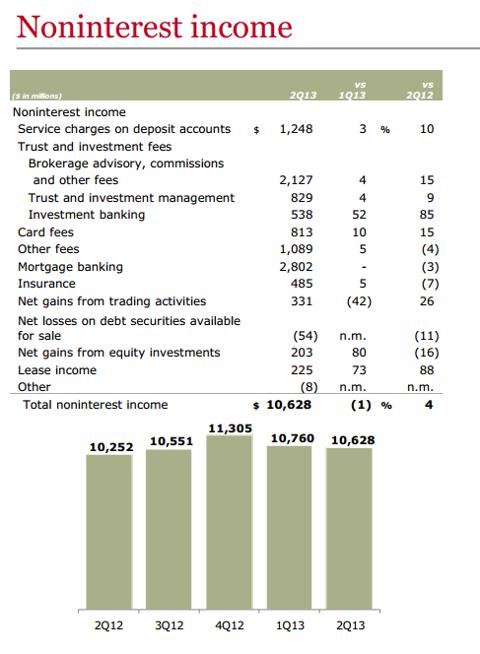 Wells Fargo makes about 50% of its money from net interest income and 50% from fee income. I believe that the strength in consumer lending is allowing Wells Fargo to make significant inroads in its brokerage and wealth management business. I believe that down the line there could be opportunities to grow its wealth management business by acquisitions to leverage its unparalleled distribution capabilities with some additional products. The trust business is also very attractive, but I'd be surprised to see Wells Fargo grow its investment banking business too aggressively, especially with the current political environment.
Its IB business isn't like many of its peers, though, in terms of packaging complicated securities together, which is why in the past it has held up better, but the Wachovia/AG Edwards & Sons acquisition did provide some needed additional scale. In the second quarter, Wells Fargo purchased $21 billion of AFS securities, which were primarily agency MBS, and then the company announced that they bought another $6 billion in the first two weeks of this quarter. WFC's incredible balance sheet strength allows the company to play offense when its competition has been retrenching.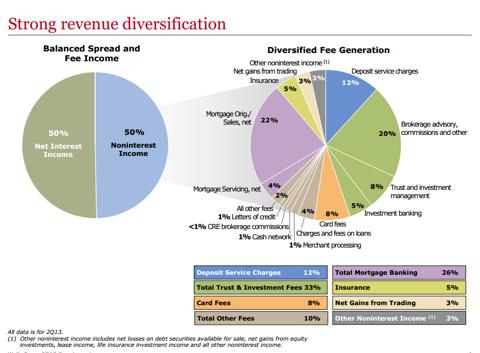 Wells Fargo ended the second quarter with 5.3022 billion shares outstanding, so at a recent price of $43.02 the company has a market capitalization of just over $228 billion. Book value per common share was $28.26, so the stock trades at about 1.5 times book value. This seems about fairly valued for a bank, but I'd argue that due to the quality of Wells Fargo's earnings power, and the relative safety of the business model that a higher valuation would be in order.
I believe the bank had about $4.50 per share in peak earnings power at this juncture, so the stock could trade around $45-$50 without being necessarily overvalued. I'd suggest waiting for a pullback or selling long-term puts around the money, which would manufacture a cheaper entry price. I think in the mid- to high $30s Wells Fargo offers a compelling margin of safety, with durable competitive advantages that can make it a core long-term holding.
Disclosure: I am long WFC, JPM. I wrote this article myself, and it expresses my own opinions. I am not receiving compensation for it (other than from Seeking Alpha). I have no business relationship with any company whose stock is mentioned in this article.