In a recent SA article, fellow contributor David Waldron argued that education companies can still be lucrative, high-growth enterprises in the future after the coming shakeout in higher education if they focus their efforts on rekindling their value proposition to students. He likens the situation to the dilemma that faced Japanese multinationals after World War 2. At the time, most Americans blanketed anything Japanese as cheap and of low quality but through the development of a business/marketing strategy known as 'total quality management' and a serious emphasis on value, companies like Toyota (NYSE:TM) and Sony (NYSE:SNE) were able to change the minds of consumers and dominate their respective markets. Today, for-profits are indeed facing similar problems. Congressional investigations, high default rates, unbearable tuition prices, sanctions, and high unemployment rates have combined to make students disillusioned with the education system and questioning the value of a college degree. Enrollments are down across the board and revenues and profits have taken a big hit at most for-profits. So where have all these students gone? Many have opted to go to cheaper community colleges, but even enrollments at these schools are down. There has undoubtedly been an overall decline in enrollments at higher education institutions in the past 2 years. Students have turned away from the system because they couldn't find what they were looking for- quality, career-boosting education at an affordable price. There is hope for schools though. If they can simply survive the coming shakeout while also dramatically improving their value proposition, there is likely pent up demand in the market that could present a huge opportunity for such an education provider. Waldron concludes his article with the following:
Akin to the reinvigorated Japanese manufacturers of the last half of the 20th century, private sector education is expected to survive and prosper in the new global economy of the 21st century, driven primarily from a critically needed contribution to the workforce development infrastructure.

But who among the education services companies will emerge as the industry's Toyota or Sony, singlehandedly improving the poor quality, low return perception of for-profit education in the U.S.?

Investors who figure this out now, while prices are relatively cheap, should benefit and ultimately make the likes of Sir John Templeton, Ben Graham, and perhaps even John Sperling, proud of a successful and timely value assessment of U.S. education operators.
I wholeheartedly agree with Waldron's assessment of the industry and intend in the remaining portion of this article to argue for what I believe to be one of the best value propositions in the industry.
I believe Strayer Education (NASDAQ:STRA) offers an above-average value proposition to students that could very well translate into the sort of multinational dominance enjoyed by Toyota and Sony decades ago. Strayer Education is an education services company with 100 campuses and about 46,000 students in 24 states, Washington D.C., and online all through its Strayer University wholly-owned subsidiary. 90% of Strayer's students live near one of the University's campuses, so this is still a regional company, but I think that's destined to change.
Like most of its peers, Strayer has been hit by enrollment declines recently, but unlike its peers, there really hasn't been much reason for it. The enrollment declines at the majority of institutions make a lot of sense. For example, students attending the University of Phoenix (NASDAQ:APOL) had good reason to withdraw recently when a visiting team recommended the school be placed on Probation and the school subsequently was placed on Notice last Wednesday. Prospective students will likely also find the school less attractive. That's the case with a lot of schools. Almost all of them have some glaring issue like high default rates or accreditation sanctions or exorbitant tuition rates. While I don't think Strayer incapable of fault, I don't see big glaring issues at Strayer from a quality standpoint. In fact, I was quite impressed with the school.
Student Satisfaction
Strayer offers a variety of programs but focuses mostly on business degrees.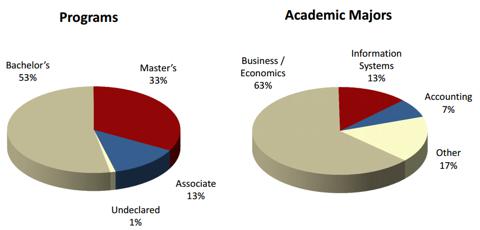 Source: Strayer Company Overview
The University caters to working adults, which make up the vast majority of its students. The average age of its students is 35 and 86% of students are part-time taking two classes or less per term. Classes are offered mostly at night and tuition is on a per-class basis. Campuses are located conveniently near where students live and work and students can choose to take classes at a combination of 2 or more campuses. Students have the option to take classes online, on campus, or a combination of the two for the same price no matter what. Online classes have become wildly popular at the school in the last few years. 30% of students who graduated from Strayer in the last 5 years took all their classes online and currently 60% of students at the school are exclusively online. Online classes at Strayer are popular because students still get the extensive services and advising that a campus student would, courses are available in asynchronous formats allowing students to watch lectures and do work when they have the time, and the classes are engaging and easy to use even for a less tech-savvy middle-aged adult. The commonality in all this information is Strayer giving its students choices, which is a good recipe for customer satisfaction in any industry. Strayer takes care of its students and the evidence is in the numbers. According to the company, 91% of students are satisfied with their education experience and quality.
Harkin Satisfaction
Last summer, the Senate HELP Committee led by Sen. Tom Harkin released a scathing report on the for-profit education industry entitled For Profit Higher Education: The Failure to Safeguard the Federal Investment and Ensure Student Success. The report was the culmination of a two-year investigation of 30 prominent for-profit companies and their schools. I've read the report several times in an effort to understand Federal qualms with for-profits. It's quite clear to me that Harkin and the rest of the committee are incredibly biased and seem to be singling out for-profits in the report. Anyway, the report includes individual profiles of each of the 30 companies. Despite my view that Strayer offers good value, I went into the profile expecting negative commentary. What I found was far different- a pleasant surprise that confirms the thesis of this article. The report reads:
Like many for-profit education companies, Strayer Education, Inc. has experienced steady growth in student enrollment, Federal funds collected, and profit realized in recent years. However, the company's performance, measured by student withdrawal and default rates, is one of the best of any company examined, and it appears that students are faring well at this degree based for-profit college.
Tom Harkin, arguably the biggest political critic of for-profits, actually complimented Strayer. Just imagine what an unbiased individual would think of the company!
Cohort Default Rates
The vast majority of US college students utilize federal financial aid programs to finance their education. If a student's need is great enough, they can get some grants, but usually they'll just get a subsidized or unsubsidized Stafford loan. The loans are not backed by collateral and so the success of the program entirely depends on the success of students in getting a solid job soon after graduation. A lot of faith is placed on students learning and schools educating. If that doesn't happen and the students can't get jobs, they default on their loans and the government and in turn taxpayers receive no economic return on their investment. When this happens, someone has to be held accountable. It isn't really feasible to hold each individual student accountable, but it's easy to choke the chains of institutions since they depend so heavily on federal money. One of the ways the federal government does this is by putting a cap on cohort default rates.
Right now, default rates are calculated on a 2-year basis. If a student enters repayment in a federal fiscal year and then defaults any time before the end of the following fiscal year, the student's default goes toward the default rate for the year they entered repayment. The following comes directly from Strayer's 2012 10-K:
If an institution's most recent cohort default rate is greater than 40%, the institution's participation in Title IV loan programs terminates 30 days after notification by the Department of Education, unless the institution timely appeals that determination on specified grounds according to specified procedures.

If an institution's three most recent cohort default rates are each 25% or greater, the institution's participation in Title IV loan programs and Federal Pell Grant Program terminates 30 days after notification by the Department of Education, unless the institution timely appeals that determination on specified grounds according to specified procedures.
So 25% is the cap now. Due to the nature of the calculation, the rates for a particular fiscal year are published two years later. So the three most recent fiscal years we have data for are 2008, 2009, and 2010. In those years, Strayer had default rates substantially below both national averages and the federal cap.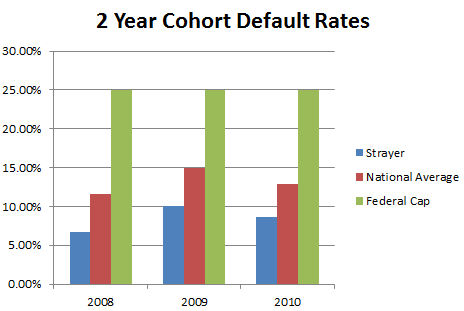 In 2014, cohort default rates will begin to be calculated on a three-year basis and the cap will move from 25% to 30%. Institutions and the government have issued provisional 3-year numbers for the last few years to prepare for the coming change. Even if we look at cohort default rates the new way, Strayer is way better than the rest of the pack.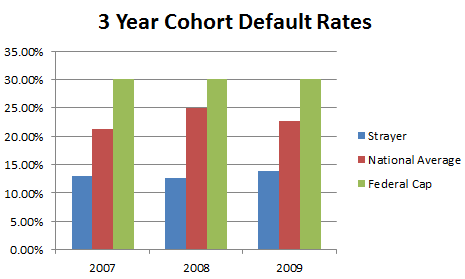 This is the kind of thing that really bothers me. Legislators blanketing all for-profits as universally generating the worst student outcomes when in fact schools like Strayer University are far above national averages that include public colleges and private non-profits. Don't get me wrong, there are plenty of for-profits with horrible outcomes, but Strayer is obviously differentiating itself and doesn't deserve to have its reputation damaged for things that don't define it.
Accreditation
The Department of Education recognizes certain accrediting bodies as gatekeepers of Title IV (federal financial aid) funds. If a school wants its students to be eligible for aid, it needs to be accredited. The accreditation process is incredibly complicated to an outsider but there are some things I grasp. Schools get accredited for a certain period of time, during which they must submit regular reports to their accreditor and keep them updated on material business changes. When accreditation is up, a visiting team comes and reassesses the school and ultimately a Board of Trustees makes the decision to reaffirm the school's accreditation status. If a school does not comply with certain conditions of accreditation, the accreditor will impose sanctions on the school and give the school a timetable to fix things before it actually loses accreditation. Various for-profits have been hit with sanctions. A good recent example that I already mentioned was Apollo's University of Phoenix getting placed on Notice last week. Sanctions and accreditation insecurity, in my opinion, are more damaging to a school's reputation than anything else. If a school gets placed on Notice, it has 2 years to fix the cited issues. Most would agree that's plenty of time, but what student wants to go to a school that might not be accredited much longer? If the school loses accreditation while you're there, you might get stuck on the curb with credits that won't transfer anywhere else and an institutional brand on your resume that potential employers will look down on you for.
For institutions, it just makes sense to do it the right way at this point and that's what David Waldron was talking about in his article. Management at Strayer seems to think the same way David and I do. Time and time again they stress that nothing is more important to the company than maintaining and enhancing the education quality its institution offers. This attitude shows in Strayer's relationship with its accreditor, Middle States.
In 2007, Strayer requested accreditation reaffirmation early, even though it had 4 more years remaining on its current reaffirmation. Such a request is almost unheard of and evidence of leadership's confidence in educational quality at Strayer. The procedures were followed and the university received accreditation reaffirmation for 10 years, the maximum period possible, and without any sanctions. Accreditors have discretion over how long to reaffirm accreditation for. 10 years is the most that can be given and is highly sought after by schools but they often get less. For example, last Wednesday Bridgepoint Education (NYSE:BPI) announced that its Ashford University received accreditation from WASC, but only for 5 years. While it's great news for the company, 5 years suggests that WASC found some areas of concern. On the other hand, Strayer's 10 year reaffirmation suggests that Middle States was more impressed in its findings. Most recently, Strayer submitted a periodic review report to Middle States last May, which the agency accepted without issue at its meeting in November.
Cost Structure
One of the federal government and society in general's biggest issues with for-profits is their cost structures. Simply put, they do not believe that education and profits should exist together. I would argue that at non-profits, there are still profits; they just go in the war chest or to leadership via compensation rather than to owners. Anyway, people want to see institutions putting the majority of revenues towards maintaining and enhancing educational quality and the student experience, not marketing, recruiting, and profits. I am of the view that there has to be a balance. If a company cannot retain a profit, there is no incentive for anyone to own it or for it to strive to improve and grow. But allocating everything to profit and marketing is an unsustainable business model in today's regulatory environment as evidenced by many companies in the last 2 years. It's quite clear that money has to be invested to maintain academic rigor and high student success rates. Educational quality is not just achieved in an instant; it is a continuous process of obtaining and retaining teaching talent and developing new and innovative methods of reaching and aiding students. Looking at Strayer's cost mix we see that the company is making the investments needed to maintain academic quality.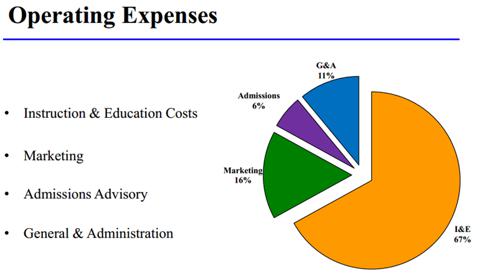 Source: Strayer Financial Overview
Far more is spent on education and instruction and the results can be seen in student outcomes and the school's reputation. Evidence of a balance is also present though. The company has above average profit margins and a very strong brand relative to its size and the amount it spends on marketing.
Leadership Structure
Education institutions are exceptionally prone to corruption when the same executive team is in charge of improving academic quality and profits. Indeed, governance has been one of the leading causes for concern for accreditors and has led to many of the sanctions and accreditation issues in the news recently. Before WASC approved Ashford last week, the agency denied the institution a year ago primarily on the basis that the university was not independent from Bridgepoint. Executive management at Bridgepoint was making the tough academic decisions while also trying to optimize profits. Ashford ended up having to appoint a new president and prove to accreditors the independence of its Board of Trustees. In Apollo's SEC filing last week the company mentioned that governance was one of the major reasons U of Phoenix was placed on Notice. It is a serious issue and one that I do agree with regulators about. Tradeoffs inevitably have to be made between educational quality and profits and the balance is more efficiently achieved when separate managing teams are held responsible for one or the other. Strayer's governance strikes me as exceptionally efficient.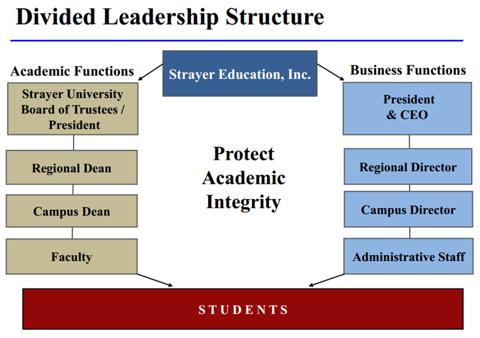 Strayer University's Board of Trustees and President act independently from executive management of the company. This separation of interests travels all the way down the company to students, making for an effective, balanced system of aligned interests. The academic side is responsible for upholding and enhancing educational quality and student outcomes, but recognizes that the funding and financial responsibility of the business side is essential to academic success. The business side is responsible for optimally allocating capital and delivering growing returns to shareholders, but recognizes that enrollments and profits would not increase if it weren't for the reputation of Strayer for academic excellence.
Cost and Action
Like I said early in this article, I do not believe Strayer, or any education company for that matter, is perfect. The value proposition is stronger than most, but there are issues, particularly with cost. Strayer's current tuition rates are $1700 per course (4.5 credits) for a full-time student and $1775 per course for a part-time student (taking less than 13.5 credits per term). The vast majority of Strayer's students are part-time and so that's the number I'll focus on. The $1775 per course is $394 per credit for comparison purposes. Tuition at Ashford University is $413 per credit and online classes at University of Phoenix are $585 per credit. At Capella Education's (NASDAQ:CPLA) Capella University, another for-profit determined to offer strong value; the cost per credit is only $343. It would appear that Strayer presents a better value than many other for-profits but it is not the best. At Capella's subsidiary, Sophia, a MOOC provider, students can take gen-ed courses for as little as $82 per credit. The MOOC format does not include any live instruction and is really only effective for motivated, gifted students at this point, but the price cannot be beat. Community colleges and public universities are also able to offer attractive tuition rates because they are subsidized by the government unlike private schools. At my current college, SUNY Buffalo, tuition for a full-time New York resident student is $2935 per term. A full-time student can take as many as 19 credits per term, so tuition per credit can be as low as $154. The highest tuition rates are generally found at private non-profits. At the school I attended my freshman year, Drexel University, tuition is $35,135 per year for 5 years for a Bachelor's degree. Credits at Drexel hold less weight than at a typical college because the school operates on a quarter system. After I make adjustments to account for the credit weighting, Drexel costs about $1400 per credit for a full-time undergraduate. Many students are offered scholarships at Drexel based on academic achievement, but it is entirely possible that a student could pay that much. I had a very good scholarship and I was still paying $700 per credit for a business degree that most would argue is of equal prestige to one from Penn State or Buffalo. That's the biggest reason I transferred. Anyway, it's important to keep in mind that Drexel is one of the 10 most expensive schools in the country. Private non-profits as a whole are generally the most expensive though. There is a lot of information here, so I put it all into a chart to make it easier to take in.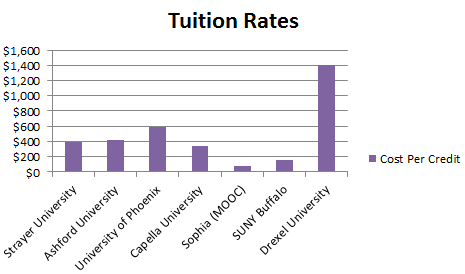 As you can see, Strayer stands right in the middle of the pack. Looking objectively at Strayer, I'd say the school's value proposition is pretty good: an above average education for an average price. But for a school poised to have the best value proposition in the industry, average will not do. The company knows that cost is an issue. In explaining the enrollment decline, management has essentially said that the decline is due to macroeconomic forces and increased sensitivity to cost. I like what they're doing to combat it.
To address the cost issue, management has frozen tuition rates on existing students and isn't raising tuition on anyone in 2014. They also devised a new initiative called the Strayer University Graduation Fund. For every 3 classes a student passes, they will be eligible for a free class in their final year. The initiative will lower average cost per credit by up to 25% for students, incentivize academic performance, and improve retention since students can only redeem the award in their final year. I personally think it's a great idea. In the last year or two, most for-profits have devised some sort of program to stabilize enrollments and improve retention, but this is in my opinion the most logical idea of the bunch. While it will hurt revenues in the near-term, a 25% discount to a Strayer education will surely improve enrollments and drastically improve the university's value proposition. I am genuinely impressed.
I was also impressed to find that the company is leveraging the cheap prices of public institutions. It would be naïve to think Strayer could offer cheaper education than public colleges considering the huge subsidies publics get from state governments. Rather than play the losing game of competing in price with subsidized competition, Strayer leverages them by creating strategic alliances with community colleges. Since Strayer's campuses are mostly used at night, there is often free space in the buildings during the day. The university often allows local community colleges to utilize the space free of charge during the day. Community college students get a look at Strayer's facilities before even taking a tour. When they finish their two years at the community college and want to transfer to finish their Bachelor's, they are already quite familiar with Strayer, giving Strayer a huge advantage in the recruiting process. Further, the alliances often allow for automatic admission and acceptance of all credits, making the decision to pick Strayer even easier.
B2B
The final proof I'd like to present to support my argument that Strayer has one of the best value propositions in the for-profit space is the company's corporate alliances with other businesses. Businesses are well-known to be the most price-sensitive, least sentimental consumers out there. While many consumers can be swayed by advertising and brand appeal, businesses tend to be more value-oriented. They want the most for their money and they stick to the facts. Therefore, if businesses are buying something, it's a strong indication that it is an objective good value. Last year when I was shopping around for laptops, I took note that Lenovo ThinkPads were extremely common in business settings. I purchased a Lenovo and am very happy with the product and the price I paid.
Strayer currently has corporate alliances with many of the world's largest companies.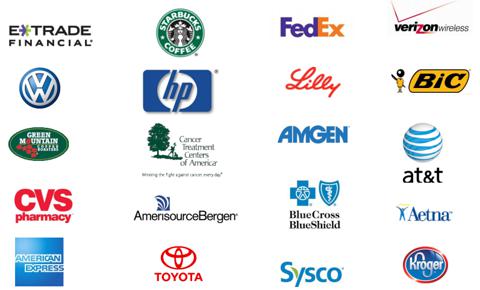 These companies could have their employees educated anywhere, but they chose Strayer. This is strong evidence of the return on investment that Strayer offers to students and the quality and reach of the company's online programs. If CEOs and CFOs believe Strayer is the place to get educated, I certainly think that says a lot about what the university has to offer.
Conclusion
Everyone is seeking a solid value proposition in the for-profit education space. Investors seek a company with a good value proposition because they believe that is the business model that will succeed in a rapidly changing business environment. Students want a solid value proposition because they are tired of paying exorbitant prices to get educated and are questioning the value of a degree in an ultra-competitive job market. Regulators want institutions to offer value because they believe that will best minimize the losses related to federal student loan defaults and add the most economic value to our country. Society in general wants schools to offer real value because people believe it is the right thing to do. They believe education is a forbidden area where corruption and money-swindling should not exist. Businesses want a value proposition because they want to be able to educate their workers to deliver more marginal production to the company than the company spends on their degree. It would seem that just about everyone wants an education company to rise from the masses of pretenders and differentiate itself with a real focus on academic rigor and positive student outcomes at a reasonable price. I believe that company could very well be Strayer Education, making it seriously worth considering as an investment.
I realize that I am nearing 4,000 words in this article but I would like to further discuss the company from an investment perspective. Now that we've established that Strayer offers superior value and is worth considering on an absolute basis, what price should be paid for the shares? What should we look for in the company's coming earning results? How do management's interests align with shareholders? How much capital is returned to shareholders and how much is reinvested? I would like to answer these questions and others pertaining to Strayer but because of the length of this article already, I feel it necessary to follow up with another article. Stay tuned and in the meantime, do some research for yourself to see if you find my conclusions in this article valid and Strayer to be a good fit for your portfolio. As always, good luck.
Disclosure: I have no positions in any stocks mentioned, but may initiate a long position in STRA, CPLA, BPI over the next 72 hours. I wrote this article myself, and it expresses my own opinions. I am not receiving compensation for it (other than from Seeking Alpha). I have no business relationship with any company whose stock is mentioned in this article.