I am admittedly confused by the latest earnings debacle from BlackBerry (BBRY). While the results were horrendous, the shellacking of a ~37% sell-off from a pre-earnings price of ~$14.50 per share seems unreasonable and unjustified. Specifically, as I have read the numerous comments from readers and analysts and have reviewed in depth the financial statements from the latest quarter, I find myself much more constructive on the stock at just over $9 a share even in light of the negative news flow. In my judgment, regardless of my feelings toward the current management team, there are significant current shareholders and potential future shareholders who will agitate for value creation long before the current management team might be able to impair the ability to create value.
With Prem Watsa (presumably) still maintaining his 10% stake in the company and seat at the BOD table, you have a major shareholder who will know before most when it is time to get out. He is also uniquely positioned to ensure that the company manages its greatest asset, its balance sheet, in a way that preserves the viability of options for the company moving forward. You also continue to have JPMorgan and RBC engaged as strategic advisors for the company. In my opinion, if you are going to be associated with such a high profile turnaround story, you can be quite sure you want to see a successful outcome that benefits shareholders. While these advisors cannot force the company to create shareholder value, they certainly will have egg on their faces if shareholder value continues to plummet while they continue to be engaged to explore strategic options.
Finally, there is zero doubt in my mind that the company is worth far more today than its market capitalization justifies. I also believe there are glimmers of hope from the Q1 2014 earnings report that I initially overlooked, which have me feeling bullish on the stock for the first time in awhile. I am ready to dangle my feet back in the water with an outright long position, and here are the reasons why.
Value Preservation
Most companies discuss how they intend to create value for shareholders. If BlackBerry can simply preserve the value in its current state, it will serve the purpose to effectively create value. I am basing this on the quite obvious conclusion based on the value ascribed to BlackBerry by the stock market. The balance sheet at the end of Q1 2014 is presented below:
Click to enlarge images.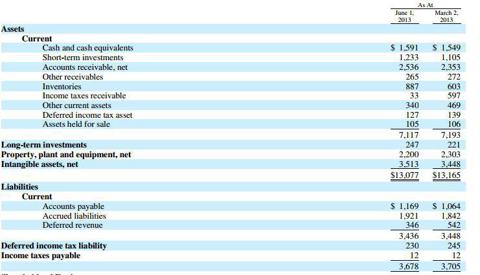 With ~$7.4B of current assets and cash equivalents, compared to $3.7B in total liabilities, BlackBerry has about $3.7B of assets remaining after covering all liabilities. The market cap of the company is currently only $4.7B. Some might argue that inventory is overstated, which I believe is bunk. The stated inventory balance of ~$900M is net of a ~$460M provision for obsolete/excess inventory. Put another way, the company is most likely valuing its BB7 equipment as it is completely worthless from a hardware standpoint, or potentially even that that hardware cost is greater than its sales price. The company would take this tradeoff to continue to supplement its services revenue in the near term if there continues to be demand for BB7 phones that generate service revenue. Likewise, it is extremely unlikely that the BB10 inventory is impaired, which some may be fearful of in light of recent price cuts on the Z10 model.
The gross cost of the BlackBerry operations equipment, the majority of which is presumably related to the secure network managed by the company, is stated at $2.5B as of the end of Q1 2014. I honestly believe that the book value of the PP&E shown above of $2.2B is representative of what a buyer would consider fair value. The gross cost of these assets is just about $5B, and the network operations and information technology component itself carry a gross cost of about $2.5B.
My assumption today is that the carrying value of the PP&E for BlackBerry is more than fairly stated when viewed from the standpoint of a potential acquirer. Consider that BlackBerry was able to generate almost $800M of service revenue during Q1 2014 because of its PP&E and secure network. Do you think that amount of cash flow is not appealing to a potential acquirer? Burn the house down and assume that the company sees service revenue fall 75% from its current quarterly run rate to $800M annually. I have a hard time believing that there would not be a line of technology companies beating down the door to buy an asset that can generate $800M of high margin revenue on an annual basis, for a purchase price of at least the $2.2B that the PP&E is currently stated on the balance sheet.
When you account for the $3.7B in net liquid assets (after retiring all liabilities), $2.2B of value from PP&E, and give the company credit for being able to get 30 cents on the dollar for its stated value of $3.5B in intangible assets (about ~$1B), you come up with a modified tangible book value of about $6.9B. This is over 30% above where the market values the stock today. In a long-winded way, this flows back to my original assertion that the market sees BlackBerry entering a phase of value destruction. As I will show below, I think there is a relatively simple path forward where the company could survive in a smaller state while preserving shareholder value.
The Path Forward
There are wild estimates floating around about the profitability for the BB7 phones, BB10 phones, as well as the services revenue segment for BlackBerry. I think a good number of the analyst estimates are just flat out inaccurate. As an example, Morgan Stanley put out a research note that had the following table providing their estimate of how to allocate revenue and gross margin percentage between each product line with regard to the Q1 2014 results: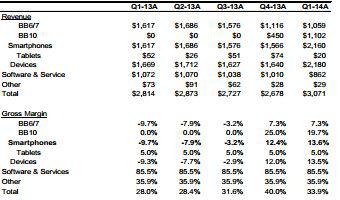 We know from the earnings report and earnings call that roughly 6.8M phones were sold, and about 2.7M were BB10 units. The remaining 4.1M units were older BB6/BB7 model phones. The research above, allocating $1.05B of revenue to the 4.1M BB6/BB7 phones, would imply an ASP of $258 per phone. With that in mind, consider that during Q3 2012 -- which was the last quarter prior to launching the BB10 phones -- BlackBerry generated ~$1.6B worth of hardware revenue on device sales of ~6.9M BB6/BB7 phones and ~.3M PlayBook tablets. This equates to an ASP of about $222 per unit. Morgan Stanley is somehow assuming that the ASP of BB6/BB7 units has significantly increased over the last six to nine months. That appears to fly in the face of conventional wisdom.
I believe the actual breakdown of revenue and gross margin per product line are closer to what I have presented in the table below:

We know the percentage of total revenue that is applicable to services and other revenue that the company provides. The ASP figures are estimates, and the gross margin percentages are estimates, although most analysts assume that the services revenue line carries gross margin over 80%. I do not believe the company generates any gross margin from the sales of its BB6/BB7 product. With what the company provides us, assuming that BB6/BB7 ASPs have not increased since the last quarter when we accurately could calculate this figure, and assuming service revenue gross margins of over 80%, we can derive a fairly accurate picture of the profit profile for each revenue line.
Cash Preservation
The simple fact is that if BlackBerry is to survive as a low-volume hardware producer living off of high-margin service revenue, it needs to make significant cuts to its current overhead structure. The 5,000 jobs that have already been eliminated are just the tip of the iceberg.
Investors need to assume that the entire BB6/BB7 hardware business is worthless going forward. The company will continue to bleed service revenues out of this business as long as possible, but the vast majority of employees supporting this zero-margin hardware business will ultimately be forced to leave the company. As cold-hearted as this may sound, it is far better for BlackBerry to manage employees out and let employee attrition work in its favor, then be forced to incur massive restructuring and severance costs. It would appear the company might already be prepared to go this route.
Going forward, I have attempted to model on a quarterly basis through FY 2015 the level of cash that BlackBerry can generate from BB10 sales and service revenue. The table below attempts to illustrate what the future may hold:

In the above estimate, the assumption is that the company can sell 3M BB10 phones per quarter at an ASP of $475 per phone. I am completely disregarding BB6/BB7 phone sales as the hardware sales from these units most likely generate zero gross margin. From a service revenue standpoint, I am assuming that service revenue declines at 10% rate each quarter. I assume that the costs associated with the service revenue stays relatively consistent with the level from Q1 2014. What this means is that ultimately, as service revenue declines, the gross margin declines assuming a relatively fixed cost base needed to continue to support the secure network.
During Q1 2014, the company incurred operating costs as shown below:

From a P&L standpoint, the company incurred $1.2B in operating expenses. However, what we are concerned about is cash preservation, and the reported number of operating expense from Q1 2014 does not come close to reflecting the cash operating expenses. As an example, the $180M of amortization expense is a non-cash item. The company also noted that market expenses were up almost 50% to support the initial BB10 launch. The company has to make the realization that they received very little bang for its buck from what appears to be an extra $150M in marketing spending in Q1 2014. The company incurred ~$520M of SG&A expense during Q4 2013, which is a much better gauge of the SG&A burden going forward prior to any other cost savings initiatives.
The table below provides an estimate of the total cash the company could generate from operations on a quarterly basis through FY 2015, building off of the estimates provided above for gross margin generated from BB10 sales and service revenue:

In the table above, you can see that I exclude the amortization expense that the company reports as an operating cost. I also am adding back an estimate for the amortization expense that is included in COGS, assuming this balance declines by 5% quarterly from the ~$220M level in Q1 2014. Going one step further, I am assuming that SG&A reverts back to a normalized level without the wasteful ramp in marketing costs, and then both SG&A and R&D expense begin to decline by 10% every quarter beginning in Q3 2014. BlackBerry loyalists may hate to see the company invest less in the business, but this is a necessary evil when you enter survival mode. For perspective, the image below is from the Q1 2009 financial report, when the company generated ~$2.2B in revenue while selling ~5.4M devices: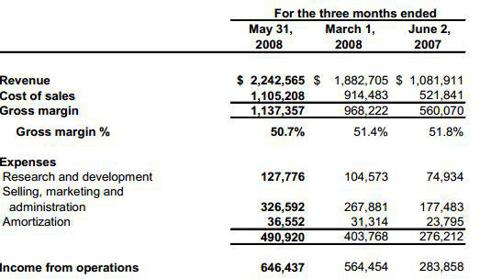 The company reported ~8.400 employees one quarter prior to the period ending May 31, 2008, shown above. Today, the company has ~12,700 employees. The employee count in 2013 is 50% higher than it was five years ago when BlackBerry was a comparable size company, when you exclude the wind down of the BB6/BB7 business. Five years ago, BlackBerry was able to generate $2.2B in revenue, the same amount I am estimating for Q2 2014 (excluding BB6/7 sales) with SG&A and R&D expenses totaling ~$450M. BlackBerry will probably incur close to $900M in SG&A and R&D expenses combined in Q2 2014. The point is that this is still an extremely bloated cost structure when compared to how lean the business was during a period of phenomenal growth five years ago.
I continue to read analyst projections that assume a precipitous fall in revenues, but that the company continues to spend $1B a year on R&D. This is a ridiculous assumption. The company has most likely seen a peak R&D investment, associated with launching a brand new operating system and all new hardware. Going forward, the company simply has to invest in maintaining the operating system and refreshing the hardware. R&D should drop materially in the years to come. Likewise, as the BB6/7 selling effort fades away, SG&A expenses will also fall materially.
To summarize, the company could easily generate almost $250M a quarter in cash flow from operations. The company incurred about $420M in costs for acquiring intangible assets (licenses) and PP&E during Q1 2014. If the hardware sales were to continue to decline and reach a paltry 3M per quarter number, the costs required for acquiring intangibles and PP&E would decline significantly as well. It is extremely likely that the company could generate break-even free cash flow by taking simple cost cutting measures associated with a declining business.
Positive Takeaways and Investment Outlook
One item from the Q1 2014 earnings report that seems to be flying under the radar is the significant stabilization seen in the North American geographic segment for BlackBerry during Q1 2014:

Compared to Q4 2013, revenue in North America was up almost 30% in Q1 2014. This was the largest sequential increase in any geographic reporting segment. This also comes on the heels of the Z10 only being available for about two months in the U.S., and the Q10 not yet being available. I have previously indicated, and still believe, that the Q10 very likely could be more successful in the U.S. than the Z10 due to the C-Suite Executives who have never given up their Qwerty keyboard devices.
On a YoY basis, the company saw notable growth in its EMEA segment as well as the Asia-Pacific segment. If BlackBerry can truly stabilize its North American business, and continue to grow its international business, then the turnaround story takes on a whole new meaning. The company did not fully begin to ship its latest generation BlackBerry Enterprise Server until late in Q1 2014, and thus any adoption of this product and potential stabilization of the service revenue decline has not yet materialized in the financials for the company.
At the end of the day, I think the sell-off is overdone in the short term. BlackBerry will continue to face secular challenges, but as long as the company fights to preserve the value it currently has amassed, its downside should be limited. Investors today are betting that management will destroy value going forward. I am betting that those such as Prem Watsa or other activist financial investors see an opportunity for a 50%-100% gain from the levels that the stock trades at today, even without the company ever returning to prominence as a leader in the device market. Knowing that BlackBerry has numerous levers to pull to conserve its cash balance, I feel extremely comfortable going long the stock at its current level.
Disclosure: I have no positions in any stocks mentioned, but may initiate a long position in BBRY over the next 72 hours. I wrote this article myself, and it expresses my own opinions. I am not receiving compensation for it (other than from Seeking Alpha). I have no business relationship with any company whose stock is mentioned in this article.