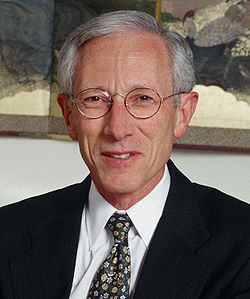 My headline above says it all. Governor of the Bank of Israel, Stanley Fischer, who directed Fed Chairman Ben Bernanke's PhD thesis, is showing the world that central bank governors have a thing or two to learn from the silver-haired Fischer.
He has handled this crisis with both a steady hand and a wily strategy, in which he has kept speculative traders guessing. As I have written many times before, among the biggest risks to Israel's economy is the Shekel/Dollar exchange rate. I do not believe it is an objective problem. It is, however, a planning problem. When most businesses are budgeting for an exchange rate of 4:1 and the dollar weakens to much below that, both employment and exports are hurt in this export-dependent economy.
As the market keeps pushing the dollar down, Fischer has
propped it up through steady currency purchases. That gave confidence to exporters and businesses. When the shekel started rallying, Fischer announced that he would make some intermittent large purchases of dollars to prop up the dollar. Just that announcement sent the shekel down against the dollar and caused some speculators to panic. Yesterday,
Fischer announced that he would stop the daily purchases of $100MM dollars
. In about one second, the Shekel rose against the dollar over 2%.
Fischer is keeping the speculators guessing so that they do not exaggerate the fall and rise in the exchange rate. At the end of the day, Fischer clearly understands that the market forces will prevail in the end. He is getting Israeli businesses used to a weaker dollar in stages so they can plan appropriately and at the same time delivering a stern message to currency speculators that they bet heavily on the shekel/dollar trade at their own risk.