Many have come out to say that the housing supply is now under control, when that is the furthest thing from the truth. What people see as strong demand is nothing but first time home buyers taking advantage of lower home prices and tax credits. It is unlikely that the demand will sustain itself past November when the tax credit is currently set to expire.
Foreclosures
Foreclosures are still a major problem and there are no signs of that slowing in the near future especially if unemployment continues to climb. In fact, most foreclosed homes are sitting on the banks balance sheet because they do not want to flood the market with more homes. The recent stories about demand increasing and supply decreasing are stunningly misleading at best.
Considering that some 50% of homes are projected to be underwater in their mortgages versus their values is why most banks are either sitting on properties or simply tearing them down. The home loan modification plan has not been very successful and many who qualify are those who really do not need a modification at all. I will admit that there is some stabilization of prices, but nowhere near what is being portrayed in the media. There is also an alarming rate of jumbo and conforming loans which are not only underwater, but also defaulting which will only increase foreclosed properties in the near future.
According to T2 Partners these jumbo loans are beginning their first reset now and will continue through 2011. Based on their predictions, who got most of the mortgage mess right before most economists or experts, then we are in for increasing foreclosures and inventory hitting the market over the next couple of years. I find the delinquencies in prime mortgages, which were conforming, the most alarming problem we have in the near-term as they, on paper at least, did the right thing ().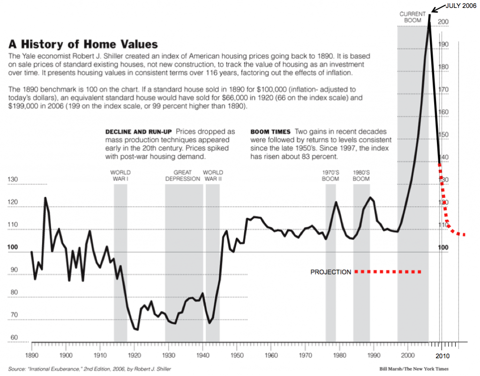 Home Builders
As you may know, home builders are building, reflected in new housing permits, which will do nothing but add more inventory to the market. Considering we already have a 9 month existing home inventory the mere fact that they are building just boggles the mind, although I realize they have shareholders to appease. However, more inventory is not what we need, we need less inventory.
Not only are homebuilders building more homes, they are cutting prices and offering unheard of incentives to lure people into buying. The length of time a home sits on the market is increasing, not decreasing. We are also heading into the slower time of year for home sales which is not good news as we sit on huge inventories and the above mentioned tax incentive runs out ().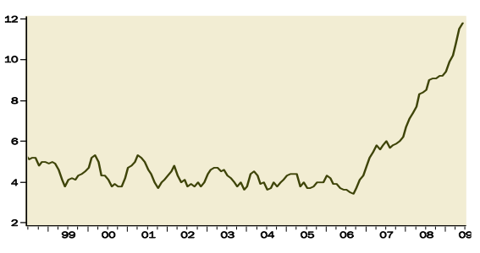 The bottom Line
We are not near the bottom yet and have a long way to go, contrary to what you may be told. Just because Orlando had a bump in prices doesn't mean anything as Miami, Las Vegas, Phoenix and California are still experiencing declining prices. I am not a real estate expert, but I do realize that when supply outweighs demand, prices will continue to decline.
Based on market highs, we still have a steep decline in housing prices to suffer through. We had never experienced such price increases as we saw from 2002-2006 and to assume a 20% decline is enough to offset those huge price increases is crazy. Even with cheaper prices the average home is selling for 6 times the average annual income of Americans, which makes housing unaffordable for many Americans ().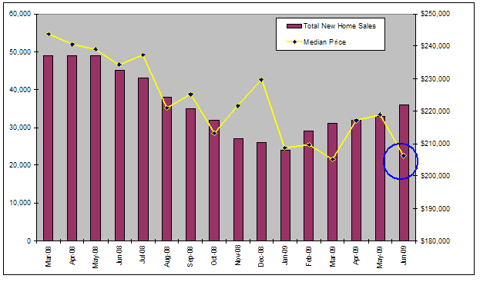 Not to mention the fact that the demand is a direct result of government and Fed intervention through tax credits and cheap money, which got us here to begin with.
Without the tax credit and cheap mortgage rates it is safe to assume that there would be very little demand for housing. At the end of the day, artificial demand only props up prices for as long as the stimulus is in effect for. Once that stimulus is gone so is demand.