Sell-Side taking cautious stance in Dog Days of Summer: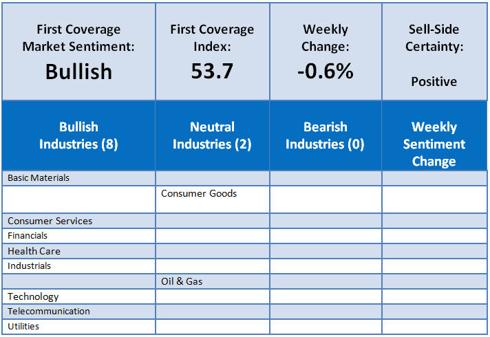 While I wish every week we had earth-shattering news to share, and while I wish that this week was different than last week, but it's not.
We remain in the midst of a sell-side that is passing time by watching paint dry and suggesting that their buy-side not do much of anything at the moment.
Status quo ruled the day with no major move at the market level, not one significant change in the industry table and, perhaps even more astonishing, not one industry that moved current sentiment classifications. All this "relative stability" for the second week in a row indicates that we're either in period of mass uncertainty, low volatility or the proverbial "eerie calm before the storm." More than likely, it's a combination of all three.
So, what tickers are being talked about?
With nothing new to speak of at the industry or market level, it's a good week to take a closer look at what specific tickers are being talked about in good and bad terms.

While we usually focus on the tickers that have undergone the most dramatic sentiment shifts over the prior week, the following two tables are the ten most loved and loathed stocks overall.
Yes, they are in order, and yes that means that TEVA (NYSE:TEVA) (the pharmaceutical company not the sandal maker) and Wal-Mart (NYSE:WMT) (where you can purchase both drugs and sandals) are the two most popular stocks currently amongst the sell-side. Please draw your own conclusions as to what that says about the perceived future direction of the economy.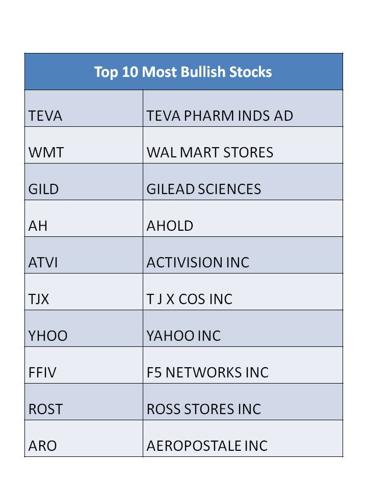 While the most hated stock is currently WYNN (NASDAQ:WYNN), perhaps the most interesting to note is that PALM (PALM) has definitely lost some of the people's love. Perhaps those commercials for the PRE really are as annoying as some people think. Finally, NOKIA (NYSE:NOK) has to make up a lot of ground with Android to win back the hearts of the masses.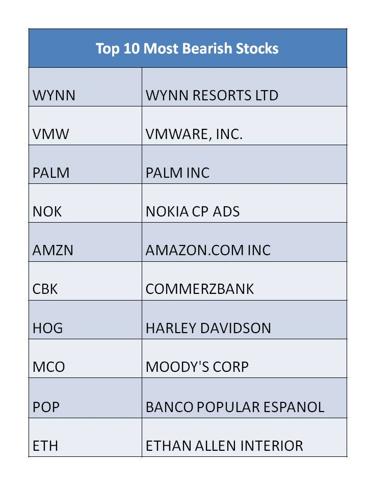 Top Weekly Sentiment Shifts by Ticker
And as always, here are the five tickers that have undergone the greatest shifts in sentiment (both bullish and bearish) over the last seven days.
Until next week …
About The First Coverage Weekly Street Sentiment
Derived from the aggregated analysis of thousands of actual trade ideas and data being sent in real-time from the sell-side to the buy-side, the First Coverage Weekly Street Sentiment provides a snapshot of market trends and a unique perspective of the mindset of the Street for the week ahead. The following data has been extracted directly from all information transmitted in the past week by sell-side representatives from more than 250 firms submitting information to portfolio and asset managers across North America via the First Coverage platform.
First Coverage's Weekly Street Sentiment ("WSS")is derived from sources believed to be reliable, but which we furnish "AS IS" and "WITH ALL FAULTS." We do not warrant or guarantee the suitability, timeliness, sequence, accuracy, or completeness of WSS. THERE ARE NO WARRANTIES OF ANY KIND, EXPRESSED, IMPLIED OR STATUTORY(INCLUDING, WITHOUT LIMITATION, SUITABILITY, TIMELINESS, TRUTHFULNESS, SEQUENCE, ACCURACY OR COMPLETENESS), ANY IMPLIED WARRANTIES ARISING FROM TRADE USAGE, COURSE OF DEALING, OR COURSE OF PERFORMANCE, OR THE IMPLIED WARRANTIES OF MERCHANTABILITY OR FITNESS FOR A PARTICULAR USE OR PURPOSE. THERE ARE NO WARRANTIES, EXPRESSED OR IMPLIED, AS TO THE RESULTS TO BE OBTAINED FROM USE OF WSS. Any analysis, observation or other opinion that WSS may contain is, and must be construed solely as, a statement of opinion and not a statement of fact, indication of preference or recommendation of any nature. Content contained in WSS is not intended to and does not constitute investment advice and no investment adviser-client relationship is formed.