By Michael Corty, CFA
The advertising agency holding companies are well positioned to benefit from the growth of digital marketing over the next five years, and we assign Omnicom (NYSE:OMC), WPP (WPPGY), and Interpublic Group (NYSE:IPG) narrow economic moat ratings. The consolidated nature of the industry and high switching costs of severing the agency relationship for clients contribute to a solid competitive position. The emergence of online advertising--once seen as a threat to the ad agencies--is an opportunity for these companies to enhance their competitive position. Omnicom, WPP and Interpublic are trading above our current estimates of intrinsic value, which are based on explicit five-year cash flow forecasts and not sensitive to weakness in one year. These stocks can trade lower on company-specific or macroeconomic weakness, though, and we'd gladly recommend them if they dropped to an appropriate margin of safety.
Advertising Agency Industry Has Consolidated
Following significant merger and acquisition activity from 1990 to 2005, the ad agency industry has become fairly consolidated; we estimate the top five global holding companies now have a combined global market share of around 70%. Lead global agencies (such as WPP's Young & Rubicam) are independently managed and offer a broad array of marketing services to clients. Additionally, hundreds of smaller agencies within WPP are focused on a particular geographic or niche area of expertise (for example, mobile marketing); they work independently but can be called upon by any of the lead agencies when it serves a client need.
Industry Consolidated Among Top 5 Holding Companies

The evolution of the large holding company operating structure was based on financial security and scale, which in this industry tend to go hand in hand. It makes sense that a company using an ad agency would want to trust the financial security of its partner. A client does not want to worry about one major account loss leading to an exodus of talented people or, even worse, the doors closing. Ironically, it usually takes size and a successful record to get a shot at landing the several large accounts that allow for enough diversification of revenue. One easy way to achieve this is through a merger or acquisition.
While most large global corporations have internal marketing departments, they still outsource the majority of their marketing needs (ad creation, brand strategy, media buying, direct marketing and public relations) to specialized agencies. Corporations have plenty of bright people managing their brands, but the agencies have market expertise as well as the benefit of best practices in an advertising and marketing environment that is becoming increasingly complex. Plenty of smaller, independent agencies exist outside the holding companies and do well for themselves. In fact, Advertising Age recently listed 500 agencies that generated more than $11 million in the United States for 2012.
Ad Agency Holding Companies Earn Narrow Moats
We like the competitive position of the three ad agency holding companies we cover. The consolidation of the industry contributes to rational behavior, in which the firms compete more on ideas and execution and less on price. In our research and conversations with industry professionals, pricing is not a major factor for clients when considering agencies bidding on new business. We'd argue that the large global ad agencies benefit from intangible assets, as they have a brand (mainly a reputation of generating strong campaigns for clients) that is trusted by most Fortune 500 firms in the marketplace. With multi-billion-dollar brands at stake, companies want the best experts providing the best marketing solutions possible.
Client turnover does occur on occasion and is well publicized in the trade magazines when it does, which we view as decent evidence that turnover is infrequent. We see evidence of switching costs in the business in the integrated nature of the working relationship between the agencies and clients. Relationships between agencies and their clients tend to last a long time. WPP has said in the past that its top 10 clients have an average relationship length of 50 years. As a caveat, we point out that Fortune 500 companies often use one of the large global agencies (such as Y&R) as their main relationship, but often use agencies from at least one of the other holding companies as well. We assume there is constant fee pressure on the agencies in existing relationships, especially from large clients, but we view this is as manageable, as evidenced by expanding profitability over the past several years.
The flexible cost structure of the business model is attractive, in our view. The ad agencies have a flexible cost base with personnel as the largest expense; this serves them well as they can quickly reduce staff when revenue slows. There is not a loss of competitive advantage from staff reductions because the agencies are able to build their staffing levels once clients start spending again. The best way to illustrate this is 2007-11, which included a major recession. We highlight Omnicom's year-over-year change in sales and operating costs (excluding depreciation and amortization). A profile of WPP and Interpublic over the same period would look similar, but we chose to use Omnicom as it had less M&A and other mitigating issues flowing through its financial results during this period.
Omnicom's Year-Over-Year Change in Sales and Operating Costs (2007-11)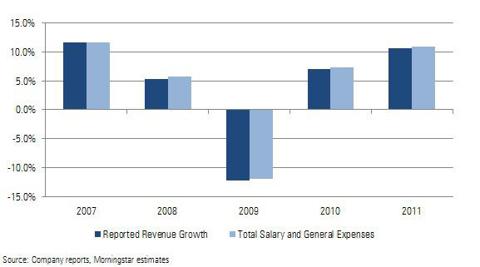 Digital Advertising Strengthens the Agency Relationship
We think the growth of digital advertising is an opportunity for agencies to deepen relationships with clients. In this context, we consider online advertising, mobile, e-commerce, and social media as the main categories, although there are several layers within each. Digital is now a core part to every marketing campaign. It also implies more consumer touch points, which in turn adds even more data to analyze. While the level of future digital ad growth on both an absolute level and within specific categories can be debated, the overall trend is clearly higher on any projections we come across. We use a forecast from GroupM, the media buying/planning unit of WPP, to illustrate expectations for digital growth over the next five years.
Rapid Digital Advertising Growth Expected to Continue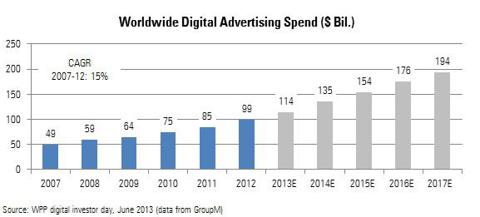 The current dominance of television and digital advertising is expected to continue, and we think that having scale is already crucial for television ad buying and will become increasingly important for digital ad placement. The TV advertising buying business is controlled by large entities with each of the Big 5 holding companies, as it takes scale to buy the advertising spots in bulk from the media owners.
In the U.S. television market, the five major holding companies each have a large media-buying entity that buys advertising in bulk from the media owners (for example, Time Warner, Disney, CBS). Essentially, the agencies buy in bulk on behalf of thousands of clients. The TV media owners are fairly consolidated, and the five large media buyers can match that scale, helping create a relatively balanced playing field. Ad buying is just one of the core services offered, albeit an important one, and a great way to get a foot in the door to win other business like creative, public relations, media planning, and strategy.
When we look at the digital ad market, we see a similar scale advantage developing for the large holding companies. First, on the digital ad buying side, each of the holding companies (specialized digital agencies as well as the comprehensive lead agencies) is investing in platforms to execute programmed buying for clients. Given the complex and evolving expertise and technology required to compete, we assume the strong will get stronger. In our view, WPP has been the most vocal and forthcoming with its specific digital efforts, so we use it as an example. WPP has used a combination of building and buying (24/7 Real Media in 2007) to create Xaxis, a data management platform and trading desk that works with GroupM (WPP's media buying unit) to target global audiences for clients. All of the large holding companies also have versions of their own distinct "trading platforms": Interpublic (Mediabrands Digital Exchange), Omnicom (Accuen), and Publicis (VivaKi). Transacting digital media is just one piece of addressing clients' digital needs, but eventually we see the large agencies controlling digital ad buys in a consolidated fashion, similar to what exists for television today.
Marketing Expertise Remains Crucial in Digital Age
The increasing complexity of reaching consumers through online, social, and mobile with dynamic innovation within these broad categories means that clients need more expertise and advice than ever in creating and executing an integrated marketing campaign. The ad agency attempts to serve as an intelligent navigator of the increasing complexity of the consumer decision path.
Real-time tracking, analyzing, and applying insights from consumer data takes large, skilled teams of digital analysts and constantly updated software tools. The amount of consumer data available to marketers has grown exponentially with the expansion of digital over the past decade, and we expect this trend to continue.
We assume the major global ad agencies now track more than 1 billion unique global URLs, with each URL profile having thousands of bits of data. The holding companies have teams of analysts crunching the increasing amounts of data available and constantly updating algorithms to convert data to create useful insights into consumers. This is important, as customer data is now available in real time and allows companies to make changes to the execution of digital marketing efforts at a rapid clip. Each URL has a history and profile, and the advertising agencies are best equipped to use this information to make decisions on how to target customers and deliver messages in the most efficient manner. Further, the ability to combine offline and online advertising in a cohesive manner will remain critical for companies looking to affect the consumer decision path.
Technology Firms Pose a Limited Competitive Threat
We don't believe expertise in digital analytics for marketing services will allow any one agency (or holding company) to attain a material long-term sustainable competitive advantage over its direct peers. However, digital marketing expertise clearly allows the ad agency industry to fight off the competition from technology/consulting firms such as Accenture, Deloitte, and IBM, which are viewed as the most significant outside threats to wresting away business from the holding companies. In September 2009, Accenture started Accenture Interactive, which offers solutions that integrate consulting, technology, and analytics to enhance marketing performance. Accenture and other similar firms have poached talent from the ad agencies as well as brand managers from large consumer brands over the past few years.
The most relevant case for these firms to take share from the ad agencies is that there is an emerging blur among some of the corporate budgets controlled by the chief marketing officer and chief technology officer. It is hard to quantify from the outside, but we assume the intersection of creative work, technology, and data analytics continues. Potential threats like Accenture are looking to expand sales from nontraditional sources by gaining wallet share from existing customers. We assume that the digital ad agencies are looking for wallet share on the data analytics side as well, so this works both ways.
In our view, the technology-based firms pose a limited threat to the ad agencies, but this bears watching as digital becomes more important for consumer marketing efforts. A key differentiator, in our view, is that it is easier for the ad agencies to develop expertise in using technology for digital marketing than for the technology firms to cross over and offer meaningful consumer marketing insight. The ad agencies have a long history of understanding and measuring consumer behavior that is hard to overcome.