By David Sterman
We're coming up on the five-year anniversary of an epic global economic meltdown. And while many major European companies are still struggling with weak demand, U.S. rivals have fared better, thanks to a slightly perkier U.S. economy.
Yet you won't find the executives of any Fortune 500 companies resting easy. As the upcoming earnings season will likely show, business conditions remain subpar as our economic recovery has been relatively shallow, and foreign sales offices are struggling to ring up fresh orders.
But even as 2013 is shaping up to be another challenging year, the forward view is starting to brighten. Economists expect the U.S. economy to grow close to 3% in 2014, a full percentage point higher than this year's forecast. And Europe is expected to start to grow again next year as well. If both the U.S. and Europe (which account for roughly half of global GDP) sport better growth in tandem next year, the stage is set for a multi-year phase of global economic expansion.
That's why it's time to focus on "cyclical" stocks. These economically sensitive companies, which are mostly found in the industrial sector, appear poised for robust profit gains over the next few years. And they're cheap. The industrial sector is one of the few places you'll find companies trading at a price-to-earnings (P/E) ratio of less than 12 times forward earnings.
I went in search of value-oriented growth stocks in this sector, focusing on industrial companies expected to boost profits at least 10% in both 2014 and 2015, and narrowed the view to any stocks trading below 12 times projected 2015 profits.
Thirty stocks made the cut. Here are the nine with the lowest P/E ratios in the context of projected 2015 profits.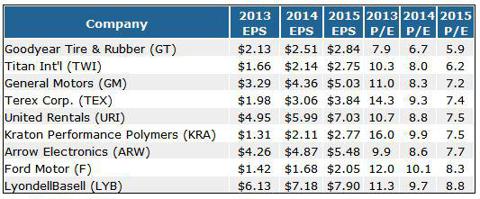 You'll notice that both Ford (NYSE:F) and GM make the cut. Even after solid gains thus far in 2013these remain among the most underappreciated growth stories on the market. If Europe can manage to turn the corner in 2014, look for these stocks to finally post major gains.
Speaking of the auto industry, even though Goodyear Tire & Rubber (NYSE:GT) has rallied 30% since I profiled it two months ago, it is still a deep value play, trading for less than six times projected 2015 profits.
Of the 30 companies I screened for, which ones are poised for the most robust profit growth? Here are the companies poised for at least 20% profit growth in 2014, according to consensus forecasts.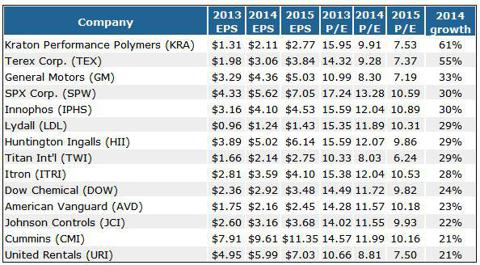 Looking at 2014 and 2015, these are the only companies that are forecast to boost profits at least 15% in both years (and also, as noted, trade for less than 11 times projected 2015 profits).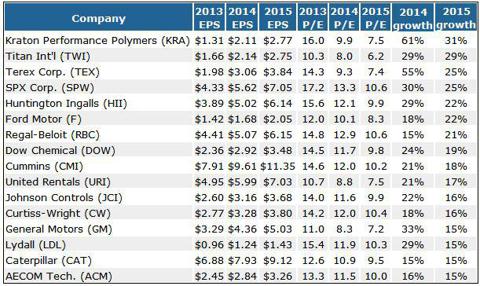 The Unloved Industrial
Though many of these companies appear to be solid values in relation to their projected profit growth, I'm especially enamored of a solid long-term performer that is currently out of favor with Wall Street. Johnson Controls (NYSE:JCI) has been in the midst of a multi-year plan to strengthen its various divisions. That plan has bled cash but should lead to record profit margins as the global economy rebounds.
To upgrade its manufacturing plants and invest in production line automation, this company spent $1.3 billion in capital expenditures in 2011 and a further $1.8 billion in 2012. In prior years, that figure stood at around $800 million annually. Free cash flow, which has been negative for each of the past two years (thanks to those high capital expenditures), should be solidly positive this year, and perhaps exceed the company record of $890 million (set back in fiscal 2007) by fiscal 2014.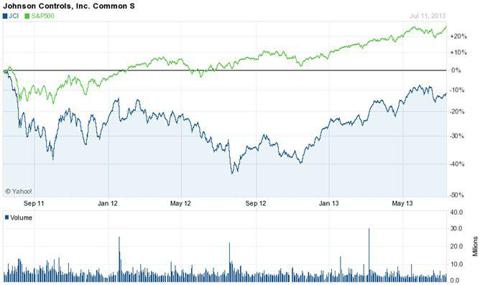 The charm of Johnson Controls' business model is its revenue diversification. The company has hefty exposure to the auto industry (as a leading supplier of both auto interiors and batteries) but is also a major player in heating and cooling systems for buildings. Energy efficiency is a key focus in that niche. The chance to buy a stock that is poised for 15% to 20% profit gains -- but trades for less than 10 times projected 2015 profits -- is quite appealing.
Risks to Consider: Analysts are counting on the economy to cooperate for these companies to generate the solid profit growth they anticipate. Economic weakness would derail that projected profit growth.
As we head into earnings season, you may hear of fresh near-term weakness for many industrial firms. Yet don't confuse the near-term with the long-term. Even as 2013 presents plenty of challenges, the multi-year view for these firms is getting brighter, and these stocks remain among the most inexpensive on the market.
If you're looking to invest in cyclicals without focusing on any one company in particular route, there are ample ETF options, including:
Industrial Select Sector SPDR Fund (NYSE: XLI)
First Trust Industrials AlphaDEX Fund (NYSE: FXR)
iShares Dow Jones U.S. Industrial Sector Index Fund (NYSE: IYJ)
Disclosure: I have no positions in any stocks mentioned, and no plans to initiate any positions within the next 72 hours. I wrote this article myself, and it expresses my own opinions. I am not receiving compensation for it. I have no business relationship with any company whose stock is mentioned in this article.