Rowan Companies (NYSE:RDC) is a shallow-water offshore drilling specialist whose move into the deepwater environment could offer opportunities for investors as I discussed in a Seeking Alpha Pro article back in April. As the company has released its first quarter 2013 results and has given a presentation to investors since that time, I thought that it could be a good idea to revist the company and see if my original investment thesis is still valid.
Rowan owns and operates a fleet of 35 offshore drilling rigs comprised of four ultra-deepwater drillships and 31 standard, high-specification, and premium jack-up rigs. This fleet is quite well diversified internationally, operating in all major markets for shallow water rigs.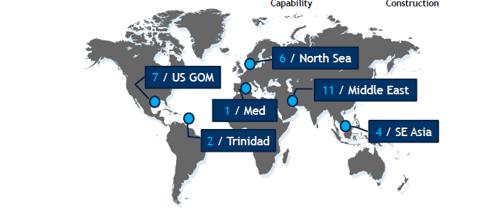 Source: Rowan Companies
Rowan does not currently have any operations in deepwater markets as none of the company's drillships have completed construction yet. However, two of its drillships have already secured contracts. One of its rigs will be operating in the Gulf of Mexico and the other will be operating in West Africa. This effectively secures Rowan's presence in two of the most important deepwater markets. This global diversification is important because it limits the company's exposure to any one region or government. Investors in Transocean (NYSE:RIG) saw first-hand how critical it is to protect against regime risk due to that company's legal struggles in both the United States (after the Macondo disaster of 2010) and in Brazil (after the Frade field spill).
For the last few years, customers of offshore drilling contractors (typically large oil and gas companies) have expressed a marked preference for younger rigs. This is because these rigs typically have better technical performance and safety equipment than older rigs. I have discussed this in previous articles. Rowan stands out well in this environment. The company has one of the youngest fleets out of all the major jack-up operators. In fact, only Seadrill (NYSE:SDRL) has a younger one.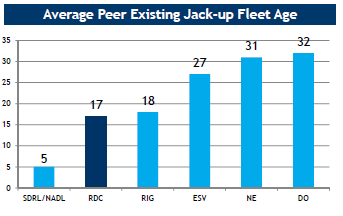 Source: Rowan Companies
Further proof of this customer preference for newer rigs can be found in Rowan's own fleet. Only three of the company's 31 jack-ups are available for hire. All the others have been contracted out to customers. These three rigs are the oldest in the company's fleet by a considerable margin.

Source: Rowan Companies Fleet Status Report
Rowan also notes this trend toward newer high-specification rigs in its aforementioned investor presentation. The company included this chart in the presentation that shows the overall utilization of various types of jack-up rigs in the worldwide fleet.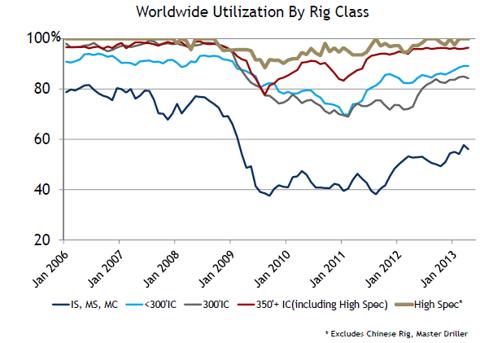 Source: Rowan Companies
In general, the rigs that have the ability to operate in water depths of 350' or greater and the high specification jack-up rigs shown in the chart above are newer than the others. As the chart shows, these rigs have the highest utilization compared to the other types. This is due to customers preferring to employ these rigs rather than the older and less capable ones.
Rowan has been able to leverage the strength of its fleet and experience with shallow-water operations into achieving industry-leading dayrates. Here is a comparison of Rowan's current dayrates compared to a selection of peers including Seadrill, Ensco (NYSE:ESV), Noble (NYSE:NE), Diamond Offshore (DO) and Transocean.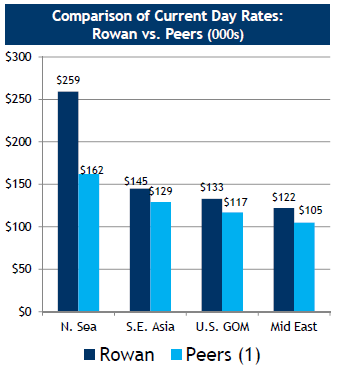 Source: Rowan Companies
As the chart shows, Rowan's dayrates are, on average, well above its peers in all shallow-water areas in which the company operates. The major reason for this is Rowan's fleet which is newer than all of the companies used in the peer comparison except for Seadrill. Companies such as Ensco, Transocean and Diamond Offshore have a large number of old rigs in their shallow water fleets that drag down the average dayrate for these companies. I have already shown that modern rigs are preferred by the oil companies that contract out offshore rigs. These companies are not only favoring these rigs for contracts but are paying significant premiums to get them. This has allowed the offshore drilling contractors to charge significantly higher prices for these modern rigs. This is reflected in the chart above. A comparison consisting of only Rowan and Seadrill would show that the two companies have similar dayrates. Modern rigs also cost about the same to operate as older rigs so these rigs generate more cash flow due to the higher dayrates. Older rigs tend to be fully depreciated and modern rigs are not (depending on the actual age of the rig) so this will skew profitability comparisons.
The company has a number of its jack-ups completing their current assignments over the next year or two that will need to secure new contracts. This offers Rowan its only potential for growth in the shallow water environment since it does not have any jack-up rigs under construction. However, recent contracts that have been awarded to peers like Seadrill provide optimism that the company can grow its shallow-water profits and cash flows in this way. The lion's share of the company's growth potential comes from the four ultra-deepwater drillships that it has under construction.

Source: Rowan Companies
Two of these rigs, Rowan Renaissance and Rowan Resolute, have already secured assignments that begin in 2014. Of these, Rowan Renaissance carries the higher dayrate but both rigs have been awarded solid dayrates over $600,000. With this information, an estimate of the company's future earnings can be made. In its presentations, Pacific Drilling (NYSE:PACD) states that it costs the drilling contractor approximately $180,000 per day to operate an ultra-deepwater drillship. For the purposes of this analysis, I will assume that Rowan's costs will be about the same. I will add 3% to this figure to account for inflation as well as the rising costs of skilled crew members. This gives an estimated operating cost of $185,400 per day. Compare this to average daily operating revenue of $610,000 and we get a maximum pre-tax cash flow of $424,600 per rig per day or approximately $155 million annually per rig.
It is unreasonable to assume that any of these rigs will achieve their maximum potential revenue. This is because events such as maintenance result in downtime for which the rig does not receive compensation. The average amount of time that rigs spend in non-revenue generating activities varies by both rig type and age and varies from company to company. A conservative estimate for a modern ultra-deepwater drillship is 10% of its time engaged in such activities. Therefore, the rig can be expected to earn about 90% of its maximum potential contract revenue. This would equate to approximately $200 million annually per rig. This brings the estimated pre-tax cash flow to approximately $132.3 million annually per rig. In my analysis of Seadrill's West Freedom contract (linked above), I showed that offshore drilling companies typically pay taxes that total 4% of revenue. At that rate, Rowan would pay approximately $8 million in taxes for each rig on an annual basis. Therefore, Rowan is looking at incremental after-tax cash flows of $124.3 million per year for each of its two new ultra-deepwater rigs. The company has an additional two rigs under construction that have not yet secured contracts. There is a good chance that these rigs will be awarded even higher dayrates than the Rowan Renaissance and Rowan Resolute given the current trends in the market which I have discussed several times in previous articles. This would result in these two rigs having even better economics than the two rigs just analyzed.
As of April 30, 2013, Rowan had 124,199,339 shares of common stock outstanding. Thus, each of Rowan's four new drillships has the potential to increase the company's cash flow by $1.00 per share. This gives the company some of the greatest growth potential of any major offshore driller. According to FactSet, Rowan's EPS will likely grow by 208% over the 2012 to 2014 period, beating out all of the large drilling contractors.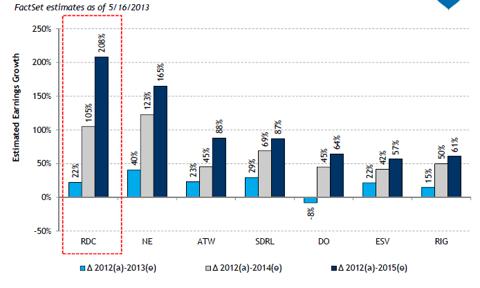 Source: Rowan, FactSet
Disclosure: I am long SDRL, PACD. I wrote this article myself, and it expresses my own opinions. I am not receiving compensation for it (other than from Seeking Alpha). I have no business relationship with any company whose stock is mentioned in this article.