Gold Will Drop After Bernanke
Gold prices are trading sideways, after making a strong push lower late in the week. These moves were propelled by the latest statements from Federal Reserve Chairman Ben Bernanke, which signaled "more of the same" if by more of the same we mean largely unclear or non-committal. Of course, the central question for those with exposure to the metal either through physical holdings or through ETFs is whether or not the Fed will begin reducing quantitative easing stimulus in September. Overall, the response so far has not been favorable. Holdings in the largest gold-backed exchange-traded instrument, the SPDR Gold Trust (NYSEARCA:GLD) dropped to just above 936 metric tons after Bernanke spoke, falling to the weakest levels since early 2009. From a price perspective, historical demand levels at 124.30 in GLD were quickly removed after the initial comments, with prices stabilizing in the 122.80 region.
Continued Indecision
Looking at Bernanke's specific comments, one of the central takeaways can be seen in a few phrases which pose possibilities for a few different scenarios. On one side, we have Bernanke suggesting that positive progress in the economy (acceleration in employment and inflation at rates higher than currently anticipated) will need to be "decisively" present. The Fed's target inflation rate is 2%, and, if this occurs, Bernanke suggested that "the pace of asset purchases could be reduced somewhat more quickly." Hawks on the economy felt validated after these statements but reverse scenarios were presented, as well. Bernanke's testimony also indicated that the Fed is prepared to raise the pace of stimulus injections for shorter periods of time, in an effort "to promote a return to maximum employment in a context of price stability." What does all this mean, exactly? Very little.
Most of the headlines dealing with the Bernanke story are using this quote: The current bond purchasing programs is "by no means on a pre-set course." If you are invested in GLD (or a similar instrument) and you feel frustrated by comments like these, you are in good company. But this does not mean that the next direction is as unclear as Bernanke's Congressional testimony. Overall, uncertainty tends to be negative for asset investments, so the sum effect of Bernanke thus far should be continued downside pressure in GLD (and related Gold ETFs), as investors cash-out and wait for clearer signals on the next goals for Federal Reserve policy direction.
Bernanke's last major market moving events came on May 22, and GLD has posted substantial gains since. Over the last three months, GLD has given up nearly 8%, even with recent bull waves in the price of Gold itself. For GLD investors, this means that non-committal, back-and-forth commentary from voting members at the Fed have done little more than contributing to a cloudier policy outlook, and a shaky footing for those invested in Gold ETFs. This also means that more volatility is in store, as we will have to see more decisive comments at some stage, and this will likely lead to some strong price moves into the later parts of the year.
Given the lack of clarity given by the Fed, those with current positions in GLD should watch the US Dollar ETF for indication on short-term direction. Gold is priced in US Dollars, so the correlation here is negative, as events bullish for one tend to be bearish for the other. Positive macro data in the US or commentary from voting members at the Federal Reserve in favor of reducing stimulus would create upside pressure in the PowerShares DB US Dollar Index Bullish ETF (NYSEARCA:UUP).
Chart Perspective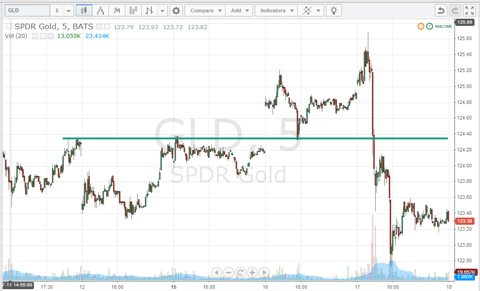 Looking at the short-term charts in GLD, the environment of uncertainty has pushed prices through important support levels at 124.30. Given the previous consolidation period, this puts the focus on the downside, and prices will need to overcome the same area (support turned resistance) in order to start considering bullish targets. Not surprisingly, prices failed at the 130 resistance level discussed in the last published report.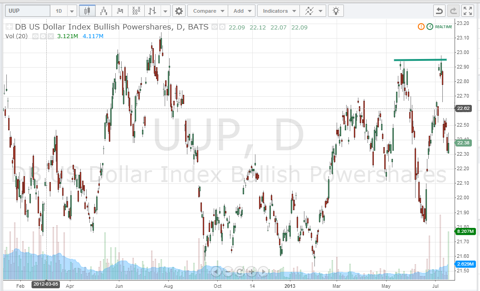 Price activity in UUP is more important now that the Bernanke testimony is behind us. UUP is caught in the middle of its trading range on the daily charts, which means there is significant upside possibility from here. Current resistance levels come in at 22.95.
Disclosure: I have no positions in any stocks mentioned, and no plans to initiate any positions within the next 72 hours. I wrote this article myself, and it expresses my own opinions. I am not receiving compensation for it (other than from Seeking Alpha). I have no business relationship with any company whose stock is mentioned in this article.