The S&P 500 (NYSEARCA:SPY) hit another new high this week. U.S. markets have continued to rally as the Federal Reserve's QE program has added liquidity to the market and lowered interest rates at times. A lot of money has flown into this market, and that can be both good and bad. So far this year, there are a lot of growth names that have outpaced the market, some by wide margins. Some of these names have hit either new yearly or all-time highs. While that's a blessing for those that have owned them for their rallies, it can be dangerous for those now looking to enter. Today, I'll examine the current state of the growth market, and caution investors to tread carefully in this area.
Ten names that beat the market:
I'd like to discuss ten names today that I believe are considered "growth" names in the market. All ten of the names I have chosen today are expected to grow their revenues by more than 10% in their current fiscal year. Nine of the ten names do not pay a dividend, and the only one that does yields less than one percent annually. All ten were also chosen because they have outperformed the SPY exchange traded fund so far this year. I'm using the SPY for the S&P 500 as it is adjusted for dividends. The following table shows how these ten names have performed, as of Wednesday's close. The ten names that made the list include the following: Google (NASDAQ:GOOG), Tesla Motors (NASDAQ:TSLA), Netflix (NASDAQ:NFLX), First Solar, (NASDAQ:FSLR), SodaStream (NASDAQ:SODA), Green Mountain Coffee Roasters (NASDAQ:GMCR), Zillow (NASDAQ:Z), LinkedIn (LNKD), Amazon (NASDAQ:AMZN), and Visa (NYSE:V).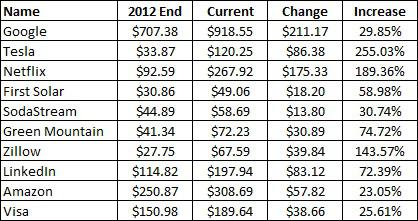 The SPY is up 19.09% over this time period. Even if you take out the three names above that have more than doubled and skew the average, the remaining seven are up by an average of 45.05%, more than twice the SPY. Overall, the ten names are up by an average of 90.33%. That's incredible growth for just six and a half months.
Some of those gains can be misleading, and that goes back to the point I was making about these names being dangerous. SodaStream is a good example, as shares have lost about 25% of their value since their intra-day high about five weeks ago. That's not even counting the day where shares were substantially higher than that in the pre-market. Shares had run up on a couple of analyst upgrades and buyout rumors, and I warned investors about the bubble that was being created. The chart below shows SodaStream over the past six months. While you can see the recent fall, it is greater than it appears on the chart. Anyway, the point is that you won't see a name like Coca-Cola (NYSE:KO) drop 25% in five weeks. If you do, it's probably due to some bigger market issue.
(Source: Yahoo! Finance)
Another good example is First Solar. The Solar giant rallied from $27 to $59 after setting aggressive guidance for 2013. The company used the rally to sell stock and raise money, but diluted shareholders by 11%. First Solar shares ended up losing more than 31% in a month. They've come back a bit, and like SodaStream still have impressive yearly gains, but they've also had incredible losses at times.
Now these two examples were names that probably were due for a pullback at some point. But what about a growth name whose growth is actually slowing down? Google is a great example of this. The tech giant saw its revenue growth rate pop thanks to its acquisition of Motorola Mobility. Now that we will get Motorola to Motorola comparable results, Google's growth rate will decline quickly. Google is up 30% year to date and about 60% over the past year. When investors see the growth slow down, will Google start to fall? Don't forget, Google shares trade at a massive premium to its competitors.
Sentiment can change:
I didn't want to go into detail for every name in the last section, as you probably got the point. Sentiment can change very quickly, and many of these names can lose investors serious chunks of money. Tesla shares lost more than 14% of their value on Tuesday after a negative note from Goldman Sachs. While shares rebounded somewhat on Wednesday, they were 21.58% off their recent high at Wednesday morning's low. This stock moves quickly, and investors need to be extremely careful with it.
I also don't want investors to ignore the power of short sellers. A lot of these names above have rallied strongly as shorts have been forced to cover, sparking a number of short squeezes. Here's just a few examples of dramatic short interest changes:
Zillow short interest declined from 9.43 million to 4.98 million in the five and a half months ending in late May.
Netflix short interest declined from 17.2 million in October 2012 to just 7.2 million at the latest update.
Tesla short interest has dropped from 32.3 million to 19.8 million in just three and a half months.
Green Mountain short interest went from 51.45 million to 27.12 million in two and a half months.
The key here is that short interest can move quickly. It could easily rise back to those previous levels, causing sharp drops in stock prices. We've seen Netflix drop from $300 to $50 before, and First Solar went from $317 to $11. If the market pulls back, these names will be the first ones to decline. Tesla, First Solar, and SodaStream have already come well off their highs. Who will be the next one to do so?
Sector rotation:
Early in the year, it seemed like everyone was pitching a lot of the value names, and I was certainly one of them. Everyone was concerned about a market pullback, so the income provided by names that were supposed to be "safer" was welcomed. A lot of consumer products/goods types and other high dividend names did really well. Another sector that did really well in the first few months of the year was the utilities sector. But in late April, the picture changed. A lot of utility names began to sell off, and their stocks were hit when investors were concerned that rising interest rates made utilities less attractive. A lot of growth names and riskier sectors benefited, and a good example is the technology sector. Just look at the chart below comparing the Utilities Select Sector SPDR (NYSEARCA:XLU) versus the Technology Select Sector SPDR (NYSEARCA:XLK).
(Source: Yahoo! Finance)
There has certainly been a rotation lately from your traditional value/income type names, utilities, into more of your potential growth type names, technology. Yes, I know Apple (NASDAQ:AAPL) is still down big over the past year, but it is up 11.7% from its recent low. Apple and Google make up more than 20% of the XLK. Now if bond rates go lower again, utilities could be back in favor.
Anyone can drop:
If there is one lesson investors can learn from Apple, it is that any stock can drop. That seems rather obvious, but sometimes people get too blinded and can't see clearly. How many $1,000 price targets were there on Apple when it hit $700? If you were to survey 100 market participants, how many would have said that Apple would hit $400 before $1,000? I assume the number would have been fairly low. The one year chart of Apple below shows you how wrong everyone was.
(Source: Yahoo! Finance)
What's my overall point? Well, I am one of the more popular writers on this site for Dividend Ideas. There are a lot of solid dividend paying names I focus on, your Coca-Cola types, your Philip Morris (NYSE:PM) types. These names are probably not going to return 50% or 200% in a year, but you won't have to worry about waking up one morning and seeing them down 30% either. SodaStream, Green Mountain, Zillow, and others above have had huge down days in the past couple of years. You will even see me pitching Apple as a dividend name. Apple was yielding over 3% at times, at which point it was yielding more than a 30-Year U.S. Treasury bond. If you bought Apple then instead of the 30-Year, you've done quite well. Don't ever be afraid to throw a dividend name or two into your portfolio. Income and safety are two items you won't find with every name in this market.
Final thoughts:
My point here today was not to sound an alarm that the market is reaching a top, or to push the panic button on any of the names discussed. My goal here today was to remind investors of the rewards, and dangers, that many growth names will carry. First Solar, Tesla, and SodaStream are still well off their recent highs, despite sizable rebounds. Investors should never be afraid to take a profit, even if it results in them missing a further gain. If I were someone who bought Netflix and was sitting on a huge profit, I'd rather sell at $270 and miss a rally to $300 then not sell and watch it fall to $200.
Market sentiment can change quickly, and investors need to be prepared. It might not be a bad idea to sell a big winner and hold some cash in your portfolio, waiting for the next pullback. Or, you may want to swap into an income producing name, so at least you'll earn a few percent over the year instead of next to nothing with cash. Many growth names have done well so far this year, but that doesn't guarantee that those rallies will continue. How did Apple at $700 last year work out for investors? As always, I am here today not to scare investors out of the names they are holding, but to remind you again to be smart with your investments.
Disclosure: I have no positions in any stocks mentioned, and no plans to initiate any positions within the next 72 hours. I wrote this article myself, and it expresses my own opinions. I am not receiving compensation for it (other than from Seeking Alpha). I have no business relationship with any company whose stock is mentioned in this article. Investors are always reminded that before making any investment, you should do your own proper due diligence on any name directly or indirectly mentioned in this article. Investors should also consider seeking advice from a broker or financial adviser before making any investment decisions. Any material in this article should be considered general information, and not relied on as a formal investment recommendation.