Today we want to highlight why we are as bullish as we are of the markets. Many readers will remember that we have been cautiously optimistic for some time, before turning the corner near the end of last year and the beginning of this year. Our estimates for the job market were aggressive by some accounts, but even we have been surprised by the fact that they were not aggressive enough as we already hit levels we thought might be attainable by the end of the year.
Today is a focus on what we have watched, why we watched it and the reasoning for continuing to watch it while remaining bullish until some event changes the status quo.
Chart of the Day:
We might see a bit of sideways action from here on out as the economy moves to digest these numbers. Jobs are being created, however the rate is slow and so too is the hiring process. Remember, the 2500k level has only been reached in recent history during times of solid economic growth.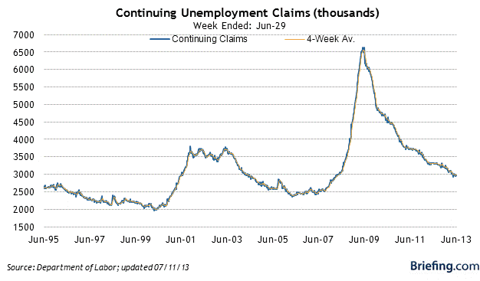 Source: Briefing
We have economic news due out today and it is as follows:
Initial Claims (8:30 a.m. ET): 348k
Continuing Claims (8:30 a.m. ET): 2950k
Philadelphia Fed (10:00 a.m. ET): 5.3
Leading Indicators (10:00 a.m. ET): 0.3%
Natural Gas Inventories (10:30 a.m. ET): N/A
Asian markets finished mixed today:
All Ordinaries -- up 0.21%
Shanghai Composite -- down 1.05%
Nikkei 225 -- up 1.32%
NZSE 50 -- down 0.34%
Seoul Composite -- down 0.64%
In Europe, markets were trading mostly higher this morning:
CAC 40 -- up 0.25%
DAX -- up 0.03%
FTSE 100 -- up 0.37%
OSE -- down 0.87%
Fast Money Trades
As this bull market has been gaining strength we have watched as rotations took place out of safer securities and into the riskier areas of the market. Yahoo (YHOO) was one of the first stocks which began to experience this phenomenon and a good portion of the new capital inflows were due to new CEO Mayer who has done a great job with her initial changes at the company so far. We were bulls on this name in the $15-17/share range and have been supporters all the way up and shall continue to be. The operating results continue to improve (although at a decreasing rate) as the company cuts unnecessary expenses and focuses on building revenue via a two pronged approach by building upon their traditional content generation business while also developing and acquiring new social media platforms.
An underperformer for so long, finally someone is leveraging the internet's leading content assets and creating shareholder value.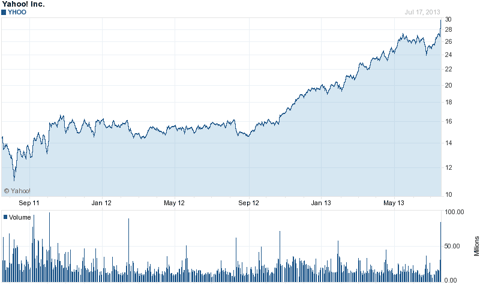 Source: Yahoo Finance
The company is beginning to look more like a Facebook or Google to us and it is our opinion that the revenue and bottom line of the company are only going to pick up steam as newer offerings are incorporated into the company's content platform. A lot of focus was placed on Alibaba's results and the potential monetization of that asset yesterday, and that could be another 'kicker' should Yahoo find a good way to either reinvest that money in an exciting tech company, distribute it to shareholders or a combination of the two. Our only issue with the company at this point is their newly designed website and the difficulty one has getting back to the Yahoo homepage after clicking through to one of the specialized pages.
Technology was the first sector to kind of pull in risk-on money from the initial rally we saw and have its own run but biotechnology was not that far behind with names like Celgene (NASDAQ:CELG) catching on with investors as the mid to large cap names began to offer attractive risk/reward ratios while also reporting some impressive numbers on the operating front and beginning another phase of consolidation. We admittedly closed our recommendation of Celgene when it failed to hold above $130/share, which was the correct call at that time as it was a momentum trade for readers, but since then the company has received good news pertaining to R&D and we have seen M&A rumors and activity heat up.
We like the idea of focusing on the big biotechs as they have a history of developing blockbuster drugs in-house while going through the FDA, Food & Drug Administration, trials. There is also a solid track record of purchasing smaller biotech companies with promising drugs and patents and developing those assets. Yes there is a good amount of money to be made by buying micro cap biotechs, but why not let those with a track record of successfully doing it invest your money for you? That has been what has worked and why we are bullish the big names; even recommending on the day that Celgene reported its last batch of good news to sell some shares and invest in Amgen so as to diversify among the big names.
The outperformance started in September 2012, but really picked up steam as the rally got the green flag from Washington at the end of last year and beginning of this year. The chart leads one to believe that maybe the NASDAQ has a bit more left in the tank.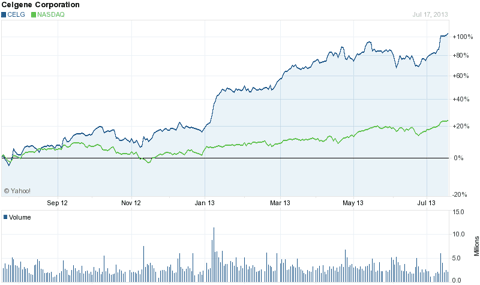 Source: Yahoo Finance
Although this next pick hardly seems to fit into this category of exciting risk-on plays with strong revenues, profits and history while sporting minimal downside it has in fact found its way into this group. We are talking about Tesla (NASDAQ:TSLA) which has positioned itself as the next generation car manufacturer by focusing on environmentally friendly vehicles at the high-end of the pricing spectrum. They recently turned a profit and have some exciting new programs underway to further develop demand. All of this has led to short positions getting torched and creating one of the more spectacular runs we have seen in recent memory for a company such as this.
Although we highlighted the name yesterday with the price action resulting from the Goldman Sachs downgrade, we asked whether that would lead to a pile on effect - to which the answer, at least this morning, is no. Daughert & Co. analyst Andrea James (see Barron's article here) placed a $200/share price target on the shares and remains bullish, even noting that shares would be worth $300/share with Tesla's manufacturing capacity at 100%. The firm is a small one, however going against the grain and putting out a price target in sharp contrast with Goldman Sachs takes guts and the fact that shares held par ($100/share for new readers) gives us the feeling that the run may not be over just yet.
Blue Chips
Our other investing theme throughout this bull market has been a focus upon the blue chip names which have trended higher for some time now. Many market participants who have been involved for a few bull-bear market cycles notice trends, and the rotation into blue chips is always one's first move when beginning to invest in a market.
We have some family members who have taken fresh capital from off of the sidelines where it was earning an absurd 0.3% interest rate in a bank account and decided to put it to work in the stock market in blue chip stocks. The thinking is that they will get about ten times more in yield by placing the money in these stocks and also get protection against inflation while also possibly earning capital gains in excess of the inflation rate with the trade-off being the potential loss of capital on a pull back. The fact that this is money not needed tomorrow, next month or the year after justifies the move.
The 3%+ dividend yield here is attractive and so too is the fact that the company, even after yesterday's move, still trails the Dow Jones Industrial Average. There may be more gains to follow here, especially if Peltz makes a move.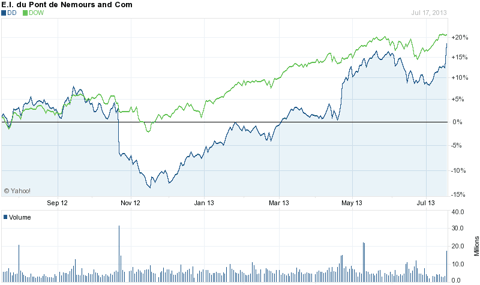 Source: Yahoo Finance
Long story short one of their initial buys was Dupont (DD) which saw shares rise over 5% yesterday and sits at a 52-week high and the highest level the shares have traded at in over a decade. Oddly enough we have heard not only their story of doing something like this with a name such as Dupont, but even some readers! All of those owning shares have to feel good after yesterday's announcement of Nelson Peltz, an activist investor, having built up a stake in the company. There is value here for long-term investors and those looking to take advantage of the company's cash flows in the short-term, which is why the industrial names have done so well.
The strongest performers in the blue chip segment during this bull market have been the names which have outperformed over the long run and rewarded shareholders for years. The same family members I discussed recently putting new money to work described their disappointment that Pepsi (NYSE:PEP) was as 'expensive' as it was. At the time of this conversation the shares were a good bit lower than they are today, maybe by 10%, and the couple decided to look elsewhere for some more attractive entry points. They are what we would describe as smart money because they have been investing for nearly 40 years. Others do not have that experience, and thus the reason why Pepsi shares are still a good fit for their portfolios and investment needs.
Closing
Many have asked us why we are still bullish of this market which looks like it should be tired and heading lower, but the bottom line is that by watching the blue chips and the momentum stocks we have seen continued capital inflows into the areas which highlight new investor money trickling in. As more investors who are passive move in to buy the assets with less risk, the aggressive investors and those who rotated in before are taking the money and building upon the risk-on trade that is pushing markets to all-time highs. Until we see a pause in this action, it is quite difficult to become bearish because every minor pullback thus far has been met with strong buying.
Disclosure: I have no positions in any stocks mentioned, and no plans to initiate any positions within the next 72 hours. I wrote this article myself, and it expresses my own opinions. I am not receiving compensation for it (other than from Seeking Alpha). I have no business relationship with any company whose stock is mentioned in this article.
Additional disclosure: Family members did own shares of Dupont (DD). No benefit is derived from this position by author.