The chart below shows short interest/shares outstanding at June 28, 2013 (the most recent data available) and 2015 earnings yield (the multiplicative inverse of the 2015 P/E ratio) for the two largest US banks and for the 15 largest banks and thrifts with short interest over 7%. Data is provided by SNL Financial LC: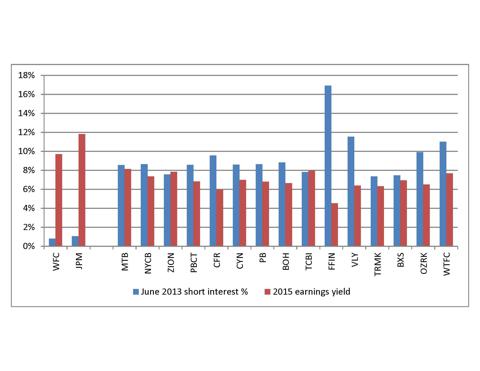 As you can see from the blue bars in the above chart, both JPMorgan Chase (NYSE:JPM) and Wells Fargo (NYSE:WFC), the largest US banks by assets and market cap respectively, have low short interest. While there are lots of potential explanations for this, the simplest explanation is the high earnings yield that both offer (red bars), JPM in particular. In an environment in which the 30-year Treasury bond yields 3.6%, an earnings yield of 10-12% is attractive and implies that investors are valuing both institutions conservatively.
Contrast them with the two banks whose short interest positions are highest, Abilene, TX-based bank First Financial Bankshares (NASDAQ:FFIN) and Wayne, NJ-based bank Valley National Bancorp (NYSE:VLY). FFIN and VLY have earnings yields of 4.5% and 6.4%, respectively. FFIN's earnings yield is the lowest of any institution on this chart by a considerable margin.
Excluding JPM and WFC, no institution on this chart has an earnings yield over 8.1%. San Antonio-TX-based bank Cullen/Frost Bankers (NYSE:CFR), while an outstanding banking franchise, offers only 5.9%. Is the link between high short interest and low earnings yield a coincidence, or is it a sober recognition that investors could flee these stocks in the wake of an earnings hiccup, or simply because they seem expensive?
Disclosure: I have no positions in any stocks mentioned, and no plans to initiate any positions within the next 72 hours. I wrote this article myself, and it expresses my own opinions. I am not receiving compensation for it (other than from Seeking Alpha). I have no business relationship with any company whose stock is mentioned in this article.