One of the most difficult decisions faced by investors is when to sell out of an underperforming position. I originally wrote my bullish thesis on Intel (NASDAQ:INTC) last July. I have managed to see it sell off from my original purchase price of $26, leaving me with a capital loss even after reinvesting the dividends. The article below will outline why I have liquidated my position.
INTC was a tech darling for many years, putting out marvelous products that powered the personal computer revolution. The company consistently out-innovated the competition and grew to become a behemoth, greatly enriching shareholders. Yet something has changed, namely the shift to mobile computing that seems to have caught INTC completely flatfooted. The following quote from Gartner is quite telling of the current dilemma facing INTC:
Global PC shipments fell 10.9% Y/Y in Q2 to 76M, estimates Gartner. That's nearly even with the 11.2% drop the firm estimated for Q1, and backs up recent analyst commentary (I, II). Gartner: 'In emerging markets, inexpensive tablets have become the first computing device for many people.' One bright spot: U.S. shipments fell only 1.4% Y/Y, and rose 8.5% Q/Q; Gartner thinks this was due to enterprise strength. EMEA shipments -16.8%, Asia-Pac -11.5%.
It seems as if the emerging market is skipping the traditional PC for tablets, thus depriving INTC of a major source of its sales. As we can see from the following earnings breakdown, INTC derives 63% of revenue from the PC division: PC CPU division sales (63% of total) +1% Q/Q and -7% Y/Y (-6% in Q1); ASPs -3% Q/Q and flat Y/Y; server CPU division sales +6% Q/Q and flat Y/Y; ASPs -1% Q/Q and Y/Y; other Intel architecture (including Atom) -4% Q/Q and -15% Y/Y; and software/services +4% Q/Q and Y/Y.
The problem here is the PC division is continuing to decline at a decent rate. INTC seems to have missed the mobile revolution and is desperately trying to play catch up. So far it hasn't made its way into the most popular tablet devices, such as the iPad. Simply put: Until INTC scores some major mobile wins its main revenue source, the PC business, will continue to erode, thus depriving INTC of any sort of revenue growth.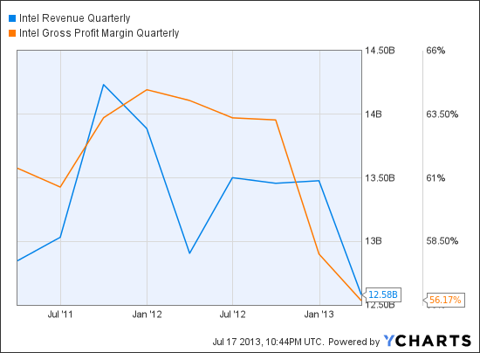 INTC revenue and earnings growth is now unpredictable, thus making them less attractive in my eyes for further investment. I tend to favor companies with a predictable revenue and earnings stream. I feel INTC no longer fits this category well, so I will be liquidating the position.
INTC has become a favorite of the income-seeking crowd due to its above-average dividend. Going forward with shrinking revenue and earnings, I believe it will become tougher for INTC to consistently raise dividends. I will replace INTC with Colgate-Palmolive (NYSE:CL) in my portfolio. CL's dividend is less than INTC's; however, the business is solid and predictable, allowing for consistent dividend hikes in the future. Each investor has different income needs and some may be loathe to sell such a high-dividend-paying company. I am quite a few years from retirement so I tend to lean more toward dividend growth, which, in my opinion, CL provides.
In summary, INTC's recent earnings announcement is a huge disappointment. The business is facing a category shift into mobile where INTC is far from dominant. Management has significant work to do to gain mobile share and repair the business. I won't be along for the ride and will be liquidating my position.
Disclosure: I am long INTC. I wrote this article myself, and it expresses my own opinions. I am not receiving compensation for it (other than from Seeking Alpha). I have no business relationship with any company whose stock is mentioned in this article.
Additional disclosure: Thank you for reading the article. Investors are always reminded that before making any investment, you should do your own proper due diligence on any name directly or indirectly mentioned in this article. Investors should also consider seeking advice from a broker or financial adviser before making any investment decisions. Any material in this article should be considered general information, and not relied on as a formal investment recommendation.