Below are updated charts highlighting the percentage of stocks in the S&P 500 and its ten sectors that are trading above their 50-day moving averages.
After peaking out near 80%, the current reading for the entire S&P 500 stands at 78%. This is a healthy breadth number, but it's not quite at overbought levels that suggest an imminent pullback.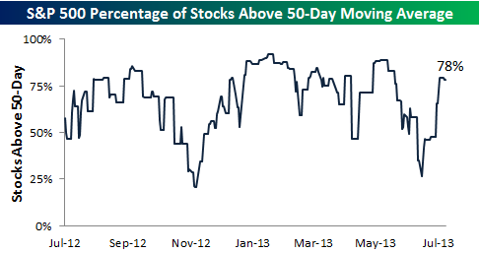 While cyclicals led during the early part of the current rally, we've seen the defensives play catch up more recently. Consumer Staples, Utilities and Telecom all had single-digit readings just a couple of weeks ago, but now they're all at 50% or higher. The Consumer Staples and Utilities sectors have actually both moved back up to 80%+.
Technology now has the highest reading of any sector at 86%. So while Apple (NASDAQ:AAPL) has held the sector down in terms of price, the majority of Tech stocks have been doing very well. Financials has the second highest breadth reading at 83%, followed by Industrials at 82%.