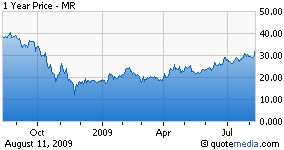 Mindray Medical International Limited (NYSE: MR), the China headquartered medical device maker, reported a 10% increase in revenues during its Q2, largely because China sales jumped 33%. Revenue from the international sales actually dropped 4%.

Economic conditions in the US are clearly having an effect on the company's ex-China sales. Even though the company recorded a 4% drop in international revenues, the numbers are actually more disappointing than the 4% slip would indicate, largely because the comparisons with the year-earlier quarter are not completely equal. In 2008's Q2, Mindray's results included revenue from its Datascope patient monitoring business for only two months because the purchase closed on May 1. If Datascope's assets had been included for the full 2008 quarter, they would have been about $8 million higher, which would have increased the year-over-year decline experienced in 2009's Q2 to about 12%.

The company said markets in Africa, Asia and the Middle East were "performing well," while sales to US hospitals remain "difficult to predict."

Nevertheless, the company handily beat Wall Street estimates that it would report revenues of $152 million and earnings of 27 cents per share. Revenues for 2009's Q2 were $160 million and profits hit 29 cps.

Revenues from Minday's Patient Monitoring & Life Support Products division contributed $69.1 million, a 2% increase; In-Vitro Diagnostic Products saw $40 million in sales, a 13% jump; and Medical Imaging Systems revenues were $41.9 million, a 17% rise.

Mindray repeated that it expects its full-year 2009 revenues to grow by at least 10% and non-GAAP eps to rise by 10% as well. It will spend between $50 million and $60 million in capital expenditures.

Wall Street was pleased with the results. In mid-session following the announcement, Mindray was 10% higher, climbing $3.02 to $32.89. At this price, Mindray has a market capitalization of $3.6 billion, by far the largest of any China-headquartered, US-listed life science company.

Disclosure: none.