On Wednesday morning, Bank of America (NYSE:BAC) demolished expectations on both lines, reporting Q2 EPS of $0.32 and revenue of $22.9B. Its second-quarter profits skyrocketed, up 70%, assisted by cost cutting and investment banking. BAC, the second-biggest bank in the country, managed to cut expenses about 6%. It cut about 18,000 jobs and reduced total employees by about 11%.
Banks have generally had a great earnings season thus far. First Niagara (NASDAQ:FNFG) is one of the remaining banks to report; it reports on Friday.
Out of the group, Bank of America stands out as a buy to me - it has momentum, it's making the right fundamental moves, and it's cheap. The purpose of this article is to point out the five major points that I would argue make Bank of America a buy right now.
1. Momentum After Earnings
The stock is a hot name right now. On the heels of the banking sector, as a whole, having a great earnings season (with, maybe the exception of Schwab), there's public and retail momentum behind the banking sector. Retail momentum is the kind of momentum that fuels rallies.
In my recent article "Banks Going Bananas," I commented:
So far, over the last year, it's looking like the banks are back - and going bananas.

It's been an exciting and interesting season in earnings for banks. Earnings reports have been exceeding expectations by far, but some confidence for the future wanes due to high interest rates affecting mortgages - and some profits rose due mostly to curbing expenses. Last week we heard from three notable banks, all of whom had decent results to report.
2. "BAC" to Basics and Fundamentals
There were a couple of things that I liked, being bullish on BAC into earnings. One, obviously, was the fact that it beat. The second is the way that it did it. I love when companies go back to fundamentals and hunker down. Remember, there are two ways to skin the profit cat - you can increase revenues, which is constantly used as the "default" way to do it - and the way that some companies (and politicians) forget - cutting your costs.
This was the time for BAC to pull the reins in a bit - and that's exactly what it did.
From The Wall Street Journal online:
Last fall, Mr. Moynihan announced plans to speed up cost cutting. The bank had 257,158 full-time employees at the end of the second quarter, down 6.6% from a year earlier. It also reduced branches by 4.8% to 5,328 at the end of the quarter. Executives said they hope to slim down to about 5,000 branches by the end of 2014.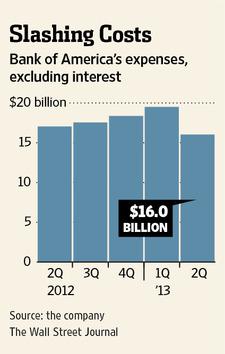 There's no honor lost in making a profit by scaling back - that's the Darwinist nature of business. Furthermore, it shows me that this company is focused on the fundamentals - something that's a "must" for any seasoned analyst looking at a stock for the first time.
You want the valuation to be there, obviously, but you also want reassurance that management understands that, similar to when you eat at Taco Bell (NYSE:YUM), going big too quickly can sometimes lead to being bloated and reduces efficiency. When everybody's making money, it's easy to sometimes to forget about or ignore these inefficiencies. When the profit starts to wane, they are thrust into the spotlight and dealt with - that's the psychology behind business.
3. Dividend Increase Likely
Contributors and analysts across the board seem to agree that with the cutting of cost and freeing up more money for the shareholder that a dividend increase is coming - at some point.
Whether it's going to happen relatively soon, as opposed to "eventually in the future," it's going to be likely that BAC will eventually increase the dividend, continuing to make it an attractive buy for those who are investing for the long term.
SA Contributor Dave Dierking, in his great article regarding BAC's dividends, offers his thoughts as to when, how, and why BAC could potentially initiate this increase:
If the company decides to raise the dividend, it'll probably raise it enough to bring the yield to 2% or more. Anything less I think just doesn't move the needle enough to make a difference. If the payout gets raised from $0.04 per share annually to, say, $0.28 per share (putting the yield at around 2.2%), that would amount to an annual dividend payout of over $3 billion per year based on the current number of shares outstanding. With a capital position north of $70 billion, that doesn't seem like a big commitment but in the face of the Countrywide-related loan losses, it could be enough make the management team want to hold off for now.

For the record, I think Bank of America will eventually get the dividend yield back up to around the 3% range. After all, prior to the housing collapse the bank had a stellar track record of paying and raising the dividend on a regular basis. I think they'll get back to the point within the next year or two but only when the prospect of share repurchases becomes less financially attractive.
It's worth noting a couple of other items here as well. Let's take a quick look at some of the recent history behind BAC giving back to shareholders.
First, in 2011, the Fed had rejected Bank of America's plan to increase its dividend. The NY Times offered some exposition on this rejection at the time:
Regulators raised objections as part of the second round of bank stress tests, the results of which came out on Friday. Bank of America, the nation's largest bank holding company, says it will take a second stab at persuading the Fed to ease its grip on the firm.

The bank said it had originally submitted its dividend intentions to the Fed in January. The company outlined a proposal to maintain its current payout - a token penny a share - for the first two quarters of the year, and then institute a "modest increase" later this year, according to a regulatory filing on Wednesday.

But the Fed scuttled Bank of America's plans on Friday. Analysts say the Fed's concerns likely centered on Bank of America's mortgage business, which is plagued by uncertainty as investors want the bank to repurchase billions of dollars in soured mortgage securities.
In March of this year, however, the bank won Federal Reserve support to buy back up to $5 billion in stock. This was the first primary "give back" to shareholders since the financial crises ended.
The Fed's change of heart and "all clear" on BAC's operations here show that there's a momentum of shareholder goodies that could be starting - while inadvertently also giving investors the idea that if the Fed approves, BAC must be back in good shape.
In addition, it's worth noting that some banks, including BAC, may have to retain earnings in order to meet the proposed leverage ratio minimum - at the risk of getting bonuses, stock buyback, and payouts to shareholders curbed.
4. Technical Momentum
Or, as I said in my last article, "the trend is your friend." You don't need to be a Harvard educated finance expert to look at the chart below and realize the strong technical momentum behind this stock. Hell, you only really need someone with a third grade understanding of basic geometry.
Also, as I argued in a previous article speaking about the technicals - if BAC can hold support at $14, $16-$18 isn't going to be far off at all.
If Bank of America can impress with this technical momentum behind it, the next step will likely be through $14, which will spur a larger rally in this investor's opinion. The RSI is looking healthy, not having been oversold for a few months, indicating there's technical room for the stock to move upward without being overbought.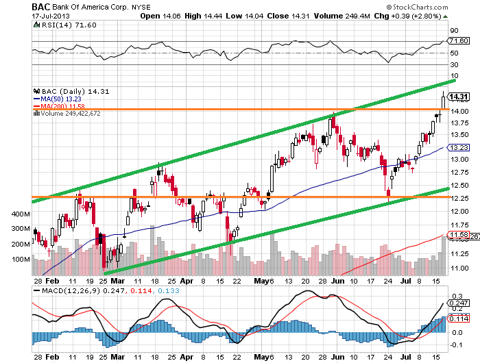 5. Analyst Outlook & Bullish Buying
When all is said and done at the end of the day, you want analysts behind the stocks that you're in. Not necessarily for the actual analysis itself (yes, I know that sounds stupid), but to get out there and pitch the buy/sell to retail investors. Bank of America is riding some great free press right now, due to earnings, and analyst sentiment is basically unchanged since several analysts went bullish a couple of months ago.
The Motley Fool recently reported:
There's no question that a growing number of analysts are becoming bullish on Bank of America stock. In the middle of last month, Meredith Whitney -- who famously foretold Citigroup's fall five years ago -- reiterated her view that Bank of America was one of the most undervalued bank stocks in the market. "Very rarely do these big banks have both value catalysts and momentum," Whitney noted. "Bank of America had all of that."

Since making her original call at the end of last year, Whitney's opinion has been vindicated, as the Charlotte, N.C.-based lender's shares are up roughly 15%.

How much further could they go?

For a moment last week, it appeared as if the Bank of America bandwagon may have gotten derailed (excuse the mixed metaphors). After reporting first-quarter earnings on April 17, its stock plunged by upwards of 7% over the next two days. Investors were clearly discontented that the bank missed analyst estimates for earnings per share by $0.02 -- coming in at $0.20 per share vs. an expected $0.22.

But since then, the market has warmed up to the results -- and particularly the bank's announcement that it settled three massive class action lawsuits dating back to the financial crisis. With today's gains, Bank of America stock is getting back within striking distance of its 52-week high. And if Whitney's predictions hold true, it could be headed to $15 in the near term and $20 long term.
Barron's recently reported on bullish options trading in BAC:
The options market is once more looking for Bank of America to set another milestone in the stock market.

Investors are aggressively buying bullish calls that would pay off if Bank of America's stock, recently trading at $13.84, surges above $14.

Less than a month ago, investors aggressively bought calls that would pay off big if Bank of America's stock surged above $13. Some of those calls increased more than 200% in just a few days, a fact not lost on legions of investors who are trying to repeat the trade as Bank of America's stock nears $14. (See The Striking Price, "Bulls Are Betting on Bank of America," Barrons.com, May 9.)

Now, Bank of America's bulls are using the same trading playbook they have used for the past year as the stock has moved from one whole number to the next. They are buying big chunks of slightly out-of-the-money calls in anticipation of an advance. Buying action is heavy in 14 strike calls that expire during the next few weeks, though the trading action also extends into July.
Risk And QTR's Analysis
The bearish side of the coin lies with interest rates getting a bump up and the effect it can have on lenders. Also, some of the bearish argument will revolve around the fact that the bank is both susceptible to major market pullbacks and is trading at 52-week high levels - some would argue not to buy at the top.
In terms of purchasing any of the banks that have already reported, including Bank of America, it's going to be important to keep an eye on how interest rates are going to affect banks this quarter - more so with banks that have more of a focus on mortgages Wells Fargo (NYSE:WFC), and JPMorgan (NYSE:JPM). In the short term, these banks might not be the best bet, but I remain bullish long term on these dividend-paying bank staples.
With mitigated legal expenses and a new perspective on the fundamentals, my sentiment for Bank of America is buy and hold long term. Best of luck to all investors.
Disclosure: I have no positions in any stocks mentioned, and no plans to initiate any positions within the next 72 hours. I wrote this article myself, and it expresses my own opinions. I am not receiving compensation for it (other than from Seeking Alpha). I have no business relationship with any company whose stock is mentioned in this article.