Earlier this week, I cautioned investors that Intel (NASDAQ:INTC) appeared set to cut its yearly forecast. While I, like many, had earlier this year believed in Intel's second half growth story, a number of analyst cuts got me thinking, and the math did not look good. It appeared to me that Intel's revenue forecast could be cut, but I was more worried that the gross margin forecast would be reduced.
Wednesday afternoon, Intel reported its second quarter results. It was not a very good report. Revenues were light and missed both the company's and analyst estimates. Earnings per share missed by a penny for the second straight quarter. Intel also gave a Q3 revenue forecast that was a bit disappointing, and they made a number of cuts to their yearly forecast. Today, I'll examine the results and forecast, explain why the second half growth story is falling apart, and what investors should now do with Intel.
Q2 Results:
Intel's revenues for the quarter came in at $12.81 billion. That missed both Intel's guidance midpoint and the average analyst estimate for $12.90 billion. The Q2 figure represented a decline of $690 million, or 5.11%, over last year's period. For the first six months of the year, Intel's revenues declined by more than $1 billion over the first half of last year, a decline of 3.85%.
The chart below shows Intel's Q2 margins against last year's period, which I'll further use to analyze the results. As a quick note, the change column represents the "basis point" drop, so the drop of 5.05% in gross margins means 505 basis points.

One positive here is that Intel's gross margins, although they showed a huge year over year drop, were better than expected. Intel guided to gross margins in Q2 of 58%, so they beat by 31 basis points. Their R&D plus MGA spending of $4.681 billion also was better than the $4.7 billion expected. The one negative was a $26 million loss from "other items" like interest expenses. Intel had guided to a zero impact from those "other items". Intel's tax rate came in at 25.73%, better than the 27% Intel guided to.
On the bottom line, Intel reported exactly $2 billion in net income. This figure was down $827 million, or 29.25%, from the year ago period. It was also down $45 million sequentially from Q1 of this year. Intel's earnings per share came in at $0.39, missing analyst estimates by a penny for the second straight quarter. This may have been due to the company buyback, which I will discuss in more detail later on.
Balance Sheet Update:
The following table shows some key balance sheet metrics against last year's Q2 and this year's Q1. Dollar values in millions.

*Includes cash and cash equivalents, short-term investments, trading assets, marketable equity securities, and other long-term investments.
Intel's balance sheet is fine and got stronger in Q2. I really don't have any worries with the balance sheet or the company's ability to pay and raise its dividend. However, for the second straight quarter, Intel did not buy back a tremendous amount of stock. You can see this in the chart below.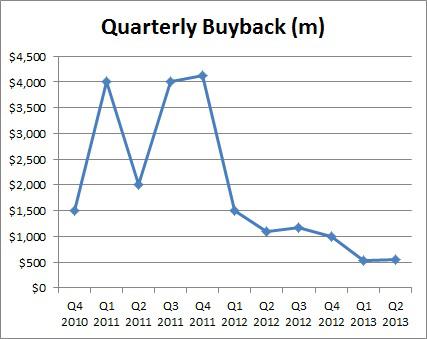 Intel spent $550 million to buy back shares during Q2, which was half of what they spent in last year's Q2. I had brought up higher share prices in my article about the forecast cut, and I think Intel failed in this respect. The company actually spent 3% more in dollar terms in Q2 than they did in Q1, but the average price paid was up more than 12%. I've been arguing for three months that Intel should have spent more in Q1 when prices were lower, and I think they will regret that fact. Intel has missed by a penny in each of the last two quarters, and I think part of that has to do with the slowdown in the buyback. Intel's share count has not come down as quickly, which does have a slight impact on earnings per share. While it may not account for the entire penny miss, it is part of the issue.
Guidance / Forecast cut:
In terms of Q3, Intel guided to a revenue midpoint of $13.5 billion. Analysts were expecting $13.73 billion, so this was a disappointment. Intel also guided to 61% gross margins, which I think is a little light when you see the full year forecast. As part of the second half growth story for Intel, analysts were hoping for 2% revenue growth (or better) in Q3. Intel's midpoint implies growth of just 0.3%.
But it is the full year forecast that was cut, as Intel says second half visibility is limited. The three category cuts I mentioned the other day all came true:
Revenues are now expected to be flat over last year's. Previously, Intel guided to "low single digit" growth. Remember, last year's revenues were down from 2011 levels.
Gross margin forecast cut from 60% to 59%.
R&D plus MGA spending forecast cut by $200 million.
Tax rate of 26%. Intel had previously guided to 27% for Q2-Q4, but we saw that Q2 was less than expected.
Full year capital spending of $11 billion, a reduction of $1 billion from previous forecast.
I had warned the other day that analysts thought a forecast cut was coming. After expecting almost 2% revenue growth earlier this year, analysts were at just 0.3% growth going into this report. That was what I termed "very low single digit" growth, and thus the new guidance fits in with expectations. I expect to see the average estimate come down over the next few weeks, especially given the Q2 miss and light Q3 guidance. Intel now might struggle to get back to 2011 revenue levels in 2014, and could potentially report two straight years of revenue declines. This is the second straight year where the revenue forecast was cut at the second quarter report.
Even though Intel beat its Q2 gross margin forecast, they cut the full year forecast by a percentage point to 59%. I outlined the other day how the math would be tough, and it certainly has proved to be. Intel was banking on some solid second half improvement in gross margins, but after a very disappointing Q1, I was skeptical. It still looks like Intel's second half gross margins will be in the low 60s percentage wise, but not enough to get them to the 60% yearly target. Intel's gross margins were 62.15% in 2012, so you are now looking at a drop of more than 300 basis points.
Thanks to some less than expected expenses on the operating side, Intel lowered its R&D plus MGA spending forecast by $200 million. I noted that this could come, although I was hoping for maybe $300-$400 million. Intel needs to make up for the lower revenues and gross margin dollars, and they will get some of it back here.
Intel also cut its capital spending forecast by another billion, after a billion cut at the Q1 report. This isn't a total surprise in my opinion. Many argued that their spending plans were too excessive when they issued the $13 billion forecast initially. With net income falling as much as it is, the company isn't producing as much cash as it could be. They've cut the buyback recently, and they also are cutting their capital spending forecast to account for a weaker business.
Now what do we do?
Going into Wednesday's earnings report, Intel shares were up a dividend adjusted 19.5% year to date. Obviously, the poor earnings report and guidance knocked down the stock on Thursday, with Intel shares down 84 cents or 3.48% to $23.31. I had discussed Intel being a short candidate on the basis of a forecast cut, and that trade looks to be working right now.
However, I don't see this year being as bad as last year. Intel's stock went from $27 to $19 in 2012 because of multiple warnings. Intel's guidance last year went from the high single digits to zero, and this year we went from the low single digits to zero. There's a big difference there. Intel shares fell off the cliff last year thanks to a huge Q3 warning. While I don't think the industry is in great shape right now, I think Intel has realized that over time and guidance was more realistic this time around.
That being said, I don't see Intel being a very good short candidate if we head another dollar or two lower. In fact, for the time being, you have to look at Intel as a dividend idea. Why do I say that? Well, at the above mentioned price on Thursday, Intel was yielding 3.86% on an annual basis. Intel has the highest dividend yield of any large cap technology name, and a dividend raise is expected in the next few months. Intel's yield can easily get back over the 4.00% level, especially if shares decline a little bit more.
I think Intel CEO Brian M. Krzanich said it the best with his opening remarks on the conference call.
I understand that we've not always lived up to the standard that we have set for ourselves. Intel was slow to respond to the ultra-mobile PC trend. The importance of that can be seen in the current market dynamic. The traditional PC market segment is down from our expectations at the beginning of the year. The ultra-mobile devices like tablets are up.

Even more important, there will always be another next big thing. It's our job to continue to scan for emerging trends, unlocking, participating in, and shaping these nascent markets. Doing that will require some changes at Intel, which we have began.
Intel was slow to respond to the mobile takeoff. This will be a long-term process, and Intel's short-term results have taken a hit. Intel was expected to be setting new revenue records by now, but they have been lowering their forecast instead. That's why I think you have to look at this name as a dividend name for the near term. Until Intel gets this all sorted out, I really don't think we are going to see the stock move heavily, in either direction. Right now, Intel is yielding about 30 basis points more than a 30-Year U.S. Treasury, and I think Intel's stock is a safer place to be than bonds. Intel's CEO echoed similar thoughts:
What I can say now is that all of the changes are focused on value creation. Our company has a strong record of cash flow generation and returning that cash to our owners. I recognize that we are the stewards of our owners' capital and that tradition will continue. I'm excited about what lies ahead.
Final Thoughts:
Intel's Q2 report was not one to remember. The company missed on both the top and bottom line, and the full year revenue and gross margin forecast was cut. Intel is realizing that they showed up late to the mobile party, and that has pressured results in the short-term. I expect Intel will succeed in the long-term, but until then, investors should look at this high yielding tech name as a solid dividend play. When results improve, this stock should rise nicely. Until then, you'll get a nice chunk of change each quarter.
Disclosure: I have no positions in any stocks mentioned, and no plans to initiate any positions within the next 72 hours. I wrote this article myself, and it expresses my own opinions. I am not receiving compensation for it (other than from Seeking Alpha). I have no business relationship with any company whose stock is mentioned in this article. Investors are always reminded that before making any investment, you should do your own proper due diligence on any name directly or indirectly mentioned in this article. Investors should also consider seeking advice from a broker or financial adviser before making any investment decisions. Any material in this article should be considered general information, and not relied on as a formal investment recommendation.