The first article of the series has introduced the Carbonate Triangle of the renowned Canadian oil sands. The region is the world's third largest oil reserve with its rich carbonate-hosted bitumen deposit located in the northern Alberta's deep underground. Precisely, the Carbonate Triangle is situated between three major bitumen areas, Athabasca, Cold Lake and Peace River.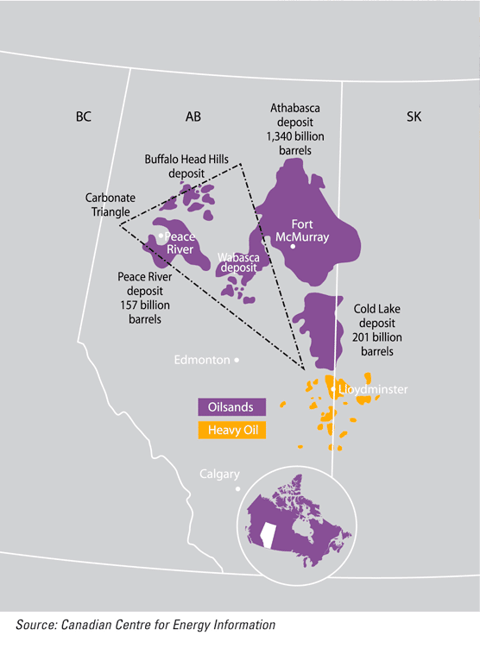 In today's investment guide on the Carbonate Triangle, I will present the main characteristics of the Athabasca area to have a better assessment of its potential. Then, I will introduce one of the largest oil producer that is currently extracting this carbonate bitumen in the area. So far, I looked into several producers involved in Peace River and Cold Lake regions of the Carbonate Triangle:
Peace River's most notable producers:
Cold Lake's most notable producers:
An analysis of the current operations of the company will be examined with the objective to provide the most complete information available to potential investors before deciding to seize the opportunity that the 54,132 square miles of the Carbonate Triangle has to offer. Let's start by introducing Athabasca, a famous and most prolific region in the Canadian oil sands as well as one of the largest reserve in the world.
Athabasca Region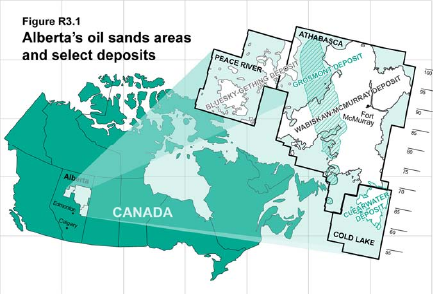 Source: ERCB
The Athabasca oil sands are named after the Athabasca River, which cuts through the heart of the deposit, and traces of the heavy oil are readily observed on the riverbanks. Commercial production of oil from the Athabasca oil sands began in 1967, when Great Canadian Oil Sands Limited, now incorporated into an independent company known as Suncor Energy (NYSE:SU), opened its first mine, producing 30,000Bls/d of synthetic crude oil.
The Athabasca region can be defined with two major oil sands deposits: the Grosmont Formation and the Wabiskaw-McMurray Formation. The Grosmont Formation is a late-Devonian shallow marine to peritidal platform carbonate consisting of four recognizable units within the deposit. All of the hydrocarbons are located in an updip position, structurally trapped along the erosional edge and contained by the overlying Clearwater Formation.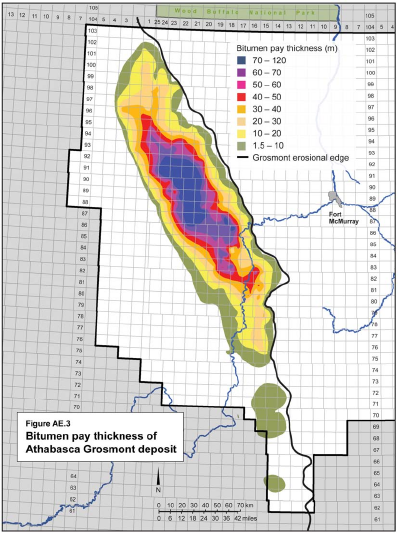 Source: ERCB
The McMurray Formation was deposited on an exposed karstic landscape of ridges and valleys and varies in thickness from being absent over Devonian highs to over 426 feet thick in the Bitumont Basin. Bitumen-sand reservoirs accumulated as incised paleovalley-fills cut within the karstic pre-Cretaceous landscape and are within the Lower McMurray fluvial-dominated lowstand deposits.
Bitumen-rich reservoirs formed within estuarine valleys stacked above the Lower McMurray channel sands and are assigned to the Upper McMurray Formation. These bitumen-sand reservoirs occur mainly within stacked estuarine-tidal channel-and-point bar complexes. Local water-sands occur in the lower parts of the Upper McMurray, whereas in the upper parts somewhat more continuous gas and water reservoirs are relatively common.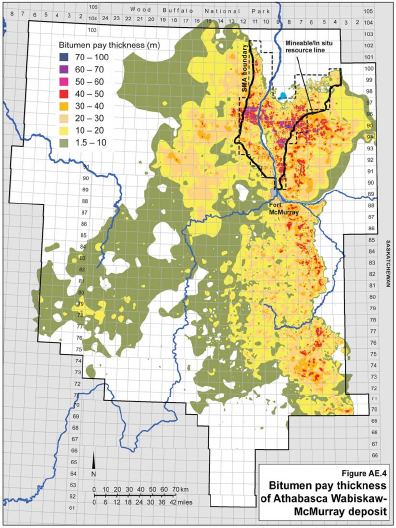 Source: ERCB
The bitumen pay thickness map of the Wabiskaw-McMurray deposit based on cutoffs of 6% mass and five feet thickness. In this map, the deposit is treated as a single bitumen zone and the pay is accumulated over the entire geological interval. Also shown is the extent of the SMA, an ERCB-defined area of 51½ townships north of Fort McMurray covering that part of the Wabiskaw-McMurray deposit where the total overburden thickness generally does not exceed 213 feet.
Because the extent of the SMA is defined using township boundaries, it incorporates a few areas containing deeper bitumen resources that are more amenable to in-situ recovery. The Athabasca region is estimated to hold total reserves of 1.34 trillion barrels of oil. Approximately 8-10% would be recoverable with current technology, which would represent a total reserve of 134 billion barrels. Compared to the estimated 7 billion barrels contained in Peace River and approximately 16 billion barrels in Cold Lake, the Athabasca region is the most prolific and the most promising of the three, located in the Carbonate Triangle.
Now let me introduce the first part on Suncor Energy in which I will discuss the history, its current management strategy, two of its innovative processes that has been developed by the company as well as Suncor's oil sands base operations, Millennium Mine and North Steepbank, as well as its in-situ operations, Firebag and Mackay River.
Suncor Energy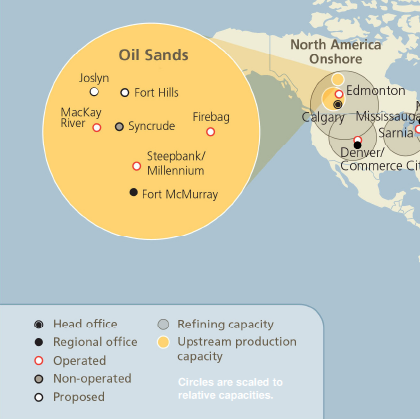 Source: Suncor's Investor Information, May 2013
Suncor is Canada's premier integrated energy company, the fifth largest North American energy company and has a place on the global stage as one of the largest independent energy companies in the world.
In 1917, the U.S.-based parent company, Sun Company, conducted business in Canada supplying lubricating oils and kerosene in the Montreal area. In 1919, the first Canadian office opened in Montreal as Sun Company of Canada. During these early years, Sun Company also supplied fuel oil and gasoline brought in by rail from the U.S. and the company expanded by opening offices in Toronto and London, Ontario. "Blue Sunoco," a single grade, no-lead product replaced previously sold gasoline. Meanwhile out West, in a lab at the Alberta Research Council in Edmonton, Dr. Karl Clark worked on the hot water extraction process that separates oil from sand, a process originated in 1923 and still used today.
If expansion is the focus in previous decades, the 1950s added speed to its development. The first producing oil well operated in New Norway, Alberta. A drilling program started on Lease 86, its current oil sands operations, while a hundred Sunoco retail stations opened in three years.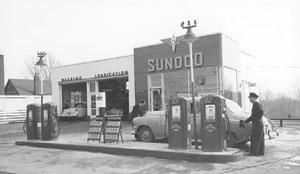 Source: Suncor Energy
This era also marked the re-interest in the Alberta oil sands when a federal government report indicated that oil sands development was economical. Soon after in 1953, Sun Company incorporated the Great Canadian Oil Sands Limited and began acquiring patents and leases in Fort McMurray, Alberta. It is 14 years later that the company commercially produced the first barrel of oil.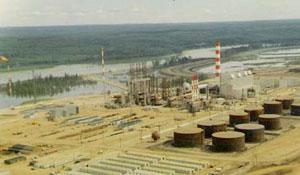 Source: Suncor Energy
In 1977, Sun Company transferred almost all of its downstream assets into a newly created subsidiary, Sunoco (NYSE:SUN). Suncor formed in 1979, when all the Canadian operations of Sun Company were amalgamated with Great Canadian Oil Sands. In 1981, Suncor celebrated its 200 millionth barrel of oil flowing down the pipeline. A $185 million expansion brought production to 58,000 barrels per day. In the early 1990s, the company transformed from an unprofitable oil and gas company to a highly profitable enterprise. On March 18, 1992, Suncor became a publicly traded company.
In 1996, the company celebrated its 500 million barrels produced from the oil sands, a milestone since operations began in 1967. Suncor increased total production by 53% to 239,500Boe/d in 2002, up from 156,000Boe/d in 2001. Oil sands facility set a new record for average production: 205,800Bls/d. In 2007, Suncor was named one of the World's Most Ethical Companies by Ethisphere Magazine, a publication dedicated to illuminating the correlation between ethics and profit. It was also named to the Dow Jones Sustainability World Index for the ninth consecutive year.
In August 2009, the merger of Suncor and Petro-Canada became effective, creating Canada's largest energy company and the fifth largest North American-based energy company, the company everyone knows today.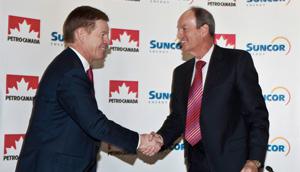 Source: Suncor Energy
Suncor's Strategy
Located in northeast Alberta, the oil sands business is the bread and butter of Suncor's current operations and cornerstone for growth, with vast resources of 6.9 billion barrels of reserves and 23.5 billion barrels of contingent resources. The company allocates its capital according to a clear set of priorities. It is committed to ensuring sustainable and reliable operations, investing in profitable growth and delivering strong returns to shareholders through dividends and share repurchases.
Its oil sands operations recover bitumen through mining and in-situ development and upgrade it into refinery feedstock, diesel fuel and by-products. Suncor uses a combination of a long-term growth strategy and a strong commitment to sustainability. While it continues to expand its operations, it works to minimize its environmental footprint.
The company supports its core oil sands business with conventional natural gas production, which offsets energy consumption at its oil sands operations as well as at its international and offshore assets in which it anticipates that it will provide stable, low-cost cash flow to fund future oil sands growth. In addition, Suncor owns and operates four refineries for a combined capacity of 455,000Bls/d, a lubricants plant, and a large network of more than 1500 retail businesses, which connect its core oil sands business with a growing North American energy market.
Its investments in renewable wind energy and biofuel play a key part of Suncor's climate change action plan. In 2010, Suncor marked an industry milestone by becoming the first oil sands company to complete surface reclamation of a tailings pond, a key step in returning the site back to nature. The company also received approval to implement new tailings management technology called TRO (tailings reduction operations) across its existing operations.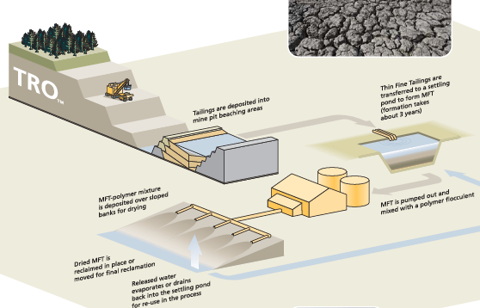 Source: Suncor Energy
The producer expects to invest more than $1 billion to implement the technology, potentially reducing tailings reclamation time by decades and speeding the return of oil sands mining sites to natural habitat.

Source: Suncor Energy
As a matter of fact, the expected benefits of using the TRO process to manage tailings are the reduction of the need to build more tailings ponds, acceleration of the reclamation, reduction of the existing MFT (mature fine tailings) inventory as MFT is consumed independently of plant operations, the process reducing Suncor's inventory of MFT held in existing tailings ponds.
Current Operations In Athabasca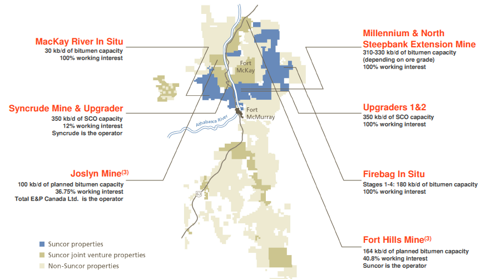 Source: Suncor's Investor Information, May 2013
For 2012, Suncor produced for its worldwide assets, an average of 549,000Boe/d. From this daily production, 325,000Boe/d came out from its oil sands assets while it expects a production growth between 350,000-380,000Boe/d for 2013. According to its Q1 of 2013 earnings release, Suncor reported a production of 357,800Bls/d compared with Q1 of 2012 where the production reached 305,700Bls/d.
The increase in oil sands production was primarily due to the continued ramp-up of production from its Firebag project and stronger upgrader reliability in Q1 of 2013. The company recorded a 9% decrease in cash operating costs per barrel for its oil sands operations, averaging $34.80 per barrel compared to $38.10 per barrel in Q1 of 2012 due to higher production volumes.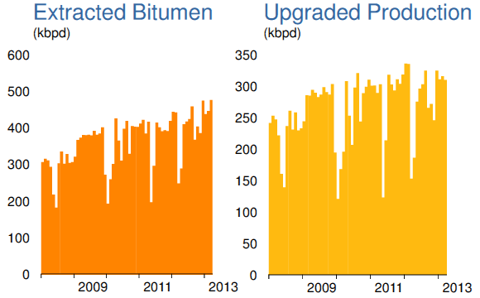 Source: Suncor's Investor Information, May 2013
Suncor's total upstream production increased to 596,100Boe/d in Q1 of 2013, compared to 562,300Boe/d in the Q1 of 2012. Upstream production of crude oil increased by 9% while natural gas production decreased by 18% over the prior year quarter.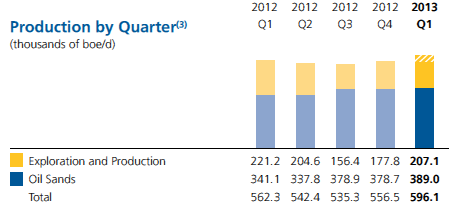 Source: Suncor's Q1 2013 Earnings Release
Notably, the company's proportionate share of production from the Syncrude joint arrangement in which Suncor holds 12% in ownership interests, contributed an average of 31,200Bls/d of production during Q1 of 2013, compared to 35,400Bls/d in the same quarter of 2012. Syncrude operated at lower rates for the quarter, due primarily to planned and unplanned maintenance in upgrading and mining. Operational issues were resolved by the end of the quarter.
Suncor produces bitumen in two ways: surface mining and in-situ. Surface mining is being done at Millennium and North Steepbank by using large trucks and shovels to extract the oil sands. Only 20% of all oil sands are close enough to the surface to be mined. In-situ bitumen extracting operations are undertaken at Firebag and Mackay River.
Let's start by taking a closer look to Suncor's oil sands base production, Millennium and North Steepbank mining and extraction operations. Other operations consists of integrated upgrading facilities known as Upgrader 1 and Upgrader 2 and the associated infrastructure for these assets including utilities, energy and reclamation facilities, such as Suncor's TRO tailings management assets.
Millennium Mine And North Steepbank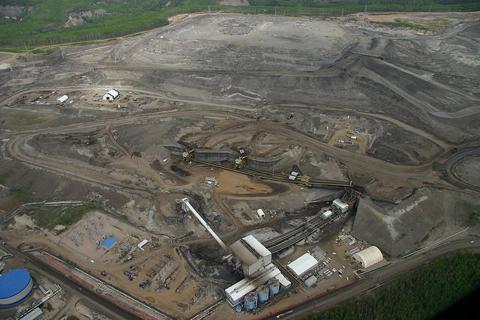 Source: Suncor Energy
The Millennium Mine, commissioned since 1967, is on the East side of the Athabasca River, currently producing an average of 294Mbls/d. Steepbank debottleneck phase 3 added 4,000Bls/d in 2007. In 2008, the Millennium debottleneck added 23,000Bls/d to the total production.
Furthermore, Suncor developed in 2012, the North Steepbank Extension, further adding 180Mbls/d. The company is expanding the Steepbank mine to the East and South to extend its life through 2026. Suncor has two operating upgraders, which process oil sands from Steepbank, Millennium, and bitumen piped in from the Firebag operation.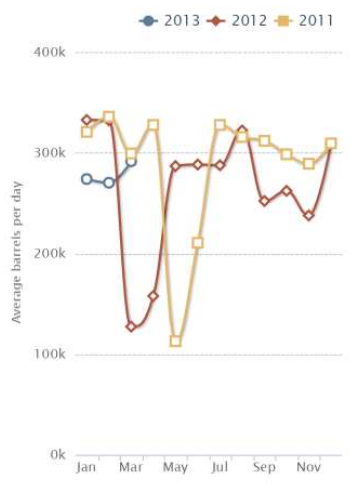 Source: JuneWarren-Nickle's Energy Group
Suncor's oil sands base bitumen production from mining and extraction activities averaged 278.9Mbls/d in Q1 of 2013, compared to 262.5Mbls/d in Q1 of 2012 according to the last earnings release. Mining output was higher than Q1 of 2012 despite mechanical issues in extraction during Q1 of 2013. The company anticipates that these issues will be re-mediated through planned maintenance in Q2 of 2013.
Suncor said that during Q4 of 2012, a number of new assets were brought into service to support its oil sands operations: the Wood Buffalo pipeline, which connects the company's Athabasca terminal at the base plant in Fort McMurray to other third-party pipeline infrastructure in Cheecham, Alberta, and the first two of four new storage tanks in Hardisty from which it will connect to the Enbridge (NYSE:ENB) mainline pipeline in 2013.
In-situ bitumen extracting operations are undertaken at Firebag and Mackay River. Let's now take a deeper look into them.
Firebag Asset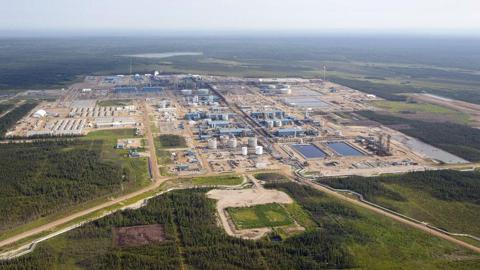 Source: Suncor Energy
Suncor has reached first production from the 42,500-barrel-per-day Firebag Stage 4 SAGD project, approximately three months ahead of the original schedule, according to its Q1 2013 earnings release. For Q1 of 2013, Firebag produced 137Mbls/d, a 63.9% increase over 83.6Mbls/d produced in Q1 2012.
The expansion comes hot on the heels of Firebag Stage 3, another 42,500-barrel-per-day expansion at the facility that achieved first oil in August 2011. The Firebag complex, which started operations in 2004, exited November 2012 producing approximately 137,000Bls/d, approximately a 64% increase from 83,600Bls/d achieved in Q1 of 2012.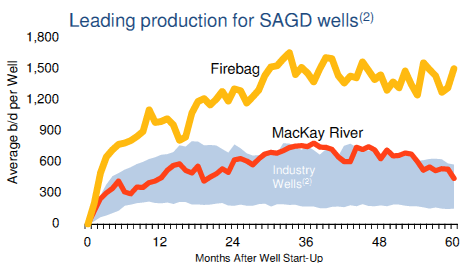 Source: Suncor's Investor Information, May 2013
Suncor said that the pace of production ramp-up at Firebag Stage 3 has exceeded previous expectations. The company anticipates that bitumen production from Firebag will reach production capacity of approximately 180,000Bls/d in early 2014. The company is focused on growth through low-cost optimization projects, including debottlenecking its Firebag operations to add 23,000Bls/d to its total production. Suncor also received approval for other upgrade stages that would add 125,000Bls/d for 2019.
MacKay River Asset
Source: Suncor Energy
For Q1 of 2013, Mackay River produced 28.5Mbls/d, a drop of 8% over the 31Mbls/d produced in Q1 2012. Planned maintenance on the Upgrader 1 hydrogen plant began in Q1 of 2013 according to its release, followed by a turnaround at Upgrader 1 that began in April 2013. Other capital investment activities include projects to enhance takeaway capacity and marketing flexibility through the ongoing construction of storage and logistics infrastructure.
Notably, the company initiated an expansion project at the MacKay River facility, intending to increase production capacity to the current production of 33,000Bls/d in the second half of 2014 by adding a preliminary capacity of 20,000Bls/d and ultimately, resulting in a total addition of 38,000Bls/d by 2015 for an estimated total capacity of 71,000Bls/d.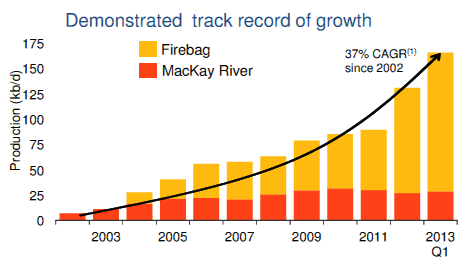 Source: Suncor's Investor Information, May 2013
Investing in reliable and sustainable operations remains a priority through the construction of assets to support the ongoing tailings management TRO process, activities aimed at reducing fresh water use, well pad development at MacKay River, and planned maintenance.
At MacKay River's in-situ facility, the company has demonstrated the only fully functional ZLD (Zero Liquid Discharge) process in the oil sands industry. ZLD has a number of benefits, such as recycling approximately 96% of the facility's water. Like most in-situ operators, MacKay River uses the SAGD process.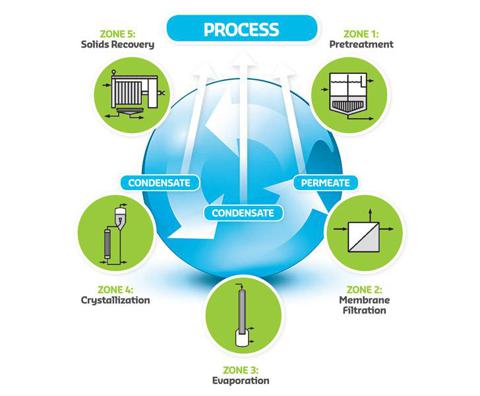 Source: Degrémont Technologies Ltd
Using a pair of wells, steam is injected underground to heat bitumen, which flows to a second well, the "producer," and then to the surface. But that's not all that comes up. In addition to bitumen, water with a high saline content also enters the producer well. This water, plus condensed steam from the injection well, also flows to the surface.
Conclusion
This article concludes the first part on Suncor Energy. Now that we looked at its producing assets in the Athabasca region of the Carbonate Triangle, the last part on the major producer will examine the current projects under development and those planned for the future. Then, I will examine the core financials of the company to assess its overall performance, its production efficiency in the Athabasca region as well as its global positioning for a potential investment.
Disclosure: I have no positions in any stocks mentioned, and no plans to initiate any positions within the next 72 hours. I wrote this article myself, and it expresses my own opinions. I am not receiving compensation for it (other than from Seeking Alpha). I have no business relationship with any company whose stock is mentioned in this article.