I was somewhat surprised to see that in a recent interview, John Bogle reinforced several themes that many dividend growth investors believe in.
Capitalize Income Streams
One of Bogle's points was to frame your permanent sources of income as if they were fixed income investments.
[O]nce you get Social Security, think about how that fits in to target-date environment.

You can do this a lot different ways, but let's suppose that the capitalized value of Social Security at age 65 for most people is, say $300,000 to $350,000. Let's use $300,000. And it's going to be exhausted at the end of life expectancy….So you've got a $300,000 fixed-income position and probably the best fixed-income position you will ever have in your life. It's got a cost-of-living adjustment; the payouts are good. The payouts are as close to certain as things can be in this world. So you're sitting there with that $300,000.

Now let's look at you've accumulated $300,000 in your investment side, your personal portfolio or in your 401(k) plan. So if a 100% of that is in equities, you are 50-50. [Emphasis added.]
This is a point that I have made several times about non-investment sources of income and their impact on how you think about asset allocation. Such non-investment sources include Social Security, pensions, perhaps a part-time job. Bogle is suggesting that you "capitalize" these incomes and then consider that capitalized amount as if it were a slice in your pie chart of asset allocations.
An easy way to figure the capital value of a stream of income is to use the calculator at Immediate Annuities (http://www.immediateannuities.com/). The calculator allows you to input a monthly income plus a few personal details, and it will compute how much it would cost to buy an annuity that sends you that amount of cash for the rest of your life.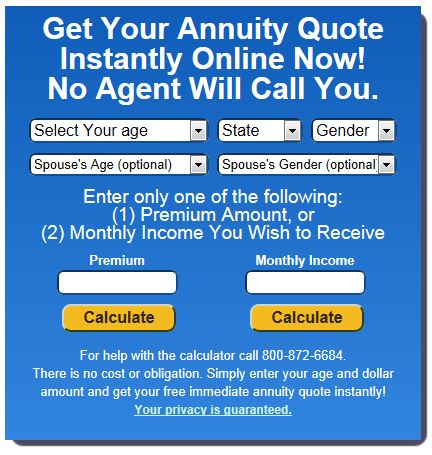 That cost (called "Premium" in the calculator) is what Bogle is referring to when he speaks of capitalizing your Social Security. His suggestion is that you look at your assets as if you have that much invested in fixed income assets, because the income result is the same.
Here is the result for me using Bogle's example of $300,000 capital value of Social Security payments.

That $1760 monthly income is within $100 of what my SS benefit actually is (I took SS early at age 62). So for me, anyway, Bogle's example is pretty close. In other words, the way I look at it, my receipt of SS payments is as if I had an extra $300k invested in fixed income. (I am ignoring for simplicity, as Bogle did, the fact that SS is indexed for inflation. That just improves things a bit.)
So here is my asset allocation if all you look at as "investments" are my dividend growth portfolios (my wife and I have two).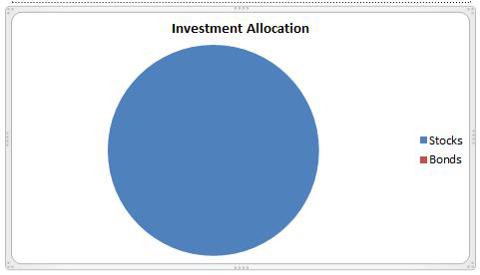 But if you use Bogle's idea that you count the capitalized value of Social Security as if it were a fixed income investment, using his numbers, my asset allocation looks like this: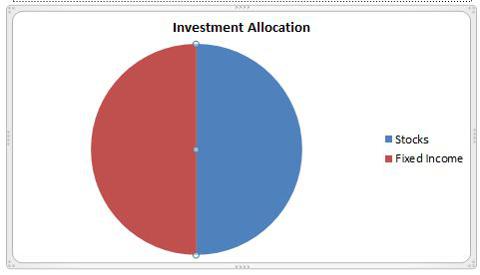 For many investors and investment advisors, the second pie chart looks a lot safer and more intelligent than the first. But nothing has changed. I have simply reframed, as Bogle suggested, my SS payments as if they were capital invested in assets that generated those payments. In essence, that is what I did by contributing to SS during my working years.
Focus on Income
Another point that Bogle made in his interview was the importance of focusing on your income stream rather than the constantly shifting capital value of your investments.
[T]his gives me an opportunity to make my other idea about retirement clear. That is, we're all transfixed with the movements of the stock market; up and down, up and down, up and down, when that has nothing to do with your retirement, zero.

What you should be looking at is the stream of income, and if Social Security is paying you, let me say, $25,000 a year, whatever it might be, $25,000, $30,000, whatever it is, you should be looking for the other side of the portfolio to produce a stream of income. And as long as you get those checks, your retirement plan is unaffected. You don't care whether it's worth a lot or a little as long as the checks come in.
Dividend growth investors have known this for years. We have been emphasizing the importance of generating income streams that cover your expenses in retirement. Some call this income replacement, others call it expense coverage.
Whatever the label, the idea is to receive in retirement enough reliable income that you don't have to worry about being able to pay your normal expenses, and that you don't have to sweat out daily and weekly changes in the stock market wondering where that income will come from.
Invest in Dividend Stocks
Bogle's next point was that dividend stocks can be a good source of that income.
[P]robably the greatest single durable part of our stock market is dividends. They go up virtually every year and have been doing that since 1925 when they started keeping the data, with two exceptions.

One was the Great Depression, when they probably went down 50%, and the other was in 2008, when they went down 22%, by far the largest drop in the S&P dividend going all the way back to the 1930s. I don't think that's likely to happen again, but it could, always could, anything can happen. But that was a big drop, and therefore that would have affected the payout and your check would have been smaller. Even if you lived through that or expected it to end, it's not going to be easy for people to handle. But they just look at the stream of income, which would suggest more focus on dividend-paying stocks and less on growth stocks--and I know that's kind of almost a fad these days and therefore maybe overpriced--but in the long run focus on the dividend stream, focus on the fact your Social Security checks will keep coming in and grow each year as inflation grows and think about your retirement in terms of when you go out that little old mailbox pull out two envelopes, your fund envelope and your government envelope and maybe another pension plan or something, whatever there is, and that's what should matter to you in retirement.
Bogle references the two big periods when overall dividends dropped. I did not experience the Great Depression, but I was invested through the 2008 period. The fact is that the S&P 500 does not represent a good dividend growth portfolio. I and many others who write here have reported that our dividend income went up in 2008-09-10, not down.
Here is my income experience since I started my public Dividend Growth Portfolio in 2008: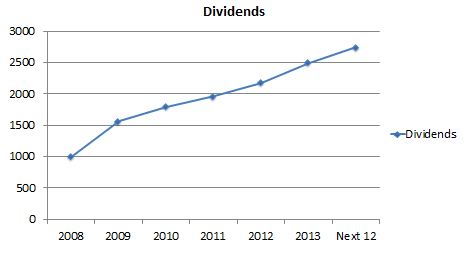 Of course, that is based on having a portfolio of stocks carefully selected for their dividend-raising probabilities, not a broad index like the S&P 500.
The yield of this portfolio consistently hovers around 4% (the S&P 500's current yield is about 2%). The portfolio's yield on cost stands at 5.9% based on its original value in 2008 and is growing every year. It looks like 2013's increase will be in the 14% range compared to 2012.
For those concerned about the total returns of such a portfolio, here are my total returns in the same portfolio. These returns have been generated from the portfolio itself (including reinvesting dividends), as no new money has been added since the inception of the portfolio.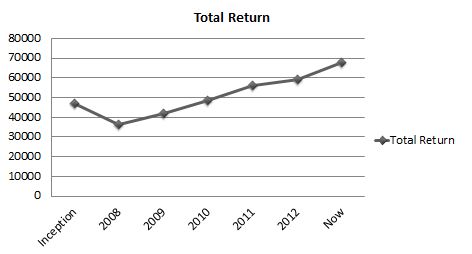 My experience has been consistent with what most studies show, that the total returns of well managed dividend growth portfolios, on average, have exceeded the total returns of broad index-based portfolios.
Disclosure: I have no positions in any stocks mentioned, and no plans to initiate any positions within the next 72 hours. I wrote this article myself, and it expresses my own opinions. I am not receiving compensation for it (other than from Seeking Alpha). I have no business relationship with any company whose stock is mentioned in this article.