Investors should always be on the look out for disruptive operating models. They have the opportunity to change industry dynamics, leading to excellent returns for investors who buy at the right price.
Price, of course, dictates investment return and risk. Warren Buffett once said that buying at too high a price can undue a decade of favorable business results.
So, at a $2.4 billion valuation, is Zillow (NASDAQ:Z) priced too high to deliver high risk-adjusted returns, even with a disruptive model in the real estate industry?
The Business:
Zillow is a home and real estate marketplace dedicated to helping homeowners, home buyers, sellers, renters, real estate agents, mortgage professionals, landlords and property managers find and share vital information about homes, real estate, mortgages and home improvement. We are transforming the way consumers make home-related decisions and connect with professionals. [Investor Website]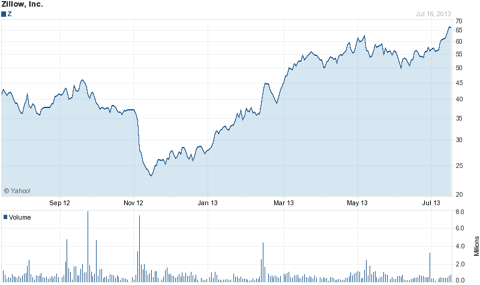 The business model is similar to LinkedIn (NYSE:LNKD), where the value of the model comes in the form of the network. While LinkedIn provides valuable information to its users in the form of professional connections, job postings, industry news, et cetera, Zillow provides home buyers with critical information related to one of the biggest financial decisions of one's life: buying a home. This information includes sales prices of comparable properties, mortgage rates and access to real estate agents, among other things.
Herein lies the value of Zillow: with a growing database of information related to real estate, it attracts users looking for transparent and digestable information which, in turn, attracts real estate agents, mortgage lenders, real estate appraisers and other parties interested in the real estate transaction process. And because the user base is growing, the entities who stand to benefit from transactions are willing to pay for a premium account or advertise on the site.
It is the holy grail of business models: a scalable, low cost platform, which derives its value from additional users on the site, a perpetuating cycle. And Zillow deals in an industry, real estate, which is not subject to foreign competition: there will always be real estate transactions in the U.S., and real estate sales appear to be on the uptick.
The business model is extremely light: gross margins are in the 85% range, and Zillow is transforming its model to rely on both advertising, but also high margin, sticky and recurring revenue streams from Software-as-a-Service ("SaaS") web applications.
Price and Value
Zillow currently trades at 7600 times last 12 months' earnings, 17 times sales and 8 times book value. Those are very rich valuation multiples to be sure, but Zillow's model is extending into adjacent markets and developing new offerings, such as Digs, a Pinterest style web application for users to curate their favorite home designs, and potentially creating another revenue stream through affiliate sales.
Zillow is also building out its capabilities in the $5 billion rental market.
Finally, the most interesting part of the business is its network of premiere agents who are monthly subscribers to advertise properties. There are 34,030 premiere agents, up 83% year-over-year, and the total addressable market is large: there are 2.1 million real estate agents in the U.S. As the real estate market picks up, it is likely more real estate agents will turn to Zillow's premiere agent service to attract more leads and conversions.
Sometimes the best value is in a moat-like operating model with explosive growth, even though the current valuation multiples make "value" investors fret with worry. The Zillow model is interesting because of the leverage in the operating model: as sales ramp, more of the profits drop to the bottom line because of its low cost, scalable platform. Therefore, traditional value investors may miss out on this operating model.
Competition
Zillow's total addressable market is quite large, but it is not without competition. The most obvious competitor is Trulia (TRLA), a smaller player, but with an attractive, easy-to-use web application providing similar services.
To me, this digital real estate market is a land grab. Once Zillow and/or Trulia become entrenched with large user bases, it will be harder for new entrants to steal share since the value is in the network. An established network, then, is the moat that will protect Zillow and/or Trulia.
Conclusion
I like the Zillow operating model. But as a "contrarian" investor, Zillow is a little too in favor with investors for my taste. Like with any company though, exuberance can turn into pessimism at a moment's notice. If that happens combined with a significant drop in price, Zillow may become interesting. The short interest in the name is very high at 41%, so I think it's better to stand on the sidelines because of the rich valuation and because I generally eschew momentum stocks and ones that are heavily shorted.
I just hope Zillow isn't the one that got away.
Disclosure: I have no positions in any stocks mentioned, and no plans to initiate any positions within the next 72 hours. I wrote this article myself, and it expresses my own opinions. I am not receiving compensation for it (other than from Seeking Alpha). I have no business relationship with any company whose stock is mentioned in this article.
Additional disclosure: I am developing an investment research web application to allow investors to create private or shared dashboards of investment research, of which Zillow may become part of the beta portfolio. To sign up as a beta user, go to indievestr.com.