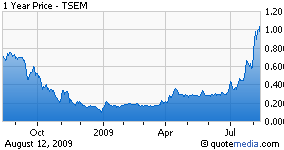 Tower Semiconductor (NASDAQ:TSEM), a contract wafer fab based in Migdal Haemek, Israel, today posted Q2 revenue of $60.6 million, up 4% from Q1 revenue of $58.1 million, and toward the upper end of the company's guidance range. The company posted a non-GAAP profit of $5.4 million. (Weirdly, it did not report EPS in the release or in its financial filings.)
Tower said it expects Q3 revenue of $73 million to $77 million, up 24% sequentially at the midpoint of the range, with 28% growth year over year. The company said it expects to be the one company in the foundry business to post year over year growth in 2009.
Meanwhile, Tower also said it signed a deal with YA Global Master SPV, a fund managed by investment firm Yorkville Advisors, to invest up to $25 million in the next 24 months in the form of a "standby equity line." The deal allows Yorkville to buy Tower shares at a 3% discount. To date, there has been no draw down on the line.
TSEM Wednesday is up 16 cents, or 16.3%, to $1.14.
Original post