RPC, Inc. (NYSE:RES) is an oil and gas services company that provides a broad range of specialized oilfield services and equipment to both independent and major oilfield companies engaged in the exploration, production, and development of oil and gas properties throughout the United States as well as in selected international markets. The company's oilfield service is organized into two segments: technical and supportive services. The technical division provides pressure pumping, well stimulation, well control, and other live-well services. The supportive services division rents, inventories, and inspects oilfield tubular, along with renting other oilfield equipment.
RPC has benefited from high oil prices in the oil-rich Permian Basin and the newer oil-directed shale plays in North Dakota and south Texas. Directed drilling has become increasingly important for RPC. By the end of 2012, natural gas-directed drilling declined to levels not seen since the second quarter of 1999. While natural gas prices began to recover slightly by the end of 2012, they remained too low to encourage RPC's customers to drill in the service-intensive shale plays that had remained so active in the previous years.
Growth in Revenue and Earnings
The overall strong industry environment, the company's expanded fleet of equipment, and the company's locations in strong domestic U.S. oilfield markets allowed it to generate record revenues. Revenue increased $1.9 billion in 2012 by 7.5% compared to $1.8 billion in 2011. RPC reported an operating profit of $442.4 million in 2012, a decrease of 8.2% compared to $482.1 million in 2011. Although revenues increased in 2012, its costs of revenues and selling, general, and administrative expenses increased in greater amounts.
Click to enlarge images.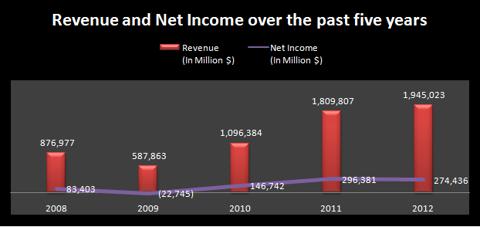 RPC's activity levels remained high during the year, but due to the competitive pricing for its services along with continued high service-intensive work performed in several U.S. domestic basins, its profitability was impacted. Operating profit was 22.7% of its revenues in 2012, compared to 26.6% of revenues in 2011.
RPC's moderate revenue growth in 2012 was driven by a larger fleet of revenue-producing equipment, especially in the pressure pumping and coiled tubing service lines along with higher activity levels in the downhole tools service line. Downhole tools have grown in the U.S. domestic and international markets with a specialized service offered that is used in unconventional completion activities.
In the first quarter of 2013, revenues decreased 15.3 % to $425.8 million compared to $502.6 million in the first quarter of 2012. Richard A. Hubbell, RPC's president and CEO, said the following:
Competition remains fierce, as additional competitors continue to negatively impact the market rates for our services. Most of the contractual arrangements in our pressure pumping service line expired during 2012, and we now operate the majority of our fleets in the spot market. In the current operating environment, this change has resulted in lower utilization and pricing.
In my opinion, the company has established itself as a highly competitive company and has proven to have a solid grasp of logistics with a consistent balance sheet. Although the company's performance in the first quarter of 2013 was inadequate, the company managed to generate technical service operating margins of 15%.
Dividend Policy
The company was successful in maintaining its commitment to reward its stockholders for their investment in RPC. It has continued its 15-year tradition of quarterly dividends. In Q4 2012 it paid a special dividend of $0.20 per share. At its most recent quarterly meeting in January 2013, the board of directors declared a 25% increase in the regular quarterly dividend payable in March. This year the company announced $0.10 as its quarterly cash dividend.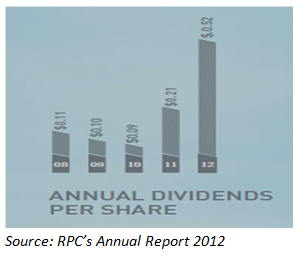 Stock Repurchase Program
The company's board of directors announced a stock buyback program in March 1998, which authorized the repurchase of 26.57 million shares in the open market. Recently, in June 2013, the board of directors approved an increase of 5 million shares to its stock repurchase program. The company has consistently purchased stock in the open market. In the second quarter of 2013, it repurchased 11.97 million shares and earlier in the year 2012 they repurchased 2.58 million (adjusted for a three-for-two split effective March 9, 2012), as well as 35.1K shares in the second quarter.
Debt as a Percentage of Total Capitalization
The company's consistent response to the cyclical nature of the industry has allowed it to grab and maintain opportunities to form a solid capital structure, while generating strong financial returns for the stockholders. Close to the end of 2011, RPC took decisive action to reduce its planned capital expenditures for 2012. This is it evident by low natural gas prices, which were likely to continue to negatively impact activity levels.
As the chart below page shows, RPC's ratio of debt to total capitalization at the end of 2012 was the lowest it has been in the past five years.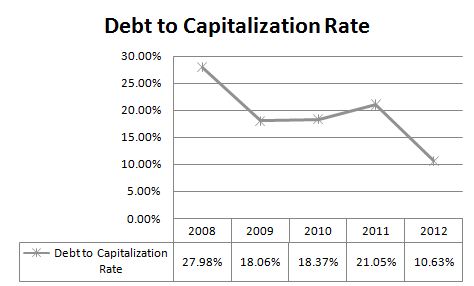 Conclusion
The declining price of natural gas liquids has become an important element to determine a company's revenue and it has negatively impacted the revenues of the company. The average benchmark price of natural gas liquids was 31.4% lower than in the prior year, and it declined an additional 16% in the first quarter of 2013. On the other hand, the average price of oil remained high during 2012 and has risen in the first quarter of 2013. The high price of oil should continue to have a positive impact on RPC's customers' activity levels and its financial results.
The stock of the company has increased by 17% since the beginning of this year, and with key points such as an annual dividend yield of 2.82% in 2012 -- which is likely to increase in 2013 -- a trader should go long on the stock. The company is expected to record further revenues and earnings for its stockholders. In the 2012 annual report, the company stated its commitment to continue the balance between long-term growth opportunities in their business and the need to mitigate risks associated with commodity price fluctuations, as well as the potential for further downturns within the industry.
Disclosure: I have no positions in any stocks mentioned, and no plans to initiate any positions within the next 72 hours. I wrote this article myself, and it expresses my own opinions. I am not receiving compensation for it (other than from Seeking Alpha). I have no business relationship with any company whose stock is mentioned in this article.