It was an after-hours tech train wreck today. Heading into today, both Google (NASDAQ:GOOG) and Microsoft (NASDAQ:MSFT) were in significant uptrends. The fun stopped today after hours.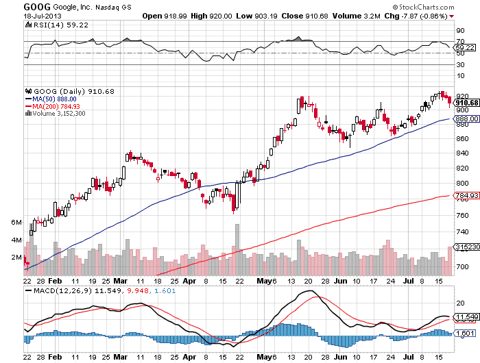 Tech giants Google and Microsoft both reported after the bell today with similar paltry results, both falling short of analysts' expectations. Both companies missed expectations and are getting smacked around in after-hours trading, with Google down 5% and Microsoft down 4.5% at the time of this writing.
Google reported second quarter EPS of $9.56/share, versus the $10.78 that analysts and the Street were guiding for. They also missed on revenue, posting $14.11 billion against the Street's prediction of $14.41 billion. Revenue has gained since the year prior, where Google posted $10.12. EPS was lower YOY, as they posted $10.12/share in 2012.
Google is trading well below the $888 50 day moving average, indicating that if the stock holds there tomorrow, a break in Google's yearlong uptrend could be at risk.
In spite of the news, I remain bullish on Google as a long-term investment. The nods in innovation they have showed in Google Glass and Google Fiber are surely going to pay dividends for the company as they continue also with growing their advertising revenue. As long as they continue to innovate, Google can get much bigger.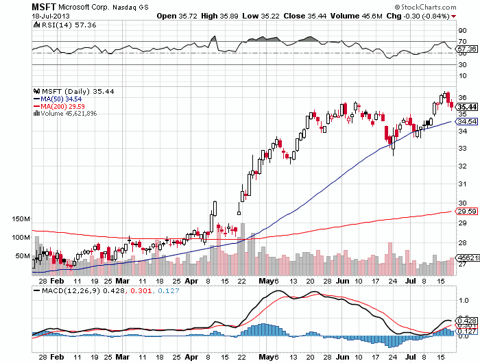 Microsoft is a bit of another story, however. You can see from the chart above that Microsoft had the momentum on their side coming into this earnings report. Unfortunately, it's likely that the aforementioned momentum just ran into a brick wall.
Microsoft posted earnings at $0.66, down from $0.67 a year prior. Although revenue was up $1.9 billion from the year prior, both marks missed with Wall Street - where the analysts were looking for $0.75/share and $20.73 billion in revenue.
The worldwide decline in PC sales was cited as the main reason that profits were not in-line with analyst expectations.
QTR's sentiment on Microsoft went from bullish to bearish over the last few months, after watching Microsoft stumble and take a mulligan with Windows 8, before introducing the Xbox One that failed to impress gamers and essentially already lost the console war to Sony's (NYSE:SNE) Playstation 4. On the heels of these earnings, I reiterate my bearish stance on Microsoft.
The tech sector is likely to be hit hard Friday, with these earnings acting as catalyst and no major tech names reporting.
As always, best of luck to all investors.
Disclosure: I have no positions in any stocks mentioned, and no plans to initiate any positions within the next 72 hours. I wrote this article myself, and it expresses my own opinions. I am not receiving compensation for it (other than from Seeking Alpha). I have no business relationship with any company whose stock is mentioned in this article.