Canadian Pacific Railway (NYSE:CP) has had an enormous run since the Ackman-led reshuffle of its board of directors and the appointment of industry veteran Hunter Harrison as CEO. Harrison may have pushed the limits on union relationships and safety, but there is no question the stock has surged under his leadership.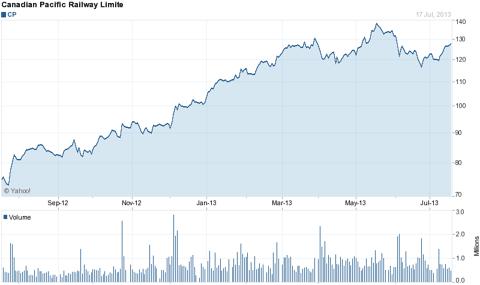 Competitor CSX (NYSE:CSX) has had a recent surge but lagged CP's performance over the same period.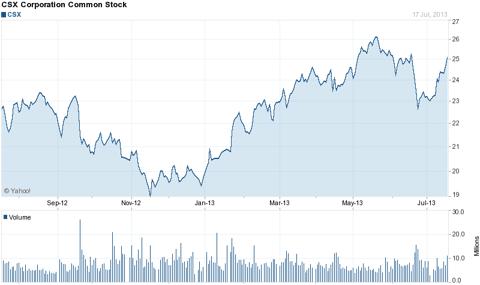 Investors should compare the two (and possibly other rails) in deciding how to play this sector.
| | | |
| --- | --- | --- |
| (billions except per share data) | CP | CSX |
| Revenue | $5.9 | $11.8 |
| EBITDA | $1.9 | $4.6 |
| Net Income (TTM) | $0.6 | $1.9 |
| Debt | $4.8 | $9.4 |
| Market Capitalization | $22.4 | $25.7 |
| 2014 Forecast E.P.S. | $7.84 | $1.97 |
| Price/ earnings | 39.1 | 13.9 |
| Price/earnings - 2014 F | 16.3 | 12.5 |
| Dividend yield | 1.1% | 2.5% |
Sources: Data from Yahoo Finance
Here's the thing. CP has ballooned in value to where it has a market capitalization almost equal to CSX, which is twice its size and earns more than twice its income.
Sure CP is improving, but the improvements are substantially all cost reductions. Some think Harrison is going too far, putting safety at risk in his drive to show short-term profit gains. Given he is 68 and not there forever, there may be some truth to the criticism. There certainly has been a spate of derailments some say arose from running the trains too fast and compromising on maintenance. I don't know, they could also just be bad luck.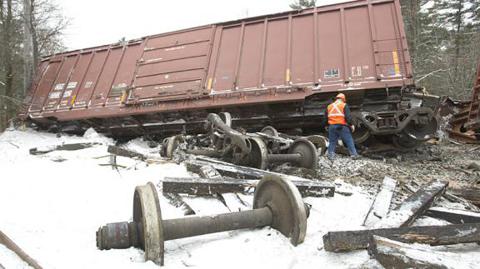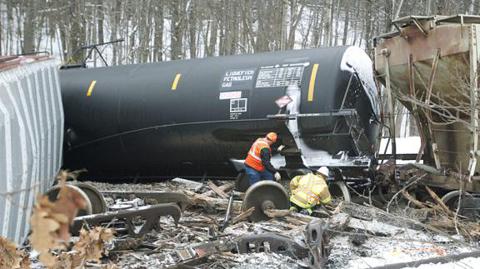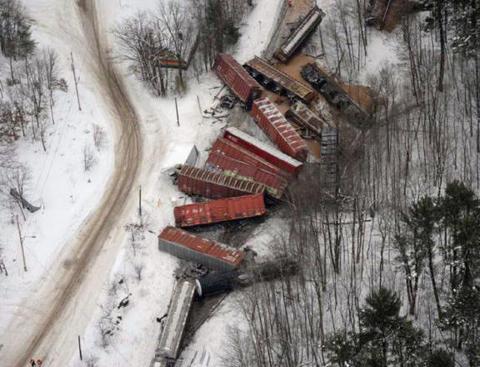 CP is not building much in the way of new rail lines, and while it enjoys a short-term benefit from the transportation of oil from Canada where there is a current shortage of pipeline capacity, all the rails capable of moving oil from the Bakken are enjoying a similar benefit, and it will surely pass as more pipe is laid.
CP has another issue that does not get much press, and that is pension obligations. The CP pension fund deficit was $673 million in January 2011, about equal to a year's net income. CP has 16,000 employees but 18,000 retirees, and annual pension for an engineer are about $73,000 and could run as high as $92,600. Like General Motors (NYSE:GM) before the federal bailout, the pension costs might cripple the company over time. As Harrison jettisons more people, operating income appears to improve because they go from payroll to pension, with the real costs hidden in pension fund accounting. It is a neat trick, but investors should not be fooled. Early retirement may boost short-term reported results, but it will add to long-term pension payouts, and the company is on the hook either way.
I think smart money takes its profits on CP. Ackman has announced he is beginning to sell his position and that suggests it is close to a top. If investors want to continue to have rail exposure, CSX is a reasonable alternative.
Investors should therefore consider a switch. I don't own CSX. I am short CP.
Disclosure: I am short CP. I wrote this article myself, and it expresses my own opinions. I am not receiving compensation for it (other than from Seeking Alpha). I have no business relationship with any company whose stock is mentioned in this article.