There are few things in investing more exciting than identifying a potentially explosive growth story at a value price, while it's still virtually unknown by the investment community. We believe we've identified such a situation with Radcom (NASDAQ:RDCM), a high-margin, Israeli provider of innovative service assurance and customer experience management solutions for telecom operators. Based on our analysis, shares offer massive upside from current levels should business momentum continue. We believe shares, currently at $4.34, could be $13-$16 over the next 12 months, with only modest potential downside given the company's numerous customer wins and sizable backlog. We believe Radcom's July 23rd earnings report could be a significant catalyst to drive shares higher, should the company confirm continued momentum into 2H13.
Brief overview
Radcom provides service assurance and customer experience monitoring solutions for communications service providers and equipment vendors. The company specializes in solutions for next-generation networks, both wireless and wireline, and is benefiting from increased usage, complexity, and traffic, and the growing importance of rapid-time-to-market. Radcom's products facilitate network and service performance analysis, trouble-shooting calls and sessions and pre-mediation.
The company generates sales to more than 60 customers, with no single customer representing over 10% of sales. Radcom has both direct sales, and distributors, with the top 7 distributors accounting for 38.5% of revenue in 2012, and no single distributor accounts for over 10% of sales. In addition, the company is very well diversified geographically.
Geographic sales diversity

Source: Radcom 20-F
A small stock, but a compelling investment
If we were creating a checklist of the things we would look for in an ideal stock, the list would look something like this:
Company screens poorly;
High and increasing gross margins;
Significant operating leverage;
High-margin recurring revenue increasing as a percentage of sales;
A product or service of increasing importance to its customer base in a large growing market;
Experienced, credible management and Board, with significant insider ownership;
Growth/revenue visibility;
Under-followed and unloved.
Radcom screens poorly, but looks like a home run to us
The idea of liking a company that screens poorly might seem counterintuitive. After all, if the financials look bad, then someone likely messed up to get the company in that state. However, in examining any stock, we always ask: "What insight do we have that the market fails to understand? And why are we so lucky to have this opportunity?" When a company screens poorly, especially one with a $28 million market cap, we can understand right away why no one would spend the time to take a second look.
In the case of Radcom, we dug deeper and realized that while it screens terrible, business is at an inflection point and will likely soon look great. The company recently right-sized their operating expenses, has near-record backlog with strong industry tailwinds, and is on the cusp of profitability.
Would you take a second look at a company that looks like this?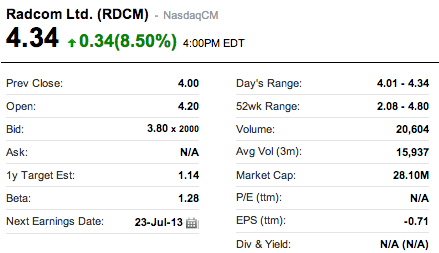 Source: Yahoo Finance
Whether looking at Radcom's balance sheet, statement of cash flows, or any metric, at first glance, it looks ugly.
But we believe something very exciting is going on here. Management implemented a restructuring in the back half of 2012, just as business began recovering. Below are results for Q1 2013 versus Q1 2012.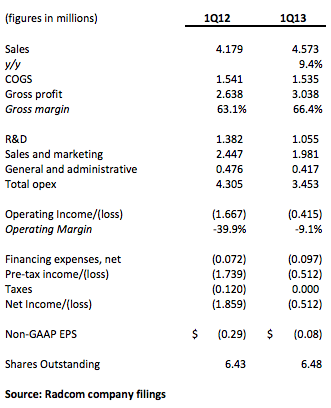 In 1Q 2013, revenue grew 9% y/y, GM improved over 300bps, and op-ex declined almost 20% in absolute dollars, resulting in a 3000bps y/y improvement in operating margin. Management commented in their 1Q earnings conference call, that they believe they can be non-GAAP EPS breakeven at $5 million in revenue. Given that 1Q is seasonally the lowest quarter of the year, Radcom entered 2013 with $19.7 million in backlog, and the company has recently announced multiple major wins, we are confident that Radcom is at an important inflection point, and profitability is not far away. Not exactly what one would expect from a $4 stock with $(0.71) in trailing 12 month EPS.
High and increasing Gross Margins
As our table above indicates, Radcom reported hefty 66.4% gross margins in 1Q. Radcom CFO Gilad Yihudai indicated that he expects them to go higher, with a 68% target.
"Gross margin for the quarter increased to 66% from 63% in the first quarter of 2012. This is still slightly below our long term target margin of about 68% but we will be moving toward that level as our revenues increase." - Gilad Yihudai, 1Q transcript
We actually believe that Mr. Yihudai is being conservative, especially since gross margins were almost 70% in 2011. Moreover, if recurring service revenue continues to grow as a percent of sales, as we discuss below, then gross margins should also be provided with a lift. The bottom line, is that with gross margins nearing 70%, this is clearly a high value-add business for Radcom's customers.
Significant operating leverage
We believe that Radcom's restructuring has right-sized the company, and will require little incremental operating expense to grow. Radcom has the infrastructure in place to become a significantly larger company, without major headcount additions.
CFO Yihudai stated on the 1Q call, "With increasing sales and stable expenses we expect for our bottom line results to continue to improve significantly in the year ahead."
We are modeling significant improvement in operating margins, from -9.1% in 1Q, to 14.7% in 4Q. As a result, in 4Q, we expect the company to earn $0.10 per share.
High-margin recurring revenue increasing as a percentage of sales
As Radcom grows its installed base, it has seen service activity (warranty renewals) increase as a percent of sales. Management has commented that the vast majority of customers opt to renew annual service contracts. With gross margins in excess of 80%, this is highly attractive business.
High-margin services consistently growing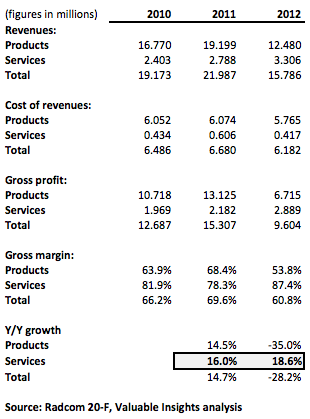 In 2011, a healthy growth year overall, services grew slightly faster than products. Notably, in 2012, services growth accelerated, despite a dramatic y/y decline in products revenue. We expect services to continue to grow as Radcom expands its installed base and broader customer base, which will provide a lift to corporate gross margins.
A product or service of increasing importance to its customer base in a large, growing market, with secular tailwinds
We believe that Radcom is extremely well positioned in terms of industry trends. Both 3G and 3.5G networks are being rolled out in developing countries and LTE/VoLTE rollouts should go on for the next several years. Deregulation has increased, intensifying competition, and making superior quality of service more vital - a major positive for Radcom. Simply put, service assurance is becoming more essential.
We always enjoy reading company filings. It's where lawyers earn their salaries and is typically full of risk factors and other things companies prefer not to discuss in hype-filled investor presentations. It's the place where companies get in serious trouble for not telling the truth. So while we recommend any potential Radcom investor read through their filings, we want to highlight a passage that we find particularly significant:
Trend information
During 2012 we saw a growing demand for service assurance solutions; however the slowdown in the telecommunications industry caused longer decision processes and put a hold on certain budgets. Our brand became more appreciated in our market segment, which led us to be exposed to more business opportunities, upon some of which we were able to capitalize, mainly during the second half of 2012. This is not reflected in our 2012 financial reports due to the long delivery cycle of large-size projects, leading to a delay in revenue recognition.
The rollout of data services over 3G and 3.5G cellular networks also reached developing countries. In developed countries, a majority of networks started LTE pilots while many leading service providers have commercial LTE offerings. Mobile data cards and other mobile data services are becoming a significant revenue source for cellular operators and we see an increased demand for our solutions for this segment.
There is a clear global trend of government regulations that are opening communication markets to competition. In each major deregulated market, generally at least three service providers compete in each service segment. This competition drives increased spending on the marketing of next-generation services, and therefore increased usage, which itself increases the potential need for service assurance solutions. As services become more technologically complex and their volumes increase, service quality becomes an issue that must be addressed.
As part of this increase in competition, we have begun to see rapid adoption of SIGTRAN technology to lower the operational cost for signaling networks and to handle the increased network traffic. This move helps service providers justify the move to NGN solutions and increases our addressable market.
The growing demand for service assurance solutions in emerging markets, which was attributable, among other things, to recent rollouts of NGN networks, VoIP-based voice services, 3G & LTE mobile networks and other advanced technologies, generated a significant demand for Radcom's products in Latin America and Asia.
Source: Radcom 2013 20-F pages 54-55
Reading through this segment, it is clear that 1) Radcom had multiple business wins in 2H 2012 which will hit revenue in 2013, 2) the prevalence of mobile data cards/services is driving demand for Radcom solutions, 3) deregulation is driving no services, greater usage, and thus Radcom products, and 4) recent roll-outs of networks in Latin America and Asia is driving "significant demand" for Radcom's products. In our experience, it is unusual for a corporate filing to read this bullish, unless there are a lot of good things happening. We think there are a lot of good things happening.
Experienced, credible management and Board, with significant insider ownership
For a company with a $28 million market cap, we think Radcom has a very solid management team and Board, and also note its significant insider ownership.
CEO David Ripstein has been with Radcom since 2000, having moved up in the ranks within the company. He has an advanced engineering degree from the Technion, one of the finest universities in Israel, as well as an MBA. He has overseen challenges, including the recent headcount reduction. CFO Gilad Yehudi was CFO of DSP Group (NASDAQ:DSPG) for 4 years, a publicly traded semiconductor company.
Most impressive is Zohar Zisapel, co-founder of Radcom, and the Chairman since the company's inception in 1985. Mr. Zisapel is also Chairman of Ceragon Networks (NASDAQ:CRNT). He also serves on the Board of Amdocs (NYSE:DOX) a $6+ billion market cap software company and Silicom (NASDAQ:SILC), which provides connectivity solutions for server and networking products. We would suggest that few Chairman of $28 million market cap companies are sitting on the Board of multi-billion dollar corporations. We also find his presence on the Silicom board interesting, as it bears certain similarities to Radcom. Silicom is up about 7-fold since its 2009 lows (and over 10x since the lows of 2008) as it gradually ramped a diverse base of customers with a compelling product offering (just as we anticipate from Radcom). Like Silicom, Radcom has a small float, with just over 7 million shares outstanding. Certainly Mr. Zisapel could be using lessons observed from Silicom as a guidepost in the upcoming growth of Radcom.
Mr. Zisapel also owns over 2.8 million shares of Radcom, or 35% of the company, including 406,000 shares acquired in a recently completed PIPE transaction. In our view, Mr. Zisapel's participation in the PIPE is meaningful given his clear insight into Radcom's prospects. We note that the PIPE completed to get the company in compliance with certain bank covenants and for working capital - no further financings should be necessary. We acknowledge that Mr. Zisapel and several other investors recently filed a shelf registration to potentially sell up to 1.65 million shares in the future. However, we doubt they would file such a statement, if they weren't optimistic that shares would be at higher levels in the next several quarters. In addition, an eventual stock sale could bring all-important research coverage.
Growth/revenue visibility
As we pointed out earlier, Radcom entered 2012 with $19.7 million in backlog, a near-record for them. We have also discussed the very positive industry trends. Over the past several months, they issued press releases on multiple significant customer wins.
On May 3rd the company announced, "the initial phase of a multi-million dollar, multi-year deal with a Tier 1 Asian operator. Radcom's end-to-end LTE monitoring solution will provide service assurance for one of the largest planned LTE deployments in the world." They also noted that, "This is the sixth LTE contract Radcom has entered recently; thus positioning Radcom as a leader in the rapidly developing market for LTE monitoring and service assurance solutions."
On June 6th Radcom announced that it had signed significant deals with two tier-1 Russian Telecom Operators.
In addition, back on March 13th Radcom announced that it was partnering with Allot Communications (NASDAQ:ALLT) on a joint Voice-over-IP Quality-of-Experience solution. We believe Allot's significant relationships will result in additional growth opportunities for Radcom, and note that the press release mentioned an already completed deployment in South America.
Based on backlog, announced wins, and our channel checks, we expect 2013 revenue to grow 39.5% to $22 million, slightly above the level achieved in 2011. We are assuming only modest gross margin expansion versus 1Q. We note that our expectation of 25% sequential top-line growth in 4Q could prove conservative as 4Q is typically peak (last year 4Q was up over 60% from 3Q) as customers rush to utilize remaining budgets. We expect revenue growth of 28.8% and 16.6% in 2014 and 2015, respectively. We believe that our estimates are realistic, if not conservative. If they prove accurate we could certainly see Radcom shares trading at 20-25x 2015 EPS in 12-18 months or $13-$16. At a minimum, if our estimates prove optimistic, we still expect ongoing fundamental improvement, which should limit downside to shares.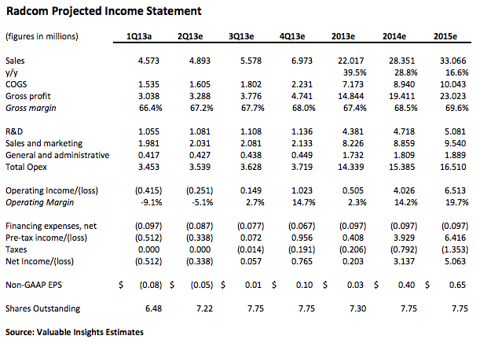 Conclusion: Underfollowed and unloved... a great opportunity
We think Radcom provides a very compelling investment opportunity. The company has real product, real customers, strong business momentum, and significant leverage to the financial model.
Radcom has no institutional following, no one on the conference calls, and no analyst coverage. This is what we think of as a first inning opportunity. It's also an opportunity that we view as very asymmetric. With business improving, we could have a multi-bagger if numbers are at, or above our expectations. If they fall short of our model, but still get to improve, we simply don't see a lot of downside from current levels.
We are amazed by some of the valuations achieved by tech companies with nascent or unproven products or technologies, limited sales, and just a handful of employees. Companies like Uni-Pixel (NASDAQ:UNXL), Revolution Lighting (NASDAQ:RVLT), and ParkerVision (NASDAQ:PRKR) sport market caps of $170 million, $382 million, and $397 million, respectively. Revolution shares are up 50-fold from 52-week lows and trade at over 40x trailing revenues; we just don't get it. But when we come upon a company with a $28 million market cap, that no one is hyping, but with a real story and credible management, we feel very fortunate.
We think Radcom could prove a wonderful investment opportunity, and expect to have a lot more clarity when the company reports, Tuesday morning, July 23rd.
Disclosure: I am long RDCM, SILC. I wrote this article myself, and it expresses my own opinions. I am not receiving compensation for it (other than from Seeking Alpha). I have no business relationship with any company whose stock is mentioned in this article.
Additional disclosure: We conduct thorough research on our ideas, but our views are our own. Please do your own research.