First Community Bancshares (NASDAQ:FCBC) is a $340 million bank holding company that operates over 70 banking locations throughout Virginia, West Virginia, North Carolina, South Carolina and Tennessee. When last reported, the company controlled $2.7 billion in assets, $1.69 billion of which were in loans, and had $2.04 billion in deposits.
Not being one to just sit and wait for business, First Community has been in acquisition mode and has closed two deals (1 government assisted) since June of last year that have helped grow the company's assets by close to 25%. Now that the FCBC has had time to incorporate the new purchases, I have below a review of the bank's recent financial performance and current balance sheet to help determine whether or not this 2.67% yielder is worth a look after rising ~13% this year.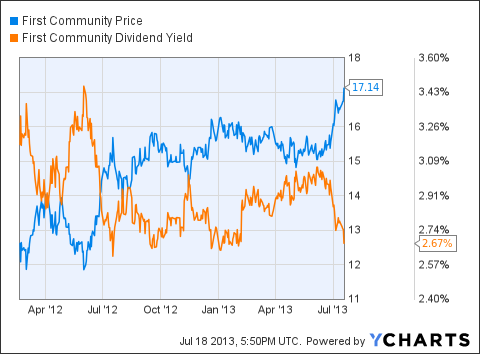 Balance Sheet (in thousands)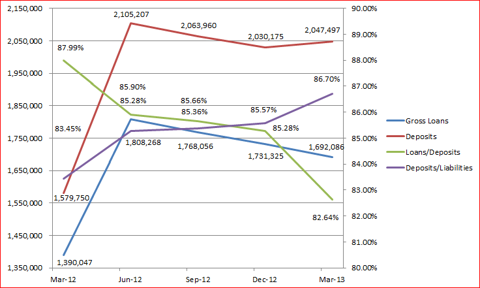 First Community's loan portfolio has significantly grown (21.7%) but it has been outpaced by new deposits (up 29.6%) which have driven the bank's loan/deposit ratio down to 82.64%. Before the acquisition of Peoples Bank hit the balance sheet (Jun-12), L/D was at a more profitable 87.99% which indicates that FCBC has ~$109.5 million in capacity to fill just to get back to that level. And that's not to say that FCBC is doing bad. More loans bring more revenue and with 86.7% of the company's liabilities made up of deposits, FCBC has plenty of low-cost capital to leverage for higher returns.
In addition to supplying First Community with capacity for new business, the bank has been working on positioning itself to benefit from increasing interest rates. Per the most recent 10-Q, management reported that during the next twelve months the bank has more assets than liabilities projected to re-price with rising rates. So much so that they have projected that they stand to gain between $9.33 million to $68,000 from an increase of 300 bps to a decrease of 100 bps, respectfully.

Nonperforming loans increased some after the acquisition of Peoples Bank but that move was almost completely retraced in the last quarter when it fell 12.6% to $31.6 million. Allowances currently only cover 78% of the NPLs so I don't expect any releases to affect the bottom line but, management appears to be confident at this level because charge-offs and provisions have been almost identical throughout the past year.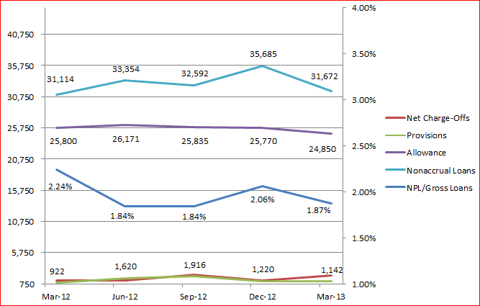 Moving over to the income statement, net interest income has been positively (up 29.9% YOY) affected by the new loans and deposits, both of which helped put NIMs over 4%. Going forward, this is a trend I expect to continue to improve as the bank takes advantage of its cheaper capital (deposits) and rising interest rates.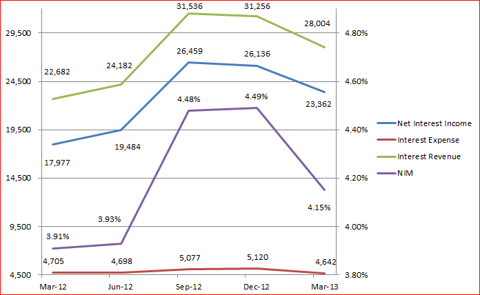 Non-interest expenses were negatively affected by merger related charges ($3.42 million - non-recurring) in the second quarter of 2012 but even so, FCBC has been able to keep its efficiency ratio under 60%. And, all things considered, I expect this to improve some in the next quarter as the bank continues to lower costs and generate more revenues as the loan portfolio grows. A big risk to this assumption, for all banks, is whether or not rising interest rates will make up for lower fee income that has been made on refinances. Fortunately, and not something most regionals can say, FCBC has a little cushion from a big decline in non-operating incomes because of its diversified loan portfolio (close to half commercial and half consumer loans).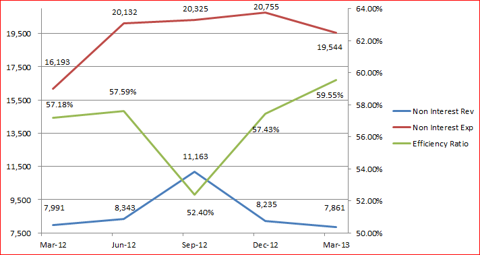 As you can see below, even with a large amount of deposits yet to be turned into loans, returns haven't suffered and a conservative leverage has brought in an ROE of close to 8% in each of the last five quarters. Not too impressive but consistent and much higher than most banks with similarly low leverage ratios.
The bank currently pays out ~33% of its returns in dividends but the retained earnings haven't added as much per share tangible book value (only up 1.6% YOY) as most investors would like because of shares issued in conjunction with the acquisition (~5% have been repurchased).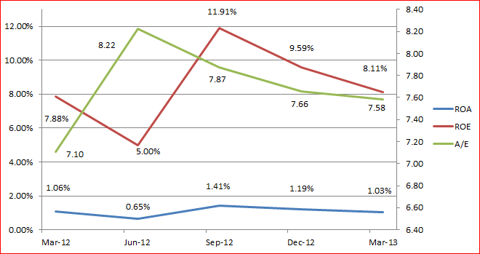 FCBC Shares Outstanding data by YCharts
Bottom Line
First Community appears to be healthy and in a great position to grow but dilution and its recent run-up have a lot of future improvements and returns already priced in. As it is now, the dividend isn't nearly as attractive as some other regionals I've seen trading at a 47% premium to tangible book value but the future looks good and FCBC has a large amount of capacity for new loans at just the right time. Going forward, investors will need to watch for safe organic loan growth. Growing rates are good for revenues but will make loans a harder sell. Just my two cents.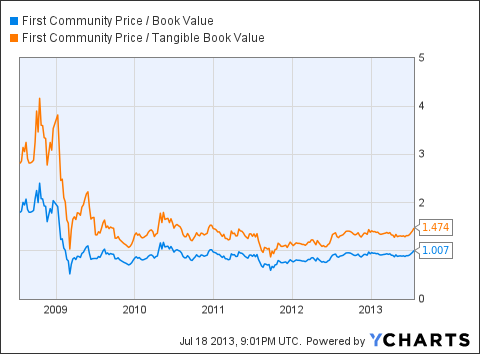 FCBC Price / Book Value data by YCharts
Disclosure: I have no positions in any stocks mentioned, and no plans to initiate any positions within the next 72 hours. I wrote this article myself, and it expresses my own opinions. I am not receiving compensation for it (other than from Seeking Alpha). I have no business relationship with any company whose stock is mentioned in this article.