Vivendi (OTCPK:VIVHY), while not a household name in the United States (and as I have pounded the table for many times), continues to trade at very low multiples of earnings, cash flow and book value.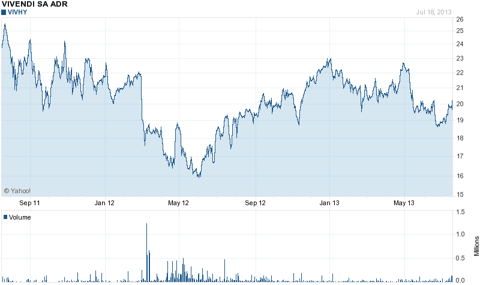 If US investors aren't getting excited about the value Vivendi brings to the table, corporate buyers appear to be interested in Vivendi's assets.
Today, it was revealed that Vivendi rejected an $8.5 billion bid for its Universal Music Group business, which represents a higher price relative to my admittedly crude, back of the envelope valuation I wrote about here. The "unsponsored" ADR shares were up over 2.5% today on the news.
Yesterday, it was revealed that Vincent Bollore, who is considered by some to be one of the best managers and allocators of capital in the world, increased his stake in Vivendi. Through his investment holding company Groupe Bollore (OTCPK:BOIVF), Mr. Bollore added another $8 million to his stake to ensure he kept Groupe Bollore's stake in Vivendi above 5% as a result of marginal dilution due to an employee stock ownership issuance.
Several other key catalysts are on the horizon at Vivendi too: (1) a binding offer on the table for Maroc Telecom (OTCPK:MAOTF), including news that Morocco's pension fund may purchase up to 10% of the telecom operator; (2) a recently completed sale of its Parlophone music label for 700 million euros; and (3) an active search on ways to extract value from Activision Blizzard (NASDAQ:ATVI).
Recently reported was the contractual arrangement triggered with respect to Vivendi's 61% stake in Activision Blizzard, allowing it to extract dividends or lever up the balance sheet as part of a share buyback program without ATVI management and/or board approval.
In my mind, the best outcome with respect to the ATVI situation would be the private placement of a 10% block of the shares so to allow Vivendi to continue to control the business, meanwhile placing cash in the head office's coffers, reducing net debt to a level such that SFR can be spun off with the remaining debt.
I continue to be long shares of Vivendi, especially since I believe it trades at below liquidation value of its set of six businesses, an absolute bargain level valuation. The equity is valued at ~20 billion euros ($26 billion) while net debt should be around 12 billion euros ($15.5 billion) after the Parlophone deal, and around 7 billion euros ($9 billion) after the potential Maroc Telecom deal.
With all these interesting catalysts on the horizon, Vivendi is a low risk, high reward name to consider this summer as these events unfold. In my opinion, ADR shares of Vivendi could be worth up to $30 right now.
For dividend investors interested in a safe yield, Vivendi also offers a 6.5% dividend yield at the current ~$20 quote. However, like most European companies, the dividend accrues annually, and Vivendi generally trades ex-dividend in May of each year. By next May, prices may have increased after all the catalysts mentioned here that the yield may diminish considerably.
It's always better to get in front of good news before the market prices it in.
Disclosure: I am long OTCPK:VIVHY. I wrote this article myself, and it expresses my own opinions. I am not receiving compensation for it (other than from Seeking Alpha). I have no business relationship with any company whose stock is mentioned in this article.
Additional disclosure: I'm developing an investment research web application to allow investors to create private or shared dashboards of investment research, of which Vivendi is part of the beta portfolio. To sign up as a beta user, go to indievestr.com