When a company without a dividend declares one, the stock is supposed to be worth more. Especially a shipper. For a shipper with a suspended dividend, restarting its dividend again is almost the Holy Grail of good shipper earnings reports. But not if you are Paragon (PRGN), apparently.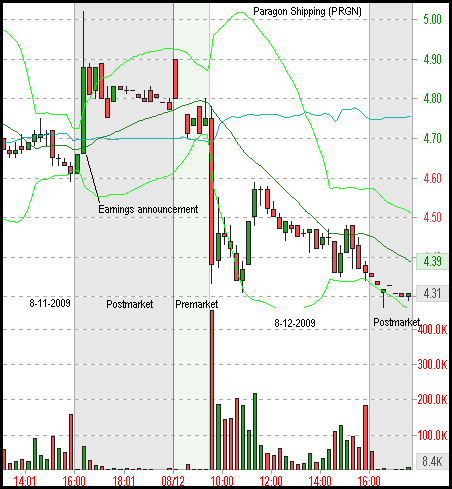 The report read:
Paragon Shipping beats by $0.08; co announces it will begin paying a quarterly dividend again of $0.05 (15.80 -0.37) : Reports Q2 (Jun) earnings of $0.51 per share, excluding non-recurring items, $0.08 better than the First Call consensus of $0.43; revenues rose 4.1% year/year to $43.0 mln vs the $36.1 mln consensus.
The stock traded over $5 for a brief moment in the aftermarket then sold off hard and fell 30 cents to $4.80. It built support there for the rest of the day moving slowly up to as high as 4.75 before dropping to 4.65 at the close. Wednesday in the premarket it shot up for a moment, was then pushed down to 4.75, and at market open crashed again, to about $4.40. It managed to move up 20 cents in the strong market rally, but spent the rest of the day sliding, closing at $4.31 in the postmarket. A miserable response to the best overall earnings report from any shipper all season.
It is true that the shippers, as a group, have mostly had "cost cutter" earnings beats on sub-par revenue figures, so much so that such a report is by now almost expected. But why can't the few firms with fine earnings hold on to some stock value?
Dryships (NASDAQ:DRYS) is certainly partly to blame. Like it or not, it is still regarded as a bellwether of the group. The market refuses to kick DRYS off its pedestal, regardless of the maladministration of its CEO or the blatant mistreatment of the common stock holder. Three offerings in two months? Wall Street surely figures now that any time DRYS rises a few dollars, the company will knock it down with a new offering.
Shortsellers of course had a hand in it too. After repeatedly knocking down small float names with shorts into the opening, and getting good results, shorters have adopted the technique as such an obvious move that they are probably competing to be first to unload. Who can blame them? As long as large funds do not hold large positions in the stock and support its price, the shorters will not fail to profit each time. Only by getting very, very badly burned once in a while do the shorts begin to show proper respect to decent earnings reports.
BDI has continued to fall all month. I guess I have to admit that it probably played a role too. The market was thinking, "You beat it this time, but BDI is off, so you probably can't do it again."
In our trading room, I advised everyone to stay out of the shipper earnings plays in the second half of the earnings season, except for a few runup plays, so thankfully I think that no one got hurt.
It could have been so much better. All it would have taken would have been for a major firm like DSX or GNK to raise their dividend on greatly increased earnings, and the fear would have fallen upon the shorts. Maybe next earnings season.
By Skymist