Another set of new highs were achieved this past week with the Dow Jones Industrial up at 15,464, and earnings season has only just begun. Heavyweights Alcoa (NYSE:AA), JPMorgan Chase (NYSE:JPM), and Wells Fargo (NYSE:WFC) already reported this past week. These new highs in the Dow Jones Industrials will be put to the test next week when a slew of companies begin to report as opposed to the light schedule of earnings that just took place this past week. Earnings season usually indicates volatility so I've been positioning myself in stocks of companies that provide a service to consumers which the consumer will spend on regardless. This week's activities in Abba's Aces included purchasing of healthcare stocks which pay dividends such Amgen (NASDAQ:AMGN), Abbott Laboratories (NYSE:ABT) and packaged foods company Kraft Foods Group (KRFT). If the market is at an all-time high or an all-time low, you are always going to pay for your own healthcare and the ability to eat and that's why I like these stocks. Let's take a look-see at each one individually really quick and find out if we can pick up some more.
Amgen
While the Dow Jones Industrials was up 2.17% for the week of 08Jul13, Amgen was up 6.79%! Someone wouldn't expect this kind of move for the week when at the beginning of the week Amgen received news that rival Novartis' secukinomab drug (which competes with Amgen's Enbrel) was proven to be better at clearing skin in patients with plaque psoriasis in a phase 3 trial. Enbrel is one of Amgen's top products and is under attack from multiple angles, specifically from Novartis with this plaque psoriasis news and the rheumatoid arthritis news previously reported in June which proved Enbrel is just as effective but 25 times more expensive than a cocktail therapy. That news coupled with the bid rejection from Onyx Pharmaceutical (NASDAQ:ONXX) doesn't really bode well for Amgen. The company did however obtain a deal with Frances's Servier to obtain the commercial rights in the U.S. for Procoralan, an oral drug used to treat chronic heart failure (Heart failure affects close to 5 million people in the USA and each year close to 500,000 new cases are diagnosed) and stable angina (Roughly 10.2 million Americans are estimated to experience angina with approximately 500,000 new cases occurring each year). Amgen is a company that is trading inexpensively with respect to forward earnings (12.58) but that doesn't mean anything really unless it can produce something from the pipeline or make a major acquisition. I bought the stock on a technical basis because it had fallen too far and too fast, so I'd like to take a quick look at the technicals right now to see what's happening after this big run up in the stock this past week. The relative strength index chart is indicating that the stock is near overbought territory with a value of 62.11, but when looking at the moving average convergence-divergence graph at the bottom we see the black line is above the red line with the divergence bars increase in height which tells us that there is buying momentum. Looking at the price chart itself I see $106.51 acting as resistance and $102.58 acting as support. I honestly see the stock moving up just a little bit more to that resistance level then probably back down, but I see more risk than reward here so I'm going to set a stop loss at $102.58 for the batch that I bought this week at $98.80 for a gain of 3.83% if the sell gets triggered. Previously I stated that Amgen is trading like a big pharma company with a growing dividend yield and that anything discovered in the pipeline is just a bonus, and I continue to believe that is the case, that's why I'm not selling out of my entire position, just the batch I bought this week.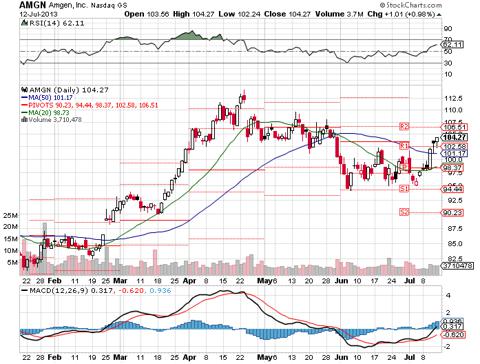 Abbott Laboratories
As the Dow Jones Industrials was up 2.17% for the week of 08Jul13, Abbott was up 1.15%. This is not bad for Abbott considering the ex-date for the dividend was during this week which accounted for 0.39%, accounting for the dividend, the stock would be up 1.54%. Due to the Chinese baby formula fiasco (which I wrote about here) Abbott has decided to lower the prices in China by 4-12% amid the probe by the Chinese government. This step bodes well for the Chinese consumer and may actually drive them to buy more of the formula. I wrote about Abbott a week ago saying, "…an excellent buying opportunity for Abbott." So far I'm not too happy that it is underperforming the Dow Jones Industrials but I believe this is a long-term type of company to invest in and I will continue to buy into it at these levels. On a technical basis the RSI indicates that Abbott is in middle ground territory but when you look at the MACD chart you see that the black line is above the red line with the divergence bars increasing in height, which is a bullish signal. Indeed the stock has been in a bullish pattern since early July but I see resistance at the 50 day moving average.
Kraft Foods Group
As the Dow Jones Industrials was up 2.17% for the week of 08Jul13, Kraft was up 2.62%. That's not too shabby for a consumer goods stock. The purchase I made on the stock was not of the additional capital variety, but was of the reinvested dividend kind. Previously I stated, "This great stock is good to hold onto if you already own it, but I personally see too many red flags currently, and won't be buying any additional shares at this time and will wait a bit to evaluate again in the future." Since the time of writing that article Kraft is up only 1.47% while the Dow Jones Industrials are up 3.72%. Doing a quick evaluation on the stock I still do believe that it is fairly priced based on trailing and forward earnings (24.76 and 17.84, respectively), and is still financially sound. No news has occurred recently for the company which would make me alter the way I think about it, so I will continue to hold the stock for the long term while collecting a 3.53% dividend yield until I see/hear something that makes me change my mind. On a technical basis Kraft is retreating from near oversold territory according to the RSI chart, but when you look at the MACD chart you see that the black line is about to a have a downward pattern and is converging on the red line as its indicated with the decreasing divergence bars (meaning a short-term bearish pattern is approaching). As seen on the price chart Kraft hit resistance at $57.47 and began to retreat, which coincides with the RSI and MACD charts. If you want to buy into this stock I'd wait a little bit, I believe you can get it a little cheaper.
Conclusion
I believe dividend paying stocks with good stories are worthy of buying while stocks with no catalysts are worthy of holding if you have a good yield on your basis. I will continue to use the Warren Buffett method of picking stocks: picking up those that are common to everyday living with good dividend yields. Both Abbott and Kraft exhibit these qualities to me, and I will continue to buy Abbott and hold onto Kraft. Amgen on the other hand seems to be trading on a technical basis right now and I have set a stop loss for the batch I bought this week and will hold off on buying anymore right now. But if it can find a company to buyout or discover a blockbuster in the pipeline I think I'd be buying the stock hand over fist in the future.
Disclosure: I am long AMGN, ABT, KRFT, JPM, WFC. I wrote this article myself, and it expresses my own opinions. I am not receiving compensation for it (other than from Seeking Alpha). I have no business relationship with any company whose stock is mentioned in this article.
Disclaimer: These are only my personal opinions and you should do your own homework. Only you are accountable for what you trade and happy investing!