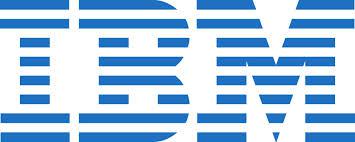 Last week I wrote the article Western Digital Corp. - I Spy An Opportunity in which I made the case for investing in shares of hard disk drive ("HDD") maker Western Digital Corp. (NYSE:WDC) in order to profit from the booming demand in worldwide digital data storage requirements. However, a comment left to that article made me wonder if a company like International Business Machines (NYSE:IBM), that packages HDDs into large disk array storage systems and bundles installation, servicing, and software for a total systems solutions, would be a better way to play the growth trend in meta-data storage.
As I mentioned in the previous article, WDC's marketing data predicts digital data storage requirements will grow at a 34% compound annual growth rate through 2020 and over 75% of the data will be stored on HDDs. I pointed out that with the consolidation of the HDD market down to two major players, WDC and Seagate Technology (NASDAQ:STX), WDC looked extremely well positioned to capitalize on the growth trend in meta-data storage requirements.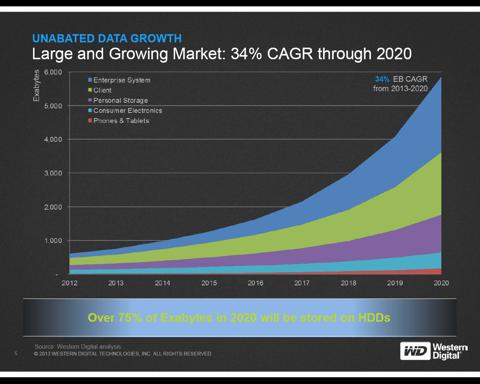 But does IBM, which packages HDDs together into large disk array storage systems, and then bundles that storage capacity with installation, software, and warranty services into a total enterprise solution, offer a better way to play the trend than does WDC?
IBM has an impressive array of HDD based mass storage solutions which can be seen here. The DS8000 series of enterprise storage systems is impressive and has the following specs:
Supports up to 1,536 small form factor HDDs
Scalable storage from 5 terabytes ("TB") to 2 petabytes ("PB")
Scales from 16 GB up to 1 TB of system cache
Support 2,4,8 and 16-core processor options
Supports 4 & 8 port 8 Gbps Fibre Channel/FICON Interfaces
Throughput of more than 451,000 input/output operations per second (IOPS)
Delivers more than 15,000 megabits per second of performance during standard benchmark testing
Supports ultra-fast solid state drives ("SSD")
Supports data encryption security as well as RAID configurations
Supported by a full suite of application and user interface software
Perhaps no computer company can match the experience IBM has in large scale storage systems. The company has been designing and manufacturing large mainframe computers and operating systems since the industry's early days. Clearly IBM's mainframe disk storage systems have evolved over the years into what is possibly the best array of product solutions for meta-data storage requirements.
But does that mean IBM is a better storage investment play than is WDC? I think not for the following reasons:
IBM's System Storage Group is in the Systems Technology segment, which is a small piece of the total company.
For the last two quarters, total revenues in the Systems Technology segment were down -14.3%.
Profit margins for the Systems Technology group were down -2.3% points for the first six months of 2013 compared to the year earlier period.
Western Digital and Seagate control ~85% of the HDD market, so IBM will be buying most of its packaged HDDs from these two companies.
From IBM's Q2 2013 earnings released this week, we can see that revenues for the Systems Technology segment ($3.8 billion) were just 15.3% of total revenues ($24.9 billion). While the Q2 gross profit margins for the segment were good (36.7%), they were down 1.6% from Q2 2012. Systems and Technology pre-tax income decreased $199 million, excluding the impact of workforce rebalancing (itself not a good sign).
To be fair, IBM's Software segment is part of the bundled Storage Systems Solutions packages it sells. Its Tivoli division provides data security solutions while the Software segment also provides applications and user interface software for the data storage systems. In this respect, things are looking much better: IBM's Software segment revenues were $6.4 billion, up 4 percent compared with Q2 of 2012. Margins in the Software segment were a hefty 88.8%, while revenues were up 4.1% to $6.4 billion and net income (pre-tax) was up $2.4 billion.
IBM invented the hard disk drive and made HDDs for nearly 50 years. In 2003 it sold its HDD business to Hitachi. Western Digital bought Hitachi Global Storage Technology's hard disk drive business last year. That was the genesis of WDC's current HGST product line. In effect, WDC is now selling the legacy IBM line of hard disk drives back to IBM.
So IBM no longer makes HDDs, and it will need to buy its drives from industry leaders Western Digital and Seagate Technology.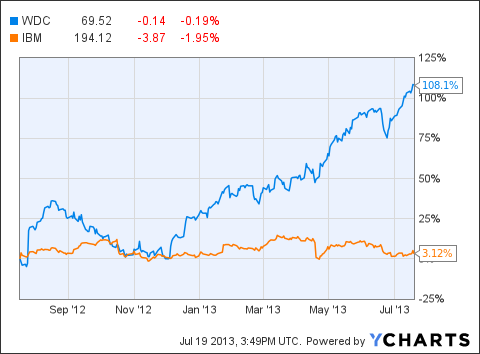 IBM Stock Metrics:
P/E (ttm) = 13.4
EPS (ttm) = $14.50
Div (Yield) = $3.80 (2%)
Summary & Conclusions
There may be good reasons to invest in IBM, but as a pure play, global storage systems is not one of them. Western Digital is a much better pure play as I outlined in my previous article. One could make a case that IBM's compute solutions, combined with its software and services businesses, will indeed benefit from trends in meta-data storage systems. But the company will be challenged to match the overall growth of a pure play like WDC (see the 1 year stock price comparison shown above). On the other hand, pure plays have higher overall risk. For now, I would stick with WDC. In addition to selling higher margin, high capacity HDDs, it may well be able to target, and cannibalize, a piece of IBM's large storage systems solutions' bundled business. But when worldwide economic growth slows again, switch from WDC to IBM for the safety of IBM's diversification and higher dividend yield (WDC yields 1.5%).
Disclosure: I have no positions in any stocks mentioned, and no plans to initiate any positions within the next 72 hours. I wrote this article myself, and it expresses my own opinions. I am not receiving compensation for it (other than from Seeking Alpha). I have no business relationship with any company whose stock is mentioned in this article.
Additional disclosure: I am an engineer, not a CFA. The information and data presented in this article was obtained from company documents and/or sources believed to be reliable, but has not been independently verified. Therefore, the author cannot guarantee its accuracy. Please do your own research and contact a qualified investment advisor. I am not responsible for investment decisions you make. Thanks for reading and good luck!