While no one seriously thought that the Federal Reserve was going to offer the slightest hint of any increase to short-term interest rates at the conclusion of yesterday's policy meeting - after all, given where we are in this cycle as compared to the last one, it seems reasonable to think there is a long, long way yet to go - there was a little intrigue.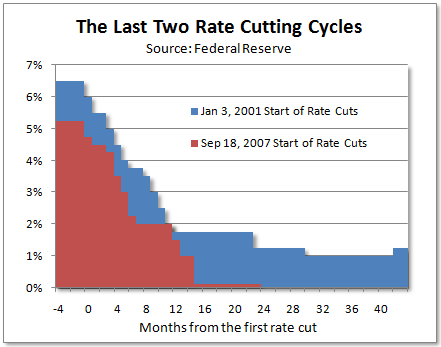 As an aside, not having posted the chart above in quite some time - since shortly after the Fed funds rate was pegged to zero in January and the central bank's focus shifted to "quantitative easing" - that area around the 12-month mark is now particularly interesting.

Recall that short-term rates had been at two percent for a few months going into last September, when some economists may have thought that they'd seen the worst of the financial market problems.

Obviously, that wasn't the case, and that marked the only time during the past two rate cutting cycles where current Fed chief Ben Bernanke fell behind the record pace established by his predecessor, former Fed chairman Alan Greenspan.

Anyway, about the only thing of interest in yesterday's policy meeting was that the Fed's purchases of some $300 billion in Treasury debt have been extended through October in order to bring the program to a halt gradually.

Markets didn't seem to be taking this news particularly well but, so far, it's been mostly a non-reaction to yesterday's news.

The last two policy statements are shown side-by-side below (click to enlarge):



Obviously, they just take the previous statement, load it into a text editor and make changes as necessary, a task that probably didn't take more than a few minutes this time.