Proof ETFs Can't Manipulate Natural Gas Prices
U.S. Natural Gas (

UNG

), a controversial exchange-traded fund indexed to natural-gas futures, said August 12th, although it received regulatory clearance to register an additional 1 billion shares, the ETF's management has decided the fund won't resume issuing shares for now, according to a filing Wednesday.
The Government Is Here to Help
(late as always)
In explaining the move, management cited "current and anticipated new regulatory restrictions and limitations that have been and may be imposed by the Commodity Futures Trading Commission" and commodity exchanges.
The ETF has seen its assets surge to more than $4 billion, fueling speculation the fund is pushing natural-gas prices higher. Higher? The fund grew so fast that earlier this summer it was forced to halt the creation of new shares while it waited for regulatory approval to increase the number of shares outstanding.
Ok, let's get this straight, "speculators" plowing in tons of money into UNG are
driving up NG prices? So, why are NG prices struggling to stay above $3.50 mcf?
Sorry Charley...bad logic. Over the last six months every "Speculator" looking to buy UNG (betting prices would rise) has found plenty of "speculators" looking to sell UNG. I've successfully traded around the NG prices and the UNG ETF hype.
The Natural Gas Facts Minus The Hype
Here are the facts minus the 'bull' and government 'speculator' hype: At the March bottom UNG was trading for around $15.50. By the end of April UNG had fallen (along with NG prices) to $12.73. In May the improved economic indicators pushed the NG hype along with UNG up to $17.50. Four months later; after clear economic improvement and another 1,000 points added to the DJIA... UNG (today) is struggling to stay at $12.70. At this moment in history watching daily NG price
changes is as exciting as watching corn grow in Iowa.

Unlike oil, which has doubled in price, NG is struggling just to hold a $4 mcf price. Investors and speculators' in NG are learning Oil prices are impacted by international economies and now move inversely to the value of the dollar. NG has little correlation to the value of the dollar. Unlike Oil, NG Prices are tethered to American supplies and inventories. If you recall the 2005 price spike over $14 mfc that was due to supply disruptions from Hurricane Katrina which resulted in massive shut-ins of natural gas production.
Natural Gas prices are depressed for Three good reasons:
1) Decreased industrial demand as a consequence of the recession in the United States;
2) Higher supplies from imports of liquefied natural gas (up almost 4x since 2002);
3) Gigantic new supplies coming to market from the shale plays.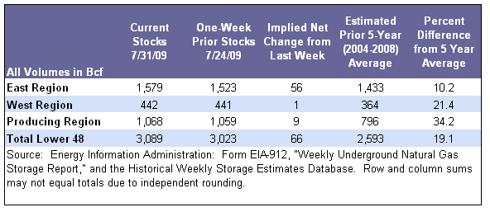 The United States has a total resource base of 1,836 trillion cubic feet (tcf) worth of likely and potential resources, the report says, a sharp jump from the last estimate two years ago of 1,321 tcf, and the highest in the group's 44-year history! With the addition of Energy Department estimates of proven reserves, the total U.S. future supply is 2,074 tcf, a rise of more than 35 percent from the committee's last biennial estimate. www.nytimes.com/gwire/...
New Shale Supplies Will Keep Prices Below $6 MCF in 2009:
The latest NG storage figures shows supplies are up over 23% from last year and nearly 20% above the last 5 year average.
Given the flood of new USA NG supplies, just discovered in the last 4 years, forget the historical relationships between NG and Oil. I've even listen to a few analyst who believe NG prices could drop to $3 mcf given the current supply and demand ratios. Remember, for most of the 90's NG prices stayed close to $2 mcf. But if you believe in an improving economy I doubt investors getting into UNG (now) under $12.75 will be hurt. I'm not pounding the table on NG or UNG only viewing it as a current trading opportunity.


The wild card opportunity is:
high global oil prices and environmental concerns should force America to wake up to the fact that NG is clean, abundant, cheap and a secure source of energy.
Disclosure:
I took a long position in UNG today.