Looking for high dividend stocks with a predictable business model, steady cash flow growth, increasing dividends and earnings growth? Just like last week's article, we're featuring a stock from our High Dividend Stocks By Sector Tables, which has an upcoming ex-dividend date, only this one actually has two separate payouts, on its preferred stock.
Seaspan Corp., (NYSE:SSW), based in Hong Kong, is a major independent owner and manager of containerships. SSW charters its vessels primarily on long-term fixed-rate time charters to major container liner companies, which generates steady cash flows and dividends. SSW has a younger-than-average fleet, 6 years old vs. the industry average of over 10 years old: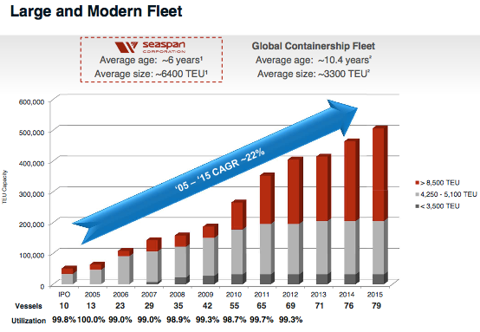 SSW's fleet is currently contracted out over an average of 6 years to such industry heavyweights as COSCO (47%), CSCL (11%), K-Line (11.2%), Yang Ming (8%), and Hanjin (7.5%) It has a current fleet utilization rate of over 99%, and will be expanding further, with 16 newbuild vessels, that are already contracted out on 8 to 10-year charters to existing customers Hanjin, Yang Ming and MOL.
Upcoming Preferred Dividends With High Yields And Little Downside: SSW has 2 series of preferred shares, SSW-PC and SSW-PD, which go ex-dividend on 7/25/13: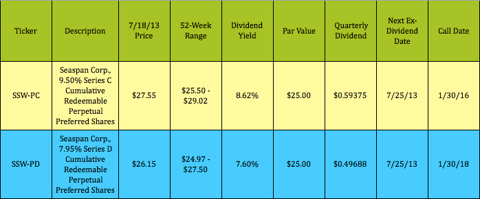 These preferreds aren't callable until 2016 and 2018 respectively, and their par value is $25.00, so, there's plenty of time before the call date to collect enough quarterly dividends to bring your breakeven below par value. SSW-PC pays $.59375/quarter, and is trading at $27.55, so your breakeven will be below $25.00, at $24.58, after collecting your 5th dividend, in July 2014. SSW-PD pays $.49688/quarter, and is trading at $26.15, so your breakeven will be below $25.00, at $24.66, after collecting your 3rd dividend, in Jan 2014. These preferred shares rank equally with other SSW preferreds and above SSW's common shares, and are cumulative: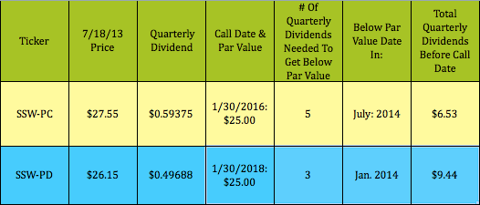 Common Dividend: 213% Dividend Growth?!! Before you fall off your chair, here's the skinny on that big number: From 2006 to 2009, SSW's quarterly dividends grew from $.425 to $.475, but then they dropped to $.10 in April 2009 due to the recession. However, since 2009, SSW's total yearly dividends have grown 213%, from $.40, all the way up to the projected $1.25 for 2013.

SSW uses a non-GAAP metric, "Cash Available For Distribution," to calculate its dividend payout ratio. This figure deducts "depreciation, amortization, interest expense, amortization of deferred charges, non-cash share-based compensation, change in fair value of financial instruments, bareboat charter adjustment, organizational development costs, amounts paid for dry-docking, cash dividends paid on preferred shares, losses (gains) on vessels, interest expense at the hedged rate and certain other items that Seaspan believes are not representative of its operating performance." (Source: SSW website)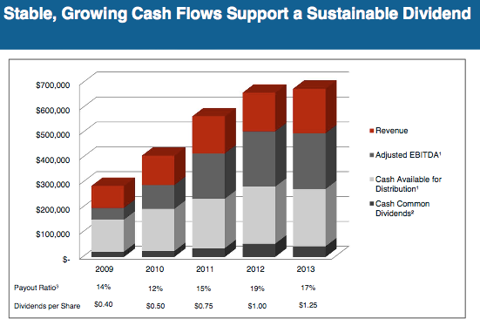 Options: There are Covered Calls and Cash Secured Puts trades available for SSW, but they currently aren't as compelling as SSW's growing dividend stream.
Earnings And Valuations: We can't really make the argument that SSW is undervalued on these metrics...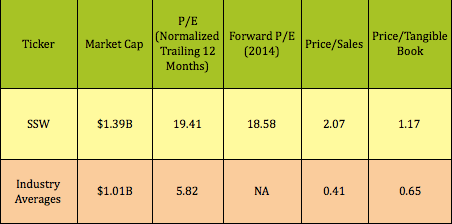 ... but it does look undervalued on a 2014 PEG basis, although this is using a P/E ratio based upon normalized Trailing 12 months' earnings:

Financials: Although it carries more debt, SSW does have much better Current Ratio and higher efficiency ratios than the weak industry averages, and it also sports an impressive operating margin:

Performance: SSW has had a big run year-to-date and over the past 52 weeks. If you're more concerned with future price gains, vs. future dividend income, try waiting for the next market pullback before buying the SSW common shares, which are presently overbought.
As we detailed above, the preferred shares don't have nearly as wide of a trading range, and you can achieve parity and some attractive dividend income way before they can be called in. (Note: Brokerage websites have various symbols for preferred shares, so instead of listing SSW-PC or SSW-PD, they may list them as SSWPRC & SSWPRD, or SSW/PRC & SSW/PRD.)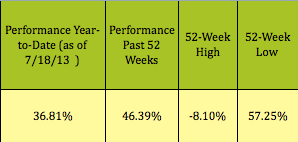 Disclosure: Author was long SSW and SSW-PC at the time of this writing.
Disclaimer: This article was written for informational purposes only.
Disclosure: I am long SSW. I wrote this article myself, and it expresses my own opinions. I am not receiving compensation for it (other than from Seeking Alpha). I have no business relationship with any company whose stock is mentioned in this article.
Additional disclosure: I'm also long SSW-PC.