Reading through Gardner Denver's (NYSE:GDI) 2008 annual report recently, we noticed something worth mentioning. In the first 23 pages of the report –- i.e., the glossy portion of the report that includes the CEO's letter to readers and a discussion of the company's culture and its plans for the future –- the word "customer" was used a total of 56 times by our count. That's twice per page. Moreover, of these mentions, over 40% were in the CEO's letter.
So why do we believe this is significant? It's simple. Our experience is that companies that willingly and whole-heartedly place customers at the center of their stated strategies tend to in fact register greater customer satisfaction and loyalty over time. Essentially, by upping the bar on themselves, they in effect leave left less room for underperformance, excuses and self-denial.
Of course, just because a company and its management invoke the word "customer" does not mean everything just falls in place. Like most things, achieving high-levels of customer satisfaction over time requires hard work. It also requires the genuine commitment of upper management. To be clear, EnergyPoint Research's independent customer satisfaction surveys don't suggest Gardner Denver is starting from the back of the pack when it comes to oil and gas industry. While the company does have a ways to go to meet the lofty expectations ostensively set in its latest annual report, its customer satisfaction rating in our surveys since 2005 is close to the industry mean. Maybe more importantly, Gardner Denver's ratings outshine at least one of its peers, industry giant National Oilwell Varco (NYSE:NOV). Click here to read our latest thoughts on NOV and other rig-related equipment providers.
Although Gardner Denver is not solely focused on the oil and gas industry -- the industry represented 21% of revenues in 2008, down from an estimated 23% a year earlier -- its products are well known and heavily used across the oilfield. Overall, pricing (especially pricing versus competitors) and its products' performance in deepwater applications appear to be relative strengths. At the same time, our data pointedly suggest the company could stand some improvement when it comes to the performance of its personnel. This is especially the case when it comes to technical functions. But to the extent the company can shore up ratings in these essential areas, other elements of satisfaction have a good chance of following suit.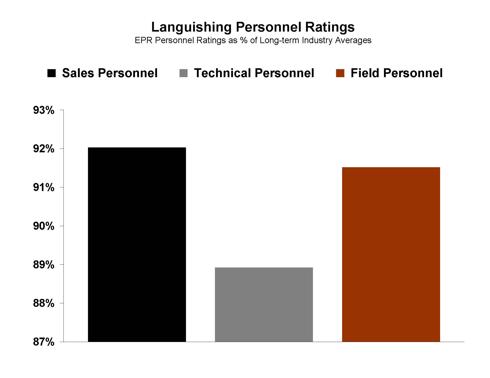 Disclosure: No positions