The Consumer Staples industry is ripe with opportunity for dividend investors. For my own dividend portfolio, my expectation is to generate between 30%-40% of my portfolio's revenue from various industries in this sector. The following factors make this industry an attractive pillar for dividend portfolios:
Limited volatility in earnings
A fairly predictable growth trajectory
General commitment to maintaining and growing dividends
Food and Beverage is one segment of the global economy that exhibits the above characteristics more than any other. Within this category General Mills (NYSE:GIS) represents an attractive addition to dividend investors' portfolios. To assess the attractiveness of GIS relative to other opportunities in this sector, one can use a framework that centers on addressing the following questions:
How much can I make today?
What is management's ability to raise the dividend?
What is management's willingness to raise the dividend?
Is what I am paying reasonable?
How much can I make today?
In general, I look for a dividend yield of at least 2.5% for mature companies in stable industries that are not likely to have abnormally high dividend growth rates (15%+) for a sustainable period of time. The chart below shows the yield of GIS and several of its peer companies including Kellogg's (NYSE:K), ConAgra Foods (CAG) and Kraft (KRFT):
| | |
| --- | --- |
| Stock | Yield |
| GIS | 2.97% |
| K | 2.65% |
| CAG | 2.72% |
| KFT | 3.48% |
GIS has a healthy yield of about 3%, which is higher than most of its peers with the exception of KRFT.
What is management's ability to raise the dividend?
Revenue Growth
Revenue growth is vital component of a company's ability to continuously increase dividend payments. According to its 2012 annual report, GIS targets low single-digit organic revenue growth. Additionally, GIS is willing to grow its topline through strategic domestic and international acquisitions. To date it has been able to achieve its goal, and will likely be able to continue to do so in the future given international growth opportunities.
Indexed Revenue Growth (2009-12)

What is management's willingness to raise the dividend?
FCFE to Dividends
In order to sustain its dividend payout, a company must have sufficient cash flow available to equity shareholders. Taking a ratio of Free Cash Flow to Equity (FCFE) and dividends serves as a way to assess a company's ability to cover its dividend payments. GIS is solid on this front with an ability to cover its dividend payout by a factor of about 2x. Ratios for several of GIS's peers experienced pressure as a result of a drop in operating cash flow and /or the acquisition of assets.
FCFE to Dividend Ratio (2009-12)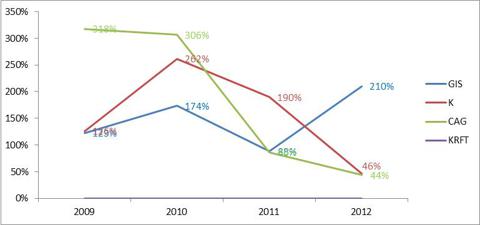 CFO to FCFE
FCFE can be manipulated by taking on more debt. The quality of the company's FCFE can be checked by looking at the ratio of a company's FCFE that is derived from cash flow from operations. The chart below shows the trend for GIS and several of its peers for this dimension:
CFO to FCFE Ratio (2009-12)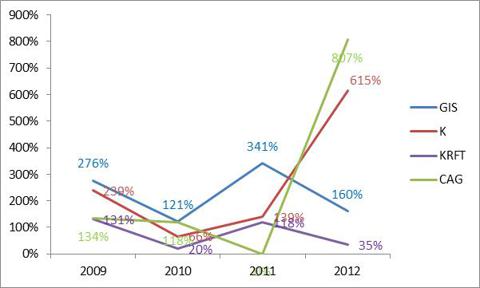 GIS exhibited the most stability in this metric over the past few years.
What is management's willingness to increase the dividend?
Prior Dividend Increases
Past actions taken by a company can serve as an indication of what the company is willing to do in the future. GIS has raised its dividend for the past 10 years as shown below, indicating that management values rewarding shareholders through dividend increases.
| | |
| --- | --- |
| Stock | Yrs Increased |
| GIS | 10 |
| K | 9 |
| CAG | 6 |
| KRFT | n/a |
Historical Dividend Growth Rate
Many companies make token dividend increases in order to stay on dividend target lists and generate positive PR around their dividend. It is therefore important to check the historical rate of dividend growth to make sure a company's dividend increases are actually meaningful.
Indexed Dividend Growth (2009-12)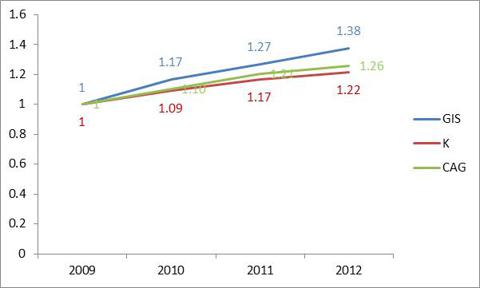 GIS has increased its dividend per share by a total of 40% over the past 4 years, equating to an average growth rate of about 10% per annum. This amount is both meaningful and higher than its peers that pay dividends.
Is what I'm paying reasonable?
The final check is to see whether or not the company is reasonably priced. Given I usually make periodic investments on a schedule, I check how a company is valued relative to its peers. Given how GIS performed above, I would expect it to trade at a premium to its peer companies. However, GIS trades at a slight discount to its peers indicating that it is attractively valued from a relative value standpoint.
| | |
| --- | --- |
| Stock | P/E |
| GIS | 18 |
| K | 26 |
| CAG | 20 |
| KRFT | 25 |
Concluding Remarks
GIS by no means is a get-rich-quick type of stock. However, it is a stock that provides dividend investors with access to a stable stream of earnings with low volatility. GIS has shown a commitment towards rewarding dividend investors through both actions and words. GIS has the ability to continue to grow payouts based on its cash flow today. Additionally, its cash flows should improve as it absorbs the Yoplait and other acquisitions, as well as realizes continued growth from its international operations. As such, GIS definitely warrants a closer look from dividend investors.
Disclosure: I am long GIS. I wrote this article myself, and it expresses my own opinions. I am not receiving compensation for it (other than from Seeking Alpha). I have no business relationship with any company whose stock is mentioned in this article.