Mead Johnson (NYSE:MJN), a Zacks Rank No. 5 (Strong Sell), is a maker of pediatric nutrition products. The company is known best for its baby formula products like Enfamil. Mead Johnson's share price performance has been starved by China's move to investigate price fixing in the Chinese baby formula market. The company and its competitors have been accused of breaching anti-monopoly laws.
Price Cutting Pressures Margins
In reaction to the probe, Mead Johnson has cut the price of its formulas in China by 7% to 15%. The price cuts took effect by July 16. Its competitors have also reduced prices with Danone (OTCQX:DANOY) and Nestle (OTCPK:NSRGY) reducing prices by 20% and 11%, respectively. The reduced prices are expected to weigh on margins, and it could take some time for the company to enact productivity measures to offset the price drop.
Earnings Estimates Are Being Cut
The result of lower formula prices and margin pressure is a reduction in the earnings outlook. In the last 30 days, six 2013 and seven 2014 EPS estimates have been reduced. At the same time, the Zacks Consensus Estimates for 2013 and 2014 have declined $0.06 to $3.23 and $0.18 to $3.52, respectively. The graphic showing the price of Mead Johnson and the trend in the consensus earnings estimate is provided below to highlight the downward pressure on earnings estimate revisions.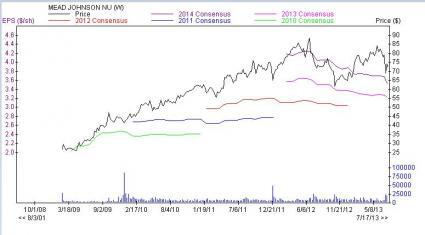 A Downside Surprise Could Be Around the Corner
The Zacks Expected Surprise Predication suggests the company faces a meaningful chance of disappointing investors with its profit results. The Zacks most accurate EPS estimate for 2013 is below the Zacks Consensus Estimate of $3.23 at $3.15. There is a similar set up for the June quarter where Mead Johnson is projected to earn $0.84 and the most accurate forecast argues for $0.81.
The Company Is Not Cheap
Mead Johnson trades at about 22x expected 2013 earnings per share, and its PEG ratio is just below 2.0. The stock is priced for growth, but the threat of disappointing profits and a weak trend in earnings revisions may leave the stock at risk for a lower multiple. Some in the market fear that the regulatory headwinds in China have further to run. Historically, the PEG ratio has ranged between 1.54 and 2.63.
Alternatives
Those looking for exposure to the health product space may want to examine ResMed (NYSE:RMD), a Zacks Rank No. 1 (Strong Buy), or Hanger (HGR), a Zacks Rank No. 2 (Buy). These companies offer a stronger formula for profits given their trend in earnings revisions.
Hanger: Free Stock Analysis Report (email registration required)
Mead Johnson: Free Stock Analysis Report (email registration required)
ResMed: Free Stock Analysis Report (email registration required)