By David Urani
There's some interesting action in the oil markets of late, and today in particular saw the price spread between international Brent oil and the U.S.'s WTI oil whittled down to virtually nothing. In fact, WTI briefly went above Brent for the first time since mid-2010. Of course, the wide spread between the two before today was a consequence of the U.S. shale boom, which lowered the price of U.S. oil. In February of this year, the spread was as much as $20.
Some of the increase in WTI oil of late may be the result of a supply glut at the Cushing, Okla., hub being alleviated by the improving network of pipeline and rail. In the meantime, rocky economic conditions in Europe are serving to hold Brent down to an extent. This effect, if sustained, is likely to change the dynamics of the oil industry somewhat, particularly in the transportation of crude.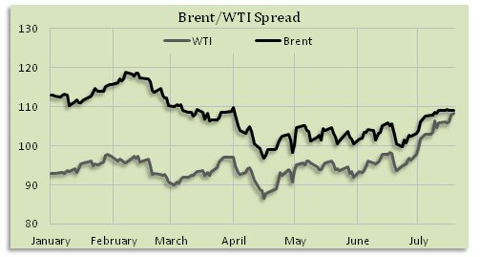 U.S. rails have seen extra demand because of that Brent/WTI spread; some refiners who normally would have been using Brent from the Gulf switched to WTI, which is being transported by rail from the North. Take for instance CSX (NYSE:CSX), which on Tuesday continued to see demand from just that -- new shipments from the shale to East Coast refiners, leading to an 11% increase in its chemicals shipments. With the two prices now back to parity, one may expect some of that demand to return to Brent and take some of the load off of rails.
Oil tanker operator Frontline (NYSE:FRO) also caught an interesting upgrade this morning from Global Hunter. FRO ships oil from the Middle East over to Asia, the U.S., and other regions. With Brent oil now priced the same as WTI that Brent oil can see improved demand, and in particular the above mentioned U.S. East Coast refiners might restart some of their purchases of international oil.