The energy sector, minus the refiners, has had a very solid July as West Texas Intermediate (WTI) marches towards $110 a barrel. The small domestic E&P space has been particularly strong this month. To cite just one example, Triangle Petroleum (NYSEMKT:TPLM) is up more than 40% since I profiled the company six weeks ago.
One small E&P concern that has not participated in the rally to any great extent is Warren Resources (NASDAQ:WRES) that continues to hover at just under $3 a share. The company is up slightly in the recent rally, but has risen some 45% since I bought and highlighted it in June 2012. However, I believe this energy play has plenty of catalysts and upside as we head into 2014.
Company Overview:
Warren Resources is an independent energy company engaged in oil and natural gas production. The company focuses primarily on its waterflood oil recovery programs and horizontal drilling in the Wilmington field within the Los Angeles Basin of California; and on the exploration and development of coalbed methane properties located in the Rocky Mountain region. The company has just over a $200mm market capitalization and its enterprise value is less than $300mm.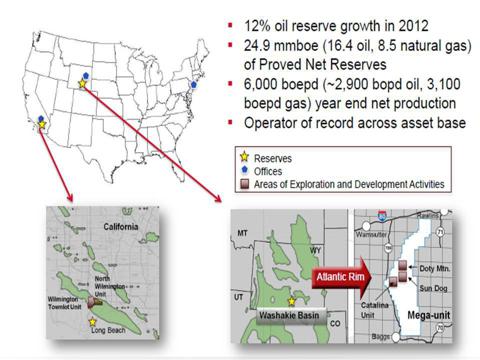 Production Growth:
Almost two thirds of the company's ~25mm BOE (Barrels of Oil Equivalent) of proven reserves is oil. It also believes in has potential additional oil reserves within its California assets of 25mm to 30mm barrels. Production growth has been lumpy at times over prior years, but the company has grown production at better than a 14% annual rate over the last five years. As importantly, it continues to drive down costs, which allow it to receive additional cash per BOE.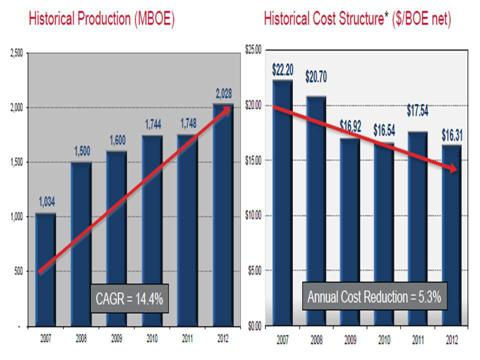 Valuation:
The company trades at less than 10% above book value and ~10.5x 2014's projected earnings. Analysts expect revenue growth of five percent for both FY2013 and FY2014, and the stock has a five year projected PEG of just over 1 (1.11). The three analysts that cover the stock have a $5 a share median price target on the shares.
Peer Comparison:
On an operating cash flow (OCF) basis, WRES trades at approximately three times OCF, which is significantly lower than others in the space. Synergy Resources (SYRG) trades at ~12x OCF and Abraxas Petroleum (NASDAQ:AXAS) goes for 7x OCF, to cite two examples. On an enterprise value/proven BOE basis, Warren Resources is significantly cheaper than peers (see below).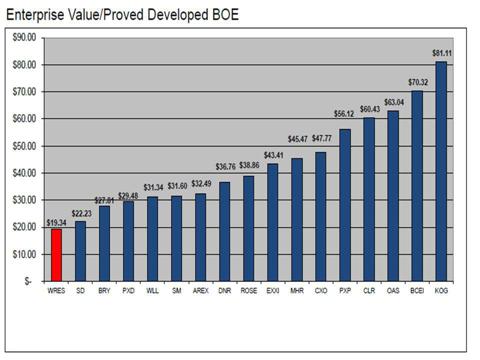 Catalysts:
Obviously, higher oil prices that have prevailed in the market over the past few months is a positive for Warren's earnings and revenues going forward if they stay at these levels. The company has 10% of the overall production from the Wilmington Field in California, which is the third largest oil field (by proven reserves) in the country, even if it gets little attention from the financial press. The company has managed to grow oil production at twice its overall production clip (28% annually). The company still has many drilling opportunities (over 150 sites) in the basin as less than 30% of the field's proven reserves have been extracted.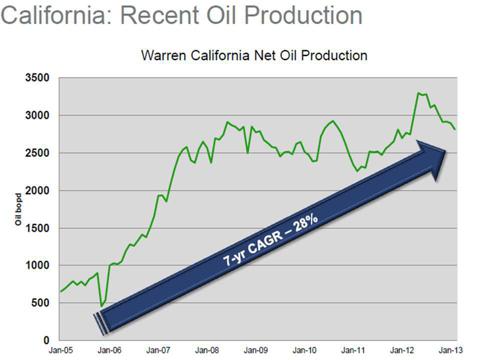 Finally, the company recently announced it was raising its planned capital budget to $73M from $58M so it can drill 25 new coalbed methane wells in Wyoming's Washakie Basin. The company purchased this acreage from Anadarko late in 2012, which included 59 miles of pipeline assets. It was an out of favor asset that the company managed to acquire at a deeply discounted cost ($1550 per flowing mm/BTU).
Summary:
Warren Resources is providing value investors a good entry point at less than $3 a share. It is selling at a discount to peers as well as to proven reserves. It does not have the same production growth as some of the other small E & P concerns I have profiled recently, but is a better reserve play. It would not surprise me if a larger player realizes it can acquire assets very cheaply by buying Warren at a substantial discount to its own reserve base even with a nice premium. In meantime, I am content to wait as Warren expands it drilling programs and continues to add to production. $5 a share (median analyst price target) is a reasonable price target over the next 18-24 months, which is certainly a return worth being patient around. This is also around the net present value an independent energy consulting firm estimated at year-end 2012 based on Warren's proven reserves as well (see appendix). Warren is a buy.
Appendix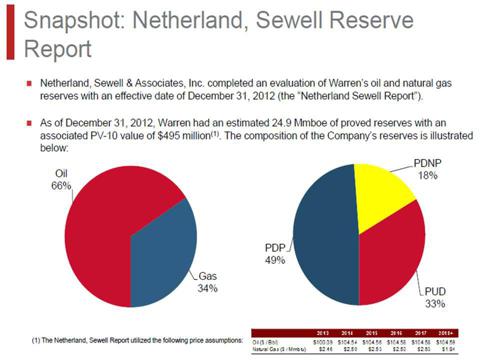 Disclosure: I am long WRES. I wrote this article myself, and it expresses my own opinions. I am not receiving compensation for it (other than from Seeking Alpha). I have no business relationship with any company whose stock is mentioned in this article.