Long-term goals for retirement investing haven't changed, but fundamentals in the stock market have in the 21st century. Capital gains have been uneven, reducing investing profits in recent years. Many financial professionals recommend taking more risk. Popular advice on preparing for retirement includes: (1) save more annually for more years, (2) be prepared to accept lower retirement income and (3) increase risk to obtain higher rates of return. Today it's difficult to earn 8-10% annual rates of return, targets used in the past to calculate financial needs for retirement. Investors are told they may need $500,000, $1,000,000 or even more to fund life in retirement.
However, assets are less important than income. The primary objective for retirement investing is to generate a stream of income to fund expenses during retirement (in preparation of and during retirement). Assuming retirement begins at age 65, many retirees (along with a spouse) live for 20-30 years and some will live even longer. Retirement costs can skyrocket in the later years if additional care and attention is needed.
While there are a wide variety of investments for retirement accounts, stocks are popular because they have long track records of growth from high annual rates of return. But the stock market has been delivering lower and highly volatile returns in this century. Previously, 8-10% rates of return were used, largely from capital appreciation, to calculate how much was needed to fund retirement expenses. The Dow Jones table chart below shows substantial growth during the 20th century. Then it slowed. The semi-log scale on the right shows percentage increases, illustrating a flat and volatile time recently.
Dow Jones Industrials 1900-2013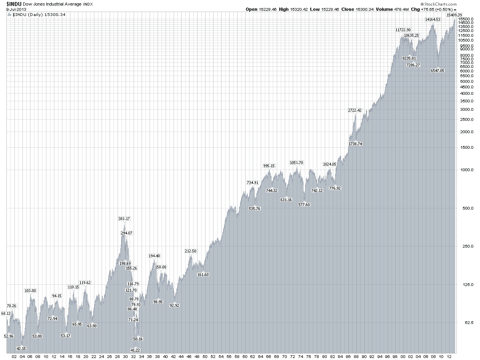 But dividends kept flowing and the best stocks have long streaks of raising annual dividends. Below are 5 of the finest stocks with attractive yields. As Dividend Aristocrats, they have track records of raising annual dividends for a minimum of the last 25 years:
Dividends

Price

Yield

Current

2007

HCP (NYSE:HCP)

$46.49

4.5%

$2.10

$1.78

Leggett & Platt (NYSE:LEG)

$31.94

3.6%

$1.16

$0.78

Kimberly-Clark (NYSE:KMB)

$99.49

3.3%

$3.24

$2.12

McDonald's (NYSE:MCD)

$100.27

3.1%

$3.08

$1.50

Johnson & Johnson (NYSE:JNJ)

$92.23

2.9%

$2.64

$1.62
(1) HCP is a REIT that invests in senior housing, medical offices, nursing homes and hospitals. It gets less attention than other REITs because it invests in niche markets that are not well understood, giving investors an opportunity to earn higher yields. Last year it acquired $2.5 billion in properties and investments, bringing total investments to more than $20 billion.
Q1 FFO (Fund From Operations) this year rose 16% to 74¢. Full year FFO guidance was raised to $2.94-$3.00 and FAD (Fund Available for Distribution) was raised to $2.41-$2.47. Recent annual dividend increases have been 6-8¢, but the 2013 increase was 10¢ to $2.10. Only 73% of the 2012 dividend was taxed as ordinary income. The dividend has been increased for the last 28 years, qualifying HCP as a Dividend Aristocrat.
(2) LEG makes components for bedding, furniture and auto seating. LEG measures shareholder rewards with TSR, Total Shareholder Return (capital appreciation and dividends), over 3 year periods. The company's target is to be in the top 1/3 of S&P 500 companies and it has been achieving its goal since the program began in 2007.
Q1 EPS rose 10% to 33¢ and EBIT margin improved 60 basis points on flattish volume. Guidance for 2013 EPS was raised to $1.55-$1.75 on sales growth of 2-6%. In late 2007 the annual dividend was hiked to $1 just before the recession. Since then annual dividend increases have been limited to 4¢ because it was hurt by the recent recession. EPS is recovering which could bring larger increases. LEG has raised dividends for the last 42 years.
(3) KMB is a major paper company organized into 4 divisions: Personal Care (Huggies, Pull-Ups and Kotex), Consumer Tissue (Kleenex, Scott and Cottonelle), K-C Professional (Kleenex, Scott and Jackson Safety) and Health Care (Kimberley-Clark and ON-Q). KMB had been thought of primarily as a yield stock but investors have bid up the stock $30 by investors searching for high yields in the last 2 years.
Q1 sales were marginally higher, but EPS rose from $1.18 to $1.36, with adjusted EPS of $1.48 (a new record). Management raised 2013 EPS guidance a dime to $5.60-$5.75. The dividend increase was 16¢ last year and 28¢ this year. The dividend has been raised for the last 41 years.
(4) MCD, with over 34,000 restaurants, is well known by customers and investors around the world. In Q1, revenue was flattish from economic uncertainty around the world while EPS rose 2% to $1.16. Same restaurant sales, a key measure of organic growth, have been sluggish this year and new management has been brought to improve performance.
MCD recorded its best month for same restaurant sales in May with a 2.6% increase, the best report this year. The US figure was up 2.4% (first positive result in 2013) helped by new products which sell at full price. Europe (the largest market) had a 2% gain and the rest of the world had a 0.9% decline (better than the 2.9% decrease in April). Analysts forecast EPS of $5.76 this year and $6.24 next year.
The dividend provides one of the highest yields, above 3%, in MCD history. The annual dividend has been increased since its IPO in 1976 and the next increase is scheduled for September.
(5) JNJ is the largest healthcare company in the world. Numerous product recalls for OTC medicines in recent years have hurt earnings, but problems are being corrected. TYLENOL and MOTRIN, two of the biggest problem products, were positive contributors to operational results. Management has survived challenges since 1886 and JNJ has retained its AAA credit rating.
Q2 results were just reported and they were good, with qualifications. Sales rose 8% to over $17.9 billion and EPS after adjustments tripled to $1.48 because of one-time benefits this year and last year's earnings were reduced by acquisition costs. The company raised its 2013 EPS guidance from $5.35-$5.45 to $5.40-$5.47. JNJ added that sales growth is slowing and competition is increasing in 2013, and retail markets are "soft", as many consumers continue to pinch pennies amid lingering effects of the recession 5 years ago. Recent annual dividend increases have been roughly 10% and the annual dividend has been increased for more than half a century. After lumbering around the mid-60s for years, JNJ is now at a record high.
The reliability and dependability of increasing annual dividends has more meaning today. Safety of investment assets used to be a key goal in retirement investing. After decades of rising stock markets, safety has been pushed on a back burner. But safety considerations are still important. These stocks bring a degree of safety with their long track records of raising dividends through good and bad times.
The Dow Jones Industrials has more than doubled from the recession lows 4 years ago and is up 21% in the last year. By another measure, Dow is up a meager 9% from its prior peak in October 2007 (the best measure of growth is from peak to peak). Capital appreciation has been limited for years.
Annual annuity income from assets is a fundamental goal for retirement investing. The Dow and the S&P 500 are at record levels even though there are concerns about the Federal Reserve reducing its QE3 bond buying program in the near term. Change is coming and at that time, bonds will sell off and stocks will be vulnerable. Meanwhile these companies will continue increasing dividends to help pay for rising expenses. Since 2007 (the year before the recession), their dividends have continued growing as they have for decades (shown in the table above). That's what successful retirement investing is about, creating a stream of growing income during retirement.
Disclosure: I have no positions in any stocks mentioned, and no plans to initiate any positions within the next 72 hours. I wrote this article myself, and it expresses my own opinions. I am not receiving compensation for it (other than from Seeking Alpha). I have no business relationship with any company whose stock is mentioned in this article.