Introduction
In this article I'll have a closer look at Primero Mining (NYSE:PPP), a gold producer with operations in Mexico where the company acquired an asset from Goldcorp (NYSE:GG) llo project in Mexico, Goldcorp holding the remaining balance. Cerro Del Gallo holds a resource of 2.3 million gold-equivalent ounces (including 1 million ounces in the reserve category) and should be Primero's next step to grow towards the midtier producer status. Primero seems to be very well placed to expand its current production profile through internally generated cash flow.
I'll first give a general overview of the company and discuss the company's expansion plans. Thereafter I'll move over the balance sheet and some cash flow simulations for both the San Dimas and the Cerro del Gallo project. This will result in my investment thesis at the end.
General Overview
1. San Dimas Mine
Primero Mining acquired the San Dimas mine in Mexico from Goldcorp back in 2010 for a total consideration of $510M. $216M was payable in cash, an additional $110M was paid through issuing a convertible note and a 5 year note. The remainder of $184M was payable in shares of the company.
This seemed to be an excellent move as the company acquired a producing asset which would be the stepping stone for future expansion. San Dimas producer 100,000 ounces of gold-equivalent in 2010, at a cash cost of less than $500/oz net of by-products.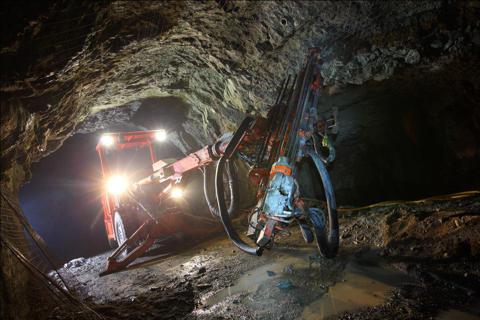 San Dimas is expected to produce 130,000 ounces of gold-equivalent this year, increasing to 165,000 ounces next year.
The company has a silver streaming agreement with Silver Wheaton (SLW) whereby Silver Wheaton acquires the first 3.5Moz of silver per annum and 50% of the excess production at a fixed price of $4.08/oz (increasing by 1% per year). This obviously has a nefast influence on the cash cost of San Dimas, as the cash cost for the gold would have been negative without the silver stream. From August 6 2014 on the threshold increases from 3.5Moz to 6Moz, so it will be more challenging for Primero to be able to sell silver at spot prices, but the company is hopeful the expansion of the San Dimas plant will allow it to maintain the same sales at the spot price.

Fortunately in a recent ruling the tax department of Mexico ruled in Primero's favor, as it declared the company has to pay taxes on the effectively received $4/oz of silver instead of the spot price.
As of at the end of last year, San Dimas had a total resource base of 1.5M ounces of gold and 104M ounces of silver, which ensures a life of mine of approximately 15 years. As the gold and silver grade are high (respectively 4g/t and in excess of 250g/t), the San Dimas Mine is a low cost asset. The management provided guidance for a gold production of between 90-100,000 ounces at a cash cost of only $280-300/oz. So even at the current prices of gold and silver, San Dimas is a real cash cow, and I will make some cash flow simulations in the next subtitle.
The company is currently expanding its mill facility towards 2,500 tpd, which is an increase of 25% over the current 2,000 tonnes per day. This expansion should be ready by Q1 2014 and will allow Primero Mining to increase its production rate even further towards 120,000 ounces of gold. A further expansion to 3,000 tpd is possible, depending on the regional exploration success of the company.
2. Cerro Del Gallo Project
Primero acquired the Cerro Del Gallo project in May of this year after completing the acquisition of Cerro Resources. As Primero only cared about Cerro Del Gallo, it spun off Cerro Resources' other assets into Santana Minerals, in which it keeps a 19.99% interest with anti-dilution rights for two years. The position in Santana Minerals is currently worth approximately $1.8M.
I think this was an excellent move by Primero as not only did it receive the green light from the Cerro Resources shareholders by just taking Cerro Del Gallo and spinning off the other projects, it also maintains exposure to exploration success on Santana's projects.
As said before, Primero currently has a 69.2% ownership in Cerro Del Gallo, as 30.8% is being held by a subsidiary of Goldcorp. As Goldcorp is by far Primero's largest shareholder (holding 27% of the shares), it is likely both parties will come to an agreement whereby Primero acquires Goldcorp's interest in the project. However, at this moment I will use a 70% interest in the project as the base case scenario.
The Definitive Feasibility Study at Cerro Del Gallo outlines an output (70%) of 65,000 gold-equivalent ounces per annum at a cash cost of $650-700 per equivalent ounce (excluding royalties). Total capex is expected to be $165M, of which Primero's 70% will be approximately $115M.
Construction is expected to start right away (obviously after obtaining the necessary permits), as the company earmarked $50M for 2013 capital expenditures at Cerro Del Gallo and another $80M for 2014. According to the timeline (see image), Primero hopes to reach commercial production in the third quarter of 2015.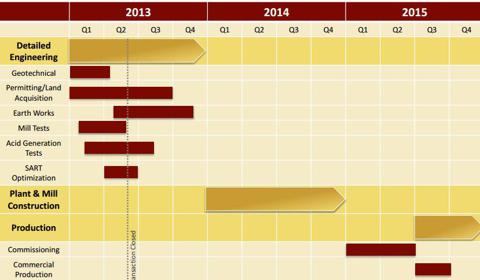 The Balance Sheet
Moving over to the balance sheet of the company, Primero holds a healthy balance sheet in high regard, as at March 31st it has cash and cash equivalents of $141M and a working capital of $118M.
The company's main debt consists of a promissory note issued to Goldcorp as consideration for the acquisition of San Dimas. The balance of the promissory note is 32.2M, of which $5M is expected to be paid this year, another $5M next year and a balloon payment of approximately $22M at the maturity date in 2015 (assuming there will be no excess free cash flow over the next two years).
Cash Flow simulations
In the next table I'll provide a short summary of the expected cash flow at San Dimas using different gold prices. In the base case scenario I'll use a 90,000 ounce output at a cash cost of $300/oz.
| | |
| --- | --- |
| Gold Price | Cash Flow |
| 1000 | 63M |
| 1100 | 72M |
| 1200 | 81M |
| 1300 | 90M |
| 1400 | 99M |
| 1500 | 108M |
| 1750 | 130.5M |
| 2000 | 153M |
| | |
Will the company be free cash flow positive this year? Probably not. According to the Q1 filings, the company expects to spend approximately $42M on San Dimas this year and $50M on the Cerro Del Gallo project. Add the $5M promissory note repayment and the $30M in General and Administrative expenses, and Primero Mining will see a cash outflow of $127M this year, which is higher than its expected operational cash flow at the current gold and silver prices.
I expect the expenses at San Dimas to decrease next year, but as the expected capex to be spent on Cerro Del Gallo increases to $80M, I don't think Primero Mining will be free cash flow positive next year either unless Primero arranges a debt financing to fund a part of Cerro Del Gallo.
Let's now have a look at the projections for the Cerro Del Gallo operational cash flow and the pro forma combined output in 2016.
For Cerro Del Gallo I'll use an annual attributable output of 65,000 ounces of gold-equivalent and a cash cost of $700/oz AuEq.
| | |
| --- | --- |
| Gold Price | Cash Flow |
| 1000 | 19.5M |
| 1100 | 26M |
| 1200 | 32.5M |
| 1300 | 39M |
| 1400 | 45.5M |
| 1500 | 52M |
| 1750 | 68M |
| 2000 | 84.5M |
As you can see, even at a gold price of $1200/oz the Cerro Del Gallo project will be cash flow positive. The return on investment capex will be (relatively) low, but at least the project is viable.
The next table combines the expected output and production costs in 2016. I am using a 225,000 ounces of gold-equivalent output at a cash cost of $750/oz (allowing for cost inflation).
| | |
| --- | --- |
| Gold Price | Cash Flow |
| 1000 | 56M |
| 1100 | 79M |
| 1200 | 101M |
| 1300 | 123.5M |
| 1400 | 146M |
| 1500 | 168.5M |
| 1750 | 225M |
| 2000 | 281M |
Will the cash flow be sufficient to repay the debt maturing in 2015?
The next table provides a summary of the expected cash inflows and outflows during 30 months of production.
| | |
| --- | --- |
| Starting Working Capital Balance | 118M |
| San Dimas 2013 Expenditures | (42M) |
| Cerro Del Gallo 2013 Expenditures | (50M) |
| G&A 30 months | (75M) |
| San Dimas 2014 Expenditures * | (25M) |
| Cerro Del Gallo 2014 Expenditures | (80M) |
| 5M Repayment Goldcorp (2014) | (5M) |
| Cerro Del Gallo 2015 Expenditures * | (30M) |
| Income from San Dimas at $1300 Au | 235M |
| Pro Forma End Cash Balance | 46M |
| Debt Payable to Goldcorp on Maturity date | 22.2M |
So yes, if there are no cost overruns and the company is able to receive an average price of $1300/oz of gold it produced, Primero should be able to repay the Goldcorp loan ànd fund the Cerro Del Gallo capital expenditures from internally generated cash flow. But as you can see, the situation is tight, and it might be a good idea to find additional debt financing for Cerro Del Gallo just to be safe.
It might also be a good idea to cut some G&A expenses, as a total budget of $30M per annum ($7.8M in Q1) is very high for a junior producer with an output of just 100,000 ounces per year, even though the majority of the expenses were share-based payments.
Investment Thesis
The future seems to be looking very bright for Primero Mining, as its high-grade San Dimas mine will generate enough cash flow to fund the company's second project to production. In the pro-forma calculation as shown in the previous table, the company will be able to meet its capex and debt obligations as long as gold stays around the $1300/oz mark, which is a very comfortable position to be in.
I'm very interested in the fact whether or not Primero and Goldcorp will come to an agreement whereby Primero acquires Goldcorp's interest in Cerro Del Gallo. I think this might happen by issuing another promissory note repayable in annual installments, maybe combined with an extension of the note payable in 2015 which would reduce the overhang by in excess of $22M. This would be a more comfortable solution for Primero as it would be able to extend the maturity of the 2015 debt which should give them a comfortable cash position for potential cost overruns and a further San Dimas expansion with additional room to breathe.
Primero has an attractive valuation right now, even at the current price of gold as the company is currently trading at approximately 4X the 2016 operational cash flow using a gold price of $1300/oz and at just 3X the operational cash flow using a gold price of $1500/oz.
As there are options available, it might be interesting to write Put 5's to achieve a lower average price.
I currently have no position in Primero Mining but might write put options in the near future.
Disclosure: I have no positions in any stocks mentioned, and no plans to initiate any positions within the next 72 hours. I wrote this article myself, and it expresses my own opinions. I am not receiving compensation for it (other than from Seeking Alpha). I have no business relationship with any company whose stock is mentioned in this article.