The REIT, BDC and MLP business structures offer significant tax advantages for income investors with the trade-off of restricted business opportunities. KKR Financial LLC (KFN) has not limited itself to one type of business structure and will make investments in all three camps as it searches for the best return opportunities.
KKR Financial is a limited liability company that operates as a partnership for tax purposes. Investors will receive a Schedule K-1 listing the proportional share of income and taxable income or losses. The K-1 income may differ significantly from the dividends received from an investment in KFN.
Business Development Company Resemblance
In a recent investor presentation, CEO William C. Sonneborn acknowledged that he is frequently asked how this company differs from a BDC. The bulk of the KKR Financial assets are very BDC-like, consisting of bank loans, high yield bonds and mezzanine debt. The major difference is that KFN is not bound by the BDC rules concerning types of customers or the requirement to pay out the bulk of earnings as dividends. With its focus as a specialty finance company, KKR Financial looks for deals or investments over a much broader range of possibilities compared to a traditional business development company.
Another big difference is that KKR Financial is not constantly going back to the market selling debt or preferred stock to raise capital to pay for growth. The company has sold 30-year bonds and issued perpetual preferred stock to supplement its equity capital and has no need or plans to issue more debt or debt-like securities to raise capital.
Of the traditional financial company part of the business, bank loans and high-yield bonds made up 68% of the portfolio at the end of 2013 Q1, special situations were 8% and mezzanine debt 3.3%.
REIT and MLP Type Investments
KKR Financial believes that real and natural resources assets can act as a hedge or counterweight to the company's financial holdings. As a result, subsidiaries of KFN are actually organized as a REIT and MLP. The REIT owns commercial property, with investments selected to meet the company's expected return goals without trying to fit into a specific category of real estate company. As of Q1, commercial real estate holdings made up 2.2% of the portfolio and RMBS were 3.2%.
Another part of the business, the MLP-like subsidiary, owns non-operated interests in oil and gas wells and well drilling operations. The oil and gas investments focus on energy E&P companies with existing wells that can provide cash flow to pay dividends and use the capital infusion to drill additional wells to increase the cash flow. As of Q1, 11% of the KFN assets were in this type of asset, labelled as natural resources investments.
Income Plus Equity Growth for Total Return
The KKR Financial goal is to find investments that will provide a return equal to the 10-year Treasury yield plus 10% - putting return into the low to mid teens. The investment portfolio provides interest and dividend payments that cover the current $0.21 per share quarterly dividend, providing a 7.5% distribution yield to investors. Equity growth as realized or unrealized gains are retained in the company to provide capital for future investments.
The company has the flexibility to choose between financial and asset investments based on expected returns and strives to find the best return vs. risk combination when it puts money to work. KFN tends to be contrarian, looking for investments away from what is the current hot market and recently has focused on assets that will perform well in times of inflation and rising commodity prices and higher interest rates.
KKR Financial sources its opportunities from ideas generated by the private equity research of KKR & Co. LP (NYSE:KKR) and its 400 investment analysts. In a previous article I noted that KKR is focused on equity investments and KFN goes for the income streams with an equity kicker. KFN will take private equity positions alongside KKR and those investments made up 4.4% of the end of Q1 KFN portfolio.
Investment Potential
In the 2013 first quarter, KKR Financial reported a normalized cash run rate of $0.22 per share and total net cash earnings of $0.33 per share for a 13% annualized return on the $10.16 book value. The company highlighted that for the quarter investments produced an 18.4% return on equity.
At the end of the quarter KFN held $713 million in cash, representing 35% of book value according to CEO Sonneborn. That is a lot of dry powder for the company to put to work, earning those high double digit returns on equity.
KKR Financial provides income safety by covering the 7.5% dividend yield with interest and dividend cash flow. Additionally investment results should be able to double that yield with additional equity gains or income growth. At the end of Q1, KFN had an economic book value of $10.86, not far from the current $$11.20 share price. The ability to pay an attractive dividend and reinvest equity gains from growth should allow an investment in KFN to average in the mid-teens or better over the long term.
KFN reports Q2 earnings on Tuesday, July 23 and I will follow up a few days later with my thoughts on the results. If a dividend increase is announced, an investment on Monday may show a very nice gain by Wednesday.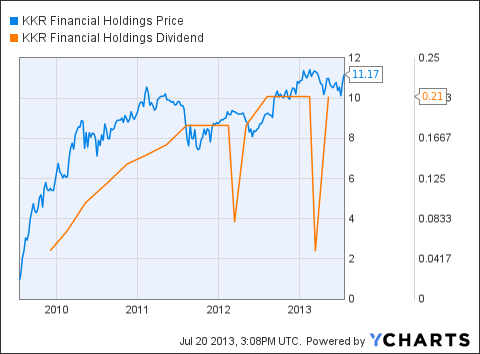 Disclosure: I am long KFN. I wrote this article myself, and it expresses my own opinions. I am not receiving compensation for it (other than from Seeking Alpha). I have no business relationship with any company whose stock is mentioned in this article.