A good article needs a catchy opening sentence to pull in an audience. How about this one? A systematic strategy that owned a select one-fifth of the S&P 500 (SPY) constituents had a cumulative return that was nearly 3x that of the broader market over the trailing twenty years as graphed below. Tripling the amount of money your neighbor made in the stock market - now that is alpha.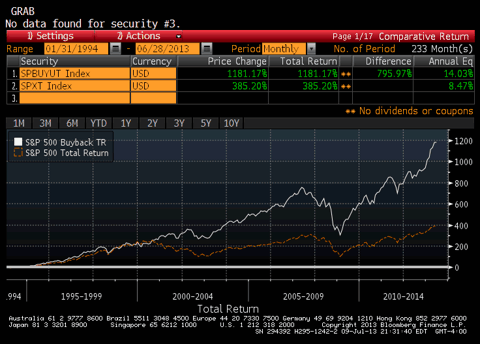 Source: Bloomberg, Standard and Poor's
The white line in the graph increasing at an annualized rate exceeding 14% per annum is the S&P 500 Buyback Index, which was designed to measure the performance of an equal weighting of the 100 stocks with the highest buyback ratios in the S&P 500. The buyback ratio is defined as the ratio of cash used in the repurchase of common shares in the trailing four quarters divided by the total market capitalization of outstanding common shares at the beginning of the buyback period.
While the outperformance graphed above is stark, the efficacy of share repurchases in driving investment results has historically been a source of debate. The Modigliani-Miller Theorem on capital structure, which eventually led to Merton Miller's Nobel Prize, states that absent taxes, bankruptcy costs, agency costs, and assuming information efficient markets, how a firm is financed is irrelevant to its value. This theorem is important for our understanding of the impact of share repurchases because of the number of caveats that must be imposed for the theorem to hold. For a firm with debt in its capital structure, repurchasing shares with excess cash increases financial leverage. A firm borrowing money to repurchase shares (absent the benefit from the tax deductibility of corporate interest expense) should not be able to increase the value of the firm because the discount rate applied to the value of the firm should increase due to the increased risk from operating with higher leverage. How then do we explain the tremendous returns generated by the S&P 500 Buyback Index?
The assumption on perfectly efficient markets underpinning the Modigliani-Miller markets assumes that all stocks are currently trading at their intrinsic value because all information both public and private is fully reflected in the share price. If markets were perfectly efficient, Berkshire Hathaway (BRK.A, BRK.B) could not have grown from a failed textiles manufacturer to a dominant conglomerate that has made its chairman one of the wealthiest men on the planet, because perfectly priced markets would have meant that Berkshire's holdings would have only yielded the market return. If markets were perfectly efficient, then you would not be Seeking Alpha on this website.
In a 2011 letter from Warren Buffett to investors accompanying Berkshire Hathaway's annual report (pg. 6 attached here), the Oracle of Omaha devoted several paragraphs to share repurchases. Importantly, Buffett discussed his thought process on share repurchases in a wrap-up to a year that saw Berkshire initiate a sizeable stock buyback plan, he stated:
"Charlie (Munger, Buffett's long-time business partner) and I favor repurchases when two conditions are met: first, a company has ample funds to take care of the operational and liquidity needs of its business; second, its stock is selling at a material discount to the company's intrinsic business value, conservatively calculated."
Of course, if we all knew the intrinsic value of a company, the investing game would be quite a bit easier. Even corporate management, who should have the best information about the intrinsic value of the firm and its future prospects, have performed poorly in past periods when repurchasing shares. A June 2012 article by Credit Suisse suggests investors think about corporate share repurchases from the lens of a portfolio manager. After all, as an owner of the firm, it is your money that the company is re-investing in its own shares. The CS analysis demonstrated that from 2004-2011 36% of the S&P 500 constituents beat a low return hurdle of just seven percent with their share repurchases. The histogram below highlights the range of outcomes for S&P 500 companies repurchasing shares in this period. These companies would have been better served buying back their bonds than their stock in what turned out to be a weak equity market environment.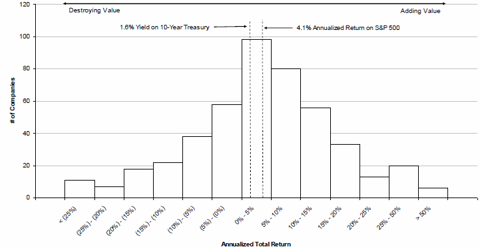 Source: Credit Suisse
Each quarter, financial research and investment analytics proprietor Factset publishes a brief synopsis of quarterly share repurchase activity by the constituents of the S&P 500. In this analysis, they include a graph that shows quarterly share repurchase over time. From this graph, share repurchases certainly appear to be pro-cyclical with companies re-purchasing the most stock near market peaks and purchasing the least stock at market troughs.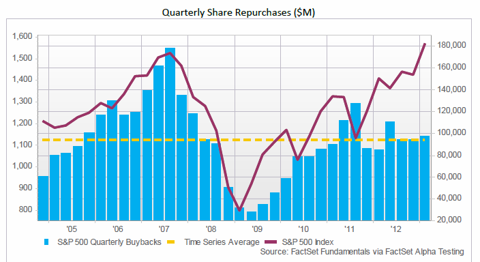 While the Credit Suisse histogram demonstrates that companies repurchasing shares did no better than the market return on average, and the Factset data shows that companies on average have bought stock at cyclically high prices, the Credit Suisse report does mention that 128 companies generated returns of greater than 10% per annum over this eight year period.
Since we know that the S&P Buyback Index has shown tremendous historical returns, what companies, or types of companies most often benefit from share repurchases? Over the next several weeks, I will be dissecting the one hundred constituents of the S&P Buyback Index in groups of ten companies to answer this question with the hopes of finding compelling companies that are smartly adding value through share repurchases. In alphabetical order, I will list the one hundred companies who have bought back the most stock over the trailing year, while describing their business, free cash flow generation, remaining share repurchase authorization, and relative valuation.
As always, this will be a community effort, please share your feedback on the companies listed and whether you believe they are smartly using cash on their own shares. Below are the first ten constituents of the S&P Buyback Index alphabetically:

Abercrombie & Fitch (ANF)
Abercrombie & Fitch is an American retailer that focuses on casual wear for teens and college-aged students at over 1,000 stores worldwide. Over half of the stores are now operated under the company's Hollister brand. At the end of the first quarter of 2013, the company operated 112 international stores, triple the number of stores abroad at the end of year-end 2010.
Teen tastes are as fickle as the weather, and ANF's EBITDA has fallen by roughly 40% from its all-time high of $962mm reached in FY 2008. Despite the reduction in earnings, free cash flow has fallen by just a quarter and has been positive for every fiscal year since 2001. Despite compressed EBITDA margins, the company has become more efficient in turning earnings into cash flow. The stock's -8.1% year-to-date return is the worst performer of the one-hundred S&P Buyback index constituents year-to-date, one of only three companies to produce a negative total return this year.
At the Jefferies Global Consumer Products Conference last month, Abercrombie head of Investor Relations, Brian Logan, stated that "after allocating capital to new stores and other internal projects that provide superior returns, we continue to expect to return excess cash to shareholders. Over the past three years, we've repurchased 12.7 million shares, and as of the last earnings call, we still had available approximately 18.4 million shares authorized for future repurchase."
Abercrombie and Fitch has done an admirable job of turning sales into free cash flow, and will continue to return cash to shareholders, but the performance of the stock will ultimately be driven by fickle consumer preferences. At 17.1x trailing earnings, the company is priced right atop the broader index. The historical capital deployment of the firm has been decidedly pro-cyclical, whether the company ends up on the right or left side of a future sell-side equity report historgram will be driven by its ability to connect to its teen consumer base.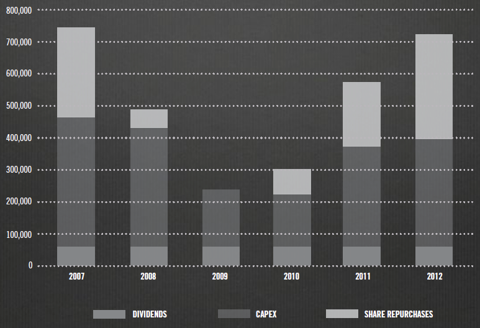 Source: ANF Company Presentation
ADT Corp (ADT)
ADT Corporation, which spun off from Tyco International last year, provides electronic security, interactive automation and related monitoring services for residences and small business in North America. Last week, the stock rose the most in eight months on speculation that Bill Ackman would take a stake in the company. The Pershing Square Capital founder is raising funds to buy a stake in a large U.S. company with high barriers to entry, pricing power, cash flow, and a predictable business.
The stock has dropped from a March 2013 high of nearly $50 to a recent low of $38 before bouncing back to $43 on the Ackman news as shares swooned on concern that cable companies would push into the home security business. With ADT owning a quarter of the home market, six times greater than its largest competitor, and cable companies likely finding it difficult to enter absent sales forces and installation teams, the company commands market power in a fractured market.
ADT trades at roughly 25x trailing earnings, but with EBITDA margins of roughly 50% and the company translating 80% percent of gross profit into free cash flow, ADT has the potential to strongly return capital to shareholders. At the William Blair Growth Stock Conference in mid-June, CEO Naren Gurahaney, stated in reference to the company's $2bn, three year repurchase program that "we had already bought back almost 17 million shares for approximately $800 million, so we've already executed about 40% of that buyback in less than 15% of that authorization period... and as long as we've got excess cash available, we'll continue to buy back under that program. With a free cash flow yield in the mid-teens, ADT can continue to be aggressive in returning cash to shareholders.
Aetna (AET)
Aetna is a diversified health care benefits company that provides healthcare and related benefits. After halting buybacks during Q3 when the Coventry deal was announced, Aetna resumed share purchases in the back half of the fourth quarter. Despite undertaking a relatively transformative transaction, Aetna still managed to repurchase $1.4bn of shares in 2012, down just $400mm from its repurchase level in 2011. The company will continue to be a careful, yet consistent, allocator of capital in its highly regulated business, and trades at the eighteenth lowest price-to-trailing earnings ratio of the one-hundred S&P Buyback Index constituents.
Allstate (ALL)
Allstate, the largest publicly traded U.S. home and auto insurer, was aggressive in repurchasing shares in the first quarter of 2013 with the $726mm of buybacks greater than the amount spent during the last three quarters of 2012. Despite the aggressive share repurchase activity, holding company liquidity still increased by $600mm in the first quarter. Despite currently trading at a 52 week high, Allstate is trading at only 11.7x trailing earnings, making the company the Buyback Index constituent with the sixteenth lowest earnings multiple.
American Express (AXP)
American Express, the largest credit-card issuer by purchases, posted a record profit in the second quarter when it released earnings Wednesday on expense reductions and falling credit costs. These solid results came one day after the company had its largest single day stock drop in a year on a European Commission proposal to cap bank card fees in the region where the company generates twelve percent of its revenues.
While some financials have been restricted in returning capital to shareholders amidst higher capital ratios demanded by regulators seeking to prevent another financial crisis, American Express has ramped up its shareholder friendly actions recently, increasing the dividend by fifteen percent in April. During the second quarter, the company repurchased $1.4 billion in common shares and its payout ratio, inclusive of dividends, was a robust 97%. If you like this business, management appears committed to driving returns to shareholders with plans to repurchase up to an additional $1.8bn of shares in the second half of 2013.
American International Group (AIG)
While American Express is effectively passing all cash generation through to its shareholders, AIG will be somewhat constrained by management's intention to retire debt to improve the company's interest coverage ratio at the behest of the rating agencies. The company's deferred tax assets should enable the company to generate stronger free cash flow than implied by earnings. The company generated higher free cash flow ($3.68bn) than net income ($3.44bn) in 2012. Delays in the planned sell of a majority stake in ILFC to a Chinese consortium have appeared to unravel over recent weeks, which could further crimp share repurchases.
If you are buying AIG after its recent strong run, you are not purchasing because of the expectation of share buybacks over the intermediate return, but that its scale and flagship businesses will ultimately return the company closer to its pre-crisis heights. While the company has more than tripled its market cap since year-end 2009, the company still stands at roughly a third of its former peak value. When the company produced $11.9bn of operating income in 2003, the market cap of the firm was $173bn. When AIG produced $11.7bn of operating income in 2012, the market capitalization ended the year at $52bn. Despite the strong post-crisis rally, AIG is still a long-term value play even if near-term returns to shareholders are delayed.
Ameriprise Financial (AMP)
Based in Minneapolis, Ameriprise is the spun off insurance and asset management unit of the aforementioned American Express. The company offers insurance products, financial planning, and asset management through roughly 10,000 financial advisors, and produces life insurance and asset management products under its RiverSource, Columbia Management, and Threadneedle Brands. Like its former parent, Ameriprise has been aggressive in returning capital to shareholders in recent periods. Through the first quarter, the company has returned 140% of operating earnings to shareholders over the trailing four quarters through a combination of share repurchase and dividends. These aggressive distributions have driven the company to a new all-time high as of last week. Management indicated that the company had $2bn of excess capital above its targeted minimum capital ratio, or 11.5% over the current market capitalization, which signals that the company will be able to continue to return capital to shareholders if attractive deals do not present themselves. I view the company's captive distribution model as a key to generating free cash flow in a host of different equity and interest rate environments, and believe that the company should continue its strong performance in line with the insurance/asset management sector.
AmerisourceBergen (ABC)
AmerisourceBergen, one of the world's largest pharmaceutical services companies makes producing cash flows look as easy as A-B-C. Servicing both healthcare providers and pharma manufacturers in the supply channel, the company provides drug distribution and related services designed to reduce costs while improving patient outcomes. With revenues of $81 billion in the trailing twelve months, the company produced the twenty-ninth highest sales in the S&P 500.
In March, ABC signed a ten-year comprehensive primary pharmaceutical distribution agreement with Walgreen (WAG), which included both branded products and generics and specialty drugs for WAG's retail stores. The deal is expected to increase revenues by $25 billion for full year 2014, a deal that will build on the 17% per annum earnings growth that ABC has generated since 2000. Walgreen had formerly self-distributed generics, and this deal consolidates buying power amongst the distributors, and has also prompted speculation that ABC could ultimately be a buyout target of its large retailer partner.
While AmerisourceBergen generates a very low margin on this mountain of sales, the company has historically produced very stable free cash flow, which has translated into a stable equity story. Below is a graph that the company presented at the UBS Global Healthcare Conference in May detailing the company's efforts at returning cash to shareholders.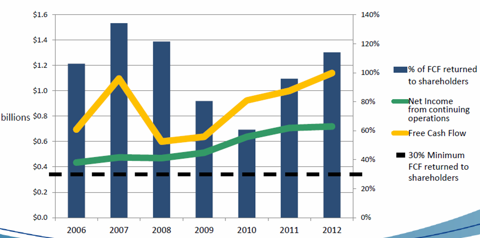 ABC is a constituent of the S&P Low Volatility Index (NYSE:SPLV), a group that has also generated market beating returns over the trailing twenty years while exhibiting much lower volatility and drawdowns.
Amgen (AMGN)
Amgen has repurchased roughly a quarter of the company over the past three years, steadily returning cash produced by its line of biotechnology medicines to its shareholders.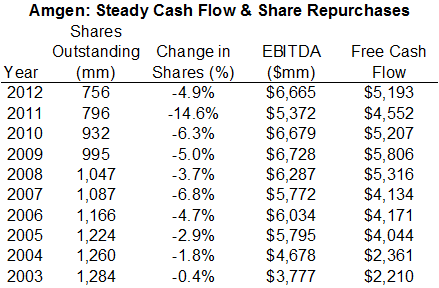 At the Deutsche Bank Healthcare Conference in early June, the company's management detailed how they planned to position the company for continued long-term growth with eight innovative registrational programs, an international expansion program focused on the aging Japanese population, and a plan to institute meaningful dividend increases amidst continued share repurchases. In addition to returning cash to shareholders, Amgen appears to also be active on the acquisition front with a leading bid to purchase Onyx (NASDAQ:ONXX), a San Francisco-based developer of novel therapeutics based upon the genetics of human disease.
While Amgen trades atop the S&P 500, I believe that the company's stable operating results, shareholder focus, and the expectation that healthcare spending continues to outpace broader economic growth given favorable demographics should command a slight premium and lead to long-run outperformance relative to the broader market.
Aon PLC (AON)
Aon is the world's largest insurance broker with over 500 offices located in over 120 countries. The company's services include risk management, insurance and reinsurance brokerage, human capital management, and consulting services. In the first quarter, the company remained active with buybacks repurchasing five million shares, or roughly 1.6% of shares. The company also boosted its quarterly dividend from $0.1575 to $0.175. With a 20x trailing earnings multiple, 10x enterprise multiple, and a market beating year-to-date return, Aon looks fairly fully valued, and with only a 6.7% trailing twelve month free cash flow yield in a competitive industry upside appears limited unless the company can generate market share gains and/or wring continued expense reductions out of the business.
Summary
As I will detail over nine additional articles introducing the remainder of the S&P Buyback Index constituents, collectively this is a group that trades at a slight earnings discount to the broader market while generating much higher cashflow per share (5.4x more cashflow per share than the average S&P 500 member.) The Buyback Index is both underweight utility and consumer staples companies that have come under pressure recently due to higher interest rates while also underweight underperforming materials stocks hampered by falling commodity prices.
Readers who stick through these articles will see a listing of companies with a bent towards healthcare, financial, and consumer discretionary stocks with stable business profiles. These companies also are collectively smaller than the broader index constituents with an average market capitalization roughly three quarters of the size of the average S&P 500 constituent. While there is currently not an exchange traded fund that replicates this index, at the end of this series I will be offering my ten picks from the list that I believe will collectively outperform the domestic equity market over the next one year.
Disclosure: I am long SPY, SPLV. I wrote this article myself, and it expresses my own opinions. I am not receiving compensation for it (other than from Seeking Alpha). I have no business relationship with any company whose stock is mentioned in this article.